*This is a sponsored post written by me on behalf of Reading Eggs.*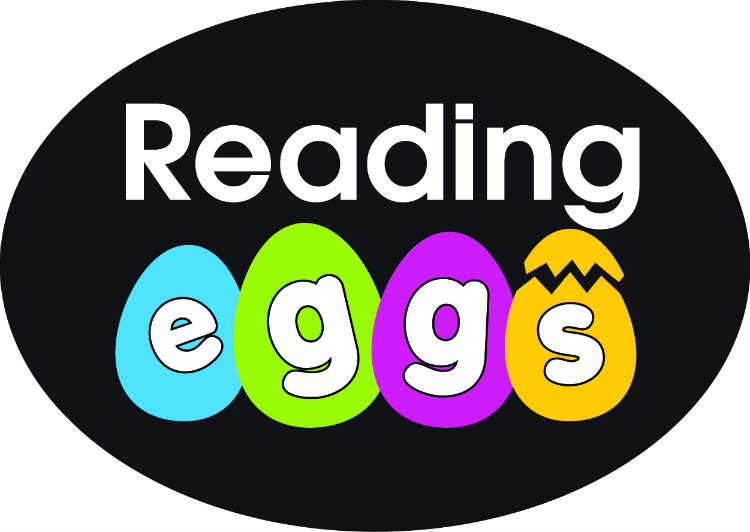 To me, reading is the knowledge and skill needed for a lifetime of learning. Almost every subject in school requires reading as a beginning basis. Because of this, I tried to instill sitting down nightly with Hayley (who is 5 years old now and going to kindergarten) to teach her how to read. I am sure you can all relate in one way or another. I needed a way to make reading fun, exciting, and most of all motivating for her. She is a visual learner, as well, so I need to incorporate a way to show her reading, rather than verbally going over sight words and such. For this reason, I searched high and low to find an all inclusive reading site and I am so excited to have found that with Reading Eggs! Since starting Reading Eggs about a month ago, Hayley has been seeing and saying words all over the pace. I am truly amazed with what this program has done for her!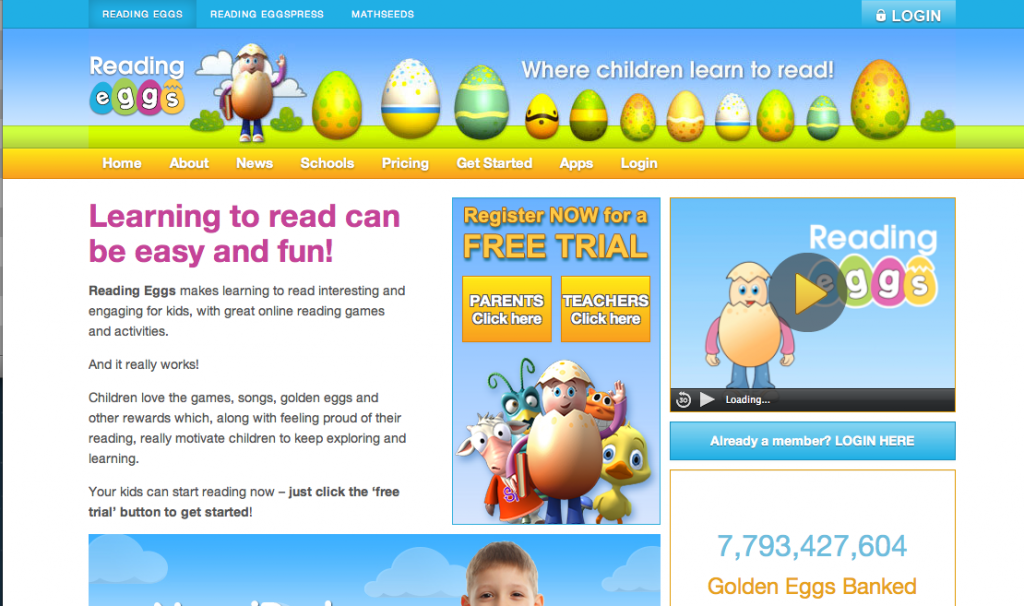 Reading Eggs has helped make learning engaging and fun for Hayley. Now you might be asking exactly what is Reading Eggs and how can I sign up? Reading Eggs is an online reading program designed for kids ages 3-13. The way Reading Eggs teaches reading to kids is by way of interactive games, golden eggs, animation, songs, rewards, and so much more. It is so interactive that Hayley wants to return to Reading Eggs all the time to continue her lessons. Each lesson comes with a small video, game featuring little critters, and at the end a book and a new critter is added to her collection.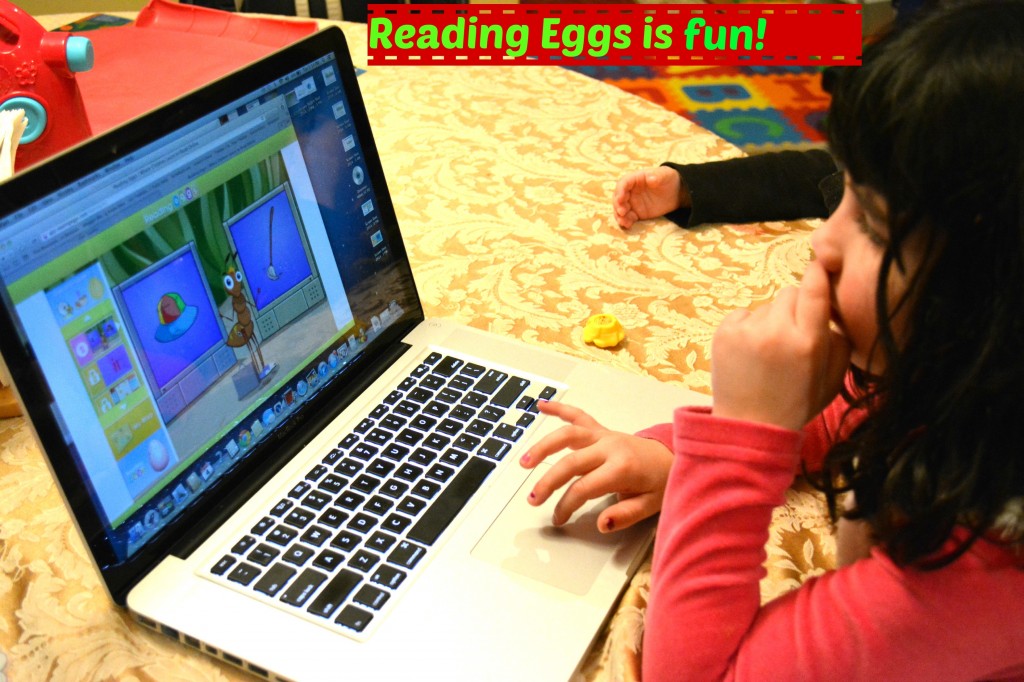 The main curriculum of Reading Eggs focuses on phonics and sight words using a wide plethora of innovative and fun teaching methods including games and songs, along with other visually stimulating lessons. The site features great online reading games, activities, and over 1.000 eBooks for your kids to enjoy. In terms of lessons, they have 120 big lessons that are perfect for kids 3-7, like Hayley, who are beginning to read. If you have older kids who are already reading, do not worry, as they have programs like Eggspress geared towards kids 7-8 who already know the basics of reading but still need more improvement with reading, writing, spelling, and comprehension.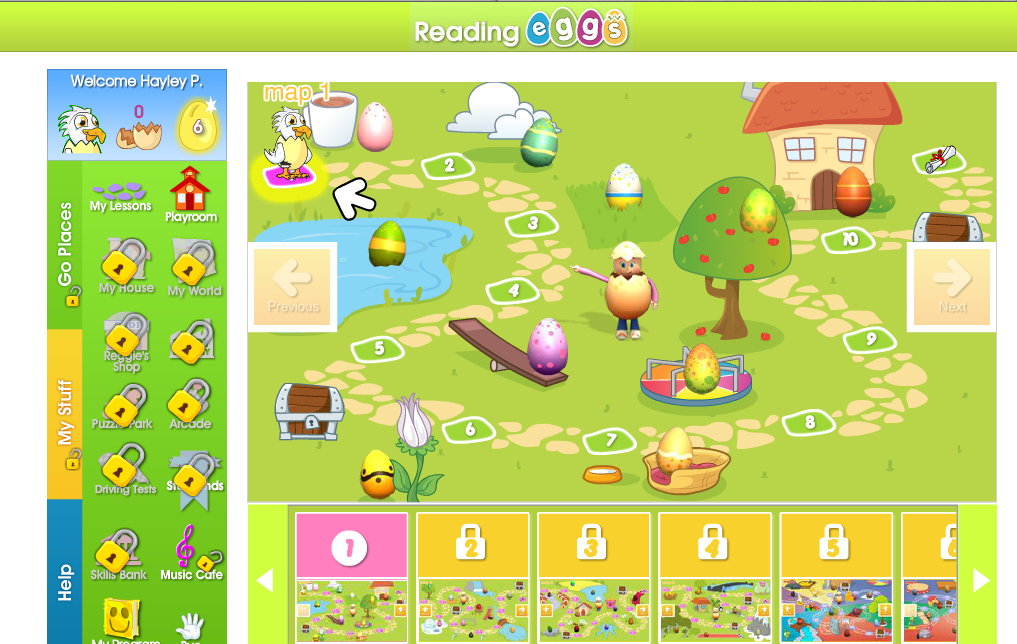 Hayley has not been able to put Reading Eggs down since we started incorporating it in our home. It has made reading for her interesting, engaging, exciting, and more of all fun! After all one of the best ways to teach kids is by showing them that learning is fun. She is able to navigate most of her lessons herself and always enjoys getting her words and letter sounds correct. They make it so cute by having little games where your child has to identify the sound and correspond it to the pictures in the game. She has become a real pro at this and enjoys getting her word sounds and sight words correct. It is a sight to see when she really begins to learn to love to read!
Reading Eggs was developed by a highly experienced team of educational teachers, writers, and developers. You know you are getting the best in education this way. It also focuses on core reading curriculum of phonics and sight words, as well as skills needed for continued reading success.
As if Reading Eggs by itself is not a fantastic program, now they are helping to support a truly important cause called the Read to Cure Challenge, to raise funds for the National Children's Cancer Society. The Reading Eggs Read-To-Cure Challenge aims to help The National Children's Cancer Society (NCCS) realize their mission to improve the quality of life for children with cancer. The goal is to raise $25,000, and Reading Eggs will match every donation made up to this amount. All money raised will help provide financial, emotional and educational support for children and families battling childhood cancer. Learn more about the NCCS at http://thenccs.org/.
You can now sign up your children for a FREE 5 week trial of Reading Eggs here: Reading Eggs, with no credit card required.  From February 3 to March 7 children  are encouraged to complete as many books and Reading Eggs lessons as they can. Friends and family can sponsor their reading efforts, with all money raised going to the NCCS. There is also  (6) great prizes up for grabs: (3) for the most money raised in the Read to Cure and (3) for the most books and lessons completed in the Read to Cure.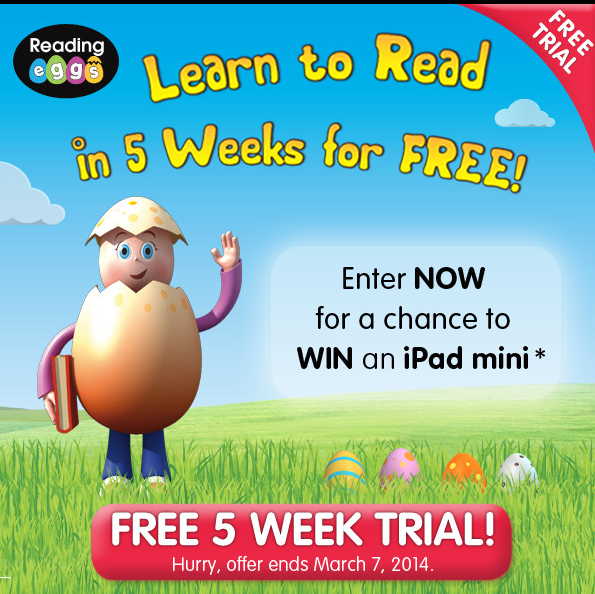 Giveaway: One winner will receive one (1) iPad Mini valued at $299.99. The giveaway will be open on Monday, January 20 and end Friday March 7, 2014.  To enter the giveaway, entrants must register and activate the 5-week free trial on the Reading Eggs website between 1/20/2014 to 3/7/2014 with their name, child's name and postal address. You can find the link to register here: Reading Eggs website. Good luck!
a Rafflecopter giveaway

*This is a sponsored post written by me on behalf of Reading Eggs.