Staples, Inc. (Nasdaq: SPLS) today announced the launch of a new technology trade-in program. Staples already recycles electronic office products for free and now small businesses and consumers can trade-in a variety of used technology devices for Staples eCash Cards, which can be used to purchase hundreds of thousands of items in Staples stores or on Staples.com. In addition to in-store drop-off, Staples' new program also features online trade-in through Staples.com, with convenient, free shipping.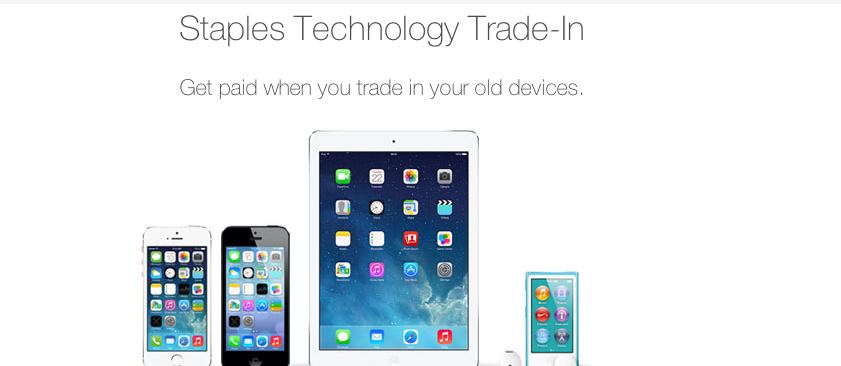 "Staples is not only committed to helping the planet, but to providing small businesses and consumers with a way to receive value for their used electronics," said Mark Buckley, vice president of environmental affairs, Staples. "We encourage our customers to trade-in their old devices by offering them instant payment. By extending the program to Staples.com, we're helping them make more technology recycling happen."
Customers can trade-in an array of tech products whenever and wherever it is convenient for them, in Staples stores or on Staples.com. Staples simplifies the online return process for small businesses and consumers by providing postage-paid shipping envelopes, letting them trade in their devices from the convenience of their homes or offices. 
Office electronics that have no trade-in value due to age or condition can still be recycled for free in Staples stores nationally and in most Staples Canada store locations. In the United States alone, Staples has recycled 64 million pounds of e-waste through its in-store program since 2007, consisting of more than 2.4 million monitors, computers, printers and shredders, and millions of other electronics and peripherals. Staples global goal is to recycle 40 million pounds of e-waste annually by 2020.
Staples recently received the highest grade in the Electronics Takeback Coalition's Retail Recycling Report Card. Out of 16 retailers, Staples was ranked first based on its program's convenience, transparency, collection volumes, and commitment to using certified responsible recyclers. For more information on how to turn your business or home green, including how to find green products, tips on recycling and environmentally friendly copy and print options, please visit Staples.com/recycle.
About Staples
Staples makes it easy to make more happen with more products and more ways to shop. Through its world-class retail, online and delivery capabilities, Staples lets customers shop however and whenever they want, whether it's in-store, online or on mobile devices. Staples offers more products than ever, such as technology, facilities and breakroom supplies, furniture, safety supplies, medical supplies, and Copy and Print services. Headquartered outside of Boston, Staples operates throughout North and South America, Europe, Asia, Australia and New Zealand. More information about Staples (SPLS) is available at www.staples.com.