**I participated in a campaign on behalf of Mom Central Consulting for the Cord Blood Registry. I received promotional item to thank me for my participation.**
As I was nearing the 30th week point of being pregnant with Hayley, I got a ton of brochures about information with the transition to becoming a mom. One brochure that I knew was very important and  I wanted to partake in was cord blood banking. I actually heard about cord blood banking from a girlfriend of mine who ended up using her daughter's banked blood when she developed leukemia. She thrived and survived thanks to cord blood. I definitely knew the importance of cord blood banking and knew this is something I wanted to do with both of my kids.
Cord Blood Banking is where the blood from the umbilical cord is collected after the baby is born to store the valuable stem cells that have been discovered in them. It turns out the stem cells have the ability to become other types of cells and are therefore valuable in fighting disease. Today cord blood stem cells have been used in the treatment of more than 80 conditions including certain cancers, Immune deficiencies and blood disorders.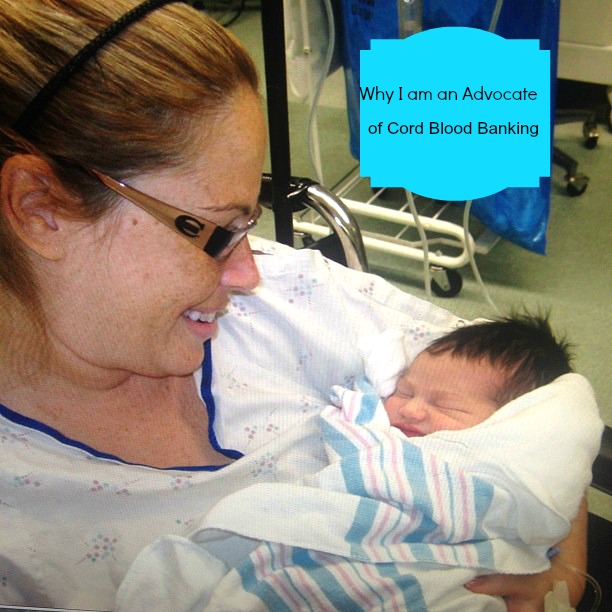 We used some of these facts about cord blood banking, to make our decision to bank their cord blood, once our children were born:
1.  Cord blood stem cells, found in the umbilical cord, have been used in the treatment of more than 80 conditions and are currently being evaluated in FDA-regulated clinical trials for their potential regenerative ability in common health issues including autism, cerebral palsy, pediatric stroke and traumatic brain injury.  I watched this video from a mom named Shelley Connolley, who banked her daughter's Peyton blood. She banked her daughter's blood not knowing she would ever have to use it. However, right before Peyton's first birthday, they found a large tumor that  needed to be removed. Once Peyton arrived home, she lost control of her entire body. When they got to the hospital, they were told Peyton had a massive stroke but thanks to her cord blood banking, she is a beautiful, and thriving girl today! This is a must watch video!
2. Know your family history in advance to decide to cord blood banking. Does your family have a history of some of the diseases that stem cell banking can be used for? Do health conditions run in the family? However, this should not be an end all be all! Just like Peyton, she had no preexisting family conditions. I honestly think cord blood banking can be very important for everyone for the future.
3. You have two options to save your baby's core blood: privately and publicly. You can privately bank your baby's core blood for a certain amount of money or you can use  The Core Blood Registry  (CBR), which is the first and only family newborn stem cell bank to help establish FDA-regulated clinical trials using cord blood stem cells in regenerative medicine.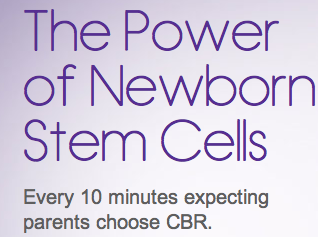 CBR offers the collection, processing, and long-term cryopreservation of stem cells found in the umbilical cord blood of newborns, which is otherwise routinely discarded along with the placenta. Families have the option of storing a section of the umbilical cord as well, which is rich in different kinds of stem cells than those found in the cord blood itself.
4. CBR is a company with several groundbreaking clinical trials including autism, cerebral  palsy, pediatric stroke, and traumatic brain injury.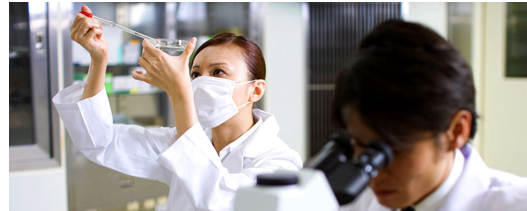 5. CBR has a Newborn Possibilities Program® , that helps serve as a catalyst to advance newborn stem cell medicine and science for families that have been identified with a medical need to potentially use newborn stem cells now or in the near future.  To date, they processed and save cells for nearly 5,000 children. This is amazing!
We decided to bank the cord blood from the births of our kids feeling like it would be missing a unique opportunity for the most precious type of medical insurance you could possibly have, if we did not. I was shocked to find out that according to the Cord Blood Registry, less than ten percent of parents choose to bank their child's cord blood.  Most parents choose to discard the umbilical cord after birth not knowing the value of what they are tossing away.
The stem cells in that cord blood are immature cells that have the ability to become other kinds of cells that become organs and tissue. When stored properly, those newborn stem cells will not "expire" and not only can be used to save the mother or child from whom they came, but have saved the lives of siblings as well. This means they remain safe and ready for use for a lifetime.   I think if parents knew the potential behind storing cord blood, they would take the precious opportunity to do so when they had it. At the Cord Blood Registry there are options for family banking, donating or even applying for free cord blood storage for families with a medical need.
If you are interested in banking your child's cord blood you need to make that decision in advance to have the kit ready for connection at the time of your child's birth. I think with the way research is expanding on the medical uses of cord blood , it's crazy not to take the opportunity to bank it when you can.