Happy weekend everyone! I hope you all had a great Thanksgiving and an even better weekend!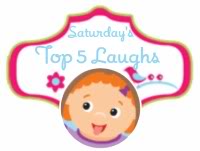 As always, come link up any cute or funny post. If you like to take my button or share on social media, I would appreciate it but it is not necessary. Also, definitely check out the other blogs who link up, as they all provide a great laugh!
My top five laughs:
5. Last night, Zane was holding himself and I asked if he needed to go potty. He never did potty before. He proudly went on the potty, did his business, and then said, "I am such a big boy!!" I laughed!
4. Hayley and I went Ice Skating last night. She absolutely loved it. At the end, she said, "Mommy..I fall down a lot but I am so good." Conceded more… LOL!
3. We met Nancy Kerrigan last night. I, of course, was star struck but Hayley asked her if she would like some hot chocolate since it was cold. She had no idea who she was- just a regular person to her:)
2. We are going back to Disney in a few weeks. Zane is telling everyone that he is going to meet Mickey and Minnie tomorrow. No matter who we see, can be a complete stranger, he tells people he is meeting Mickey. The boy is so excited!
1. Zane is just the cutest little boy these days. The things that come out of his mouth are so adorable. Last night he told me, "Mommy…When I grow up I am going to ride a big wheeler and then take it for ice cream." He thinks he is making perfect sense:) It is quite cute!
Now your laughs: