I am  a very frequent shopper at One Step Ahead. If you have never shopped at One Step Ahead, their motto is to deliver quality products that make mom/ child happy and healthy. They have a wide assortment of products including clothing, potty/bath, health, feeding, nursery, toys, safety, travel, and so much more! I absolutely love their selection of items at One Step Ahead.
This holiday season, One Step Ahead put together a great gift guide to shop for those little ones in your life!
Less-Mess Finger Paint Set — One Step Ahead Exclusive!
Go on, let 'em finger paint…it's tactile, creative fun! And with our smart, all-in-one finger paint set, everything's neatly contained. Squeeze the paint straight from the tube to the paper; the sturdy tray protects your table from even the heaviest paint glops. Set includes six bright tubes of washable finger paint, 19?" x 13?" finger paint tray, and 50 sheets of heavyweight, 12″ x 18″ paper. The multi-use tray is great for containing puzzles and other projects, too. For ages 18 months and up.
#631531 Less-Mess Finger Paint Set $29.95

Shockproof Silicone Case for iPad 2, iPad 3, and iPad 4 — A One Step Ahead Exclusive!  
Protect that precious iPad® from bumps, drops, and uh-ohs with this truly shockproof case! This patented silicone case provides greater impact-resistance than foam iPad cases (we tested them), and its anti-slip bumpers gives an awesome grip. It allows access to every port and button, and actually amplifies the speaker! Doubles as a stand for viewing videos, and the bright orange color makes it easy to locate. Terrific price, too! Fits iPad 2, 3, and 4.
#631530 Shockproof Silicone Case for iPad 2, 3, 4 $29.95
Tech-Too Appy Alphabet Electronic Toy  
We've tested lots of tech toys, but this is a grow-with-me first! This alphabet keyboard is super fun by itself, with five great games that teach letters, vocab, and phonics. As your child's learning advances, download its free app on your tablet or smartphone, and—presto-chango!—they're connected, adding screen animations that teach facts and spelling. The keyboard handle detaches to become a tablet stand. The only kids' device we've seen that works as both a conventional electronic toy and also integrates with devices. Includes dual English/Spanish modes. Batteries included. 13?"L x 5?"W x 2″H. For ages 2 years and up.
#631529 Tech-Too Appy Alphabet $34.95
My review: 
This is a perfect toy for those 2 years old and up. It has 7 games to learn the alphabet, letters, sound, and various types of music. There is two ways to play with this toy. One, your kids can play with the keyboard as a standalone model and play with all the neat features of this electronic toy. Another way it to play with the keyboard via a tablet or smartphone. Parents can install the Appy Alphabet App and then the device(such as phone) gets put on the base of the keyboard. Once you switch it to app mode, you are all set to have fun and see the games through your phone or tablet.
I love this learning toy as it helps your children to learn all the essentials. Your child can learn to spell their first words through the Alphabet Electronic Toy. It is also loaded with 50 fun facts about animals, music, instruments, nature, and so much more! It has just about every learning facet available in this one compact toy!
2-in-1 Pounding Bench Xylophone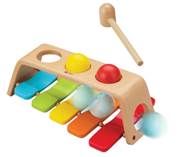 Two educational toddler toys in one irresistible plaything! It's a coordination-building hammer toy… it's a fun first xylophone that gives kids the joy of making music. We love its rugged wood construction, curved bentwood design, and pleasant chiming sounds. Pound the balls through the holes, and make the music play. Includes mallet, three balls, and 11?"L x 7?"W x 4?"H xylophone/bench. For ages 12 months and up.
#631477 2-in-1 Pounding Bench Xylophone $24.95
iLOL First e-Reader
If your toddler won't leave your e-reader alone, get her one of her very own! Our toy e-reader nurtures an early love of reading and stories. When kids open the 3D "e-books," they'll hear and see a story or rhyme. By manipulating the lower slider and keys, they'll trigger more stories and songs. And how clever: it's easy to hold and keep germ-free, too, because the cushy, foam-filled "bumper" removes for machine washing. Batteries included. 6?"L x 8″W x 1?"H. For ages 12 months and up.
#631516 iLOLTM e-Reader $24.95
iLOL Toy Tablet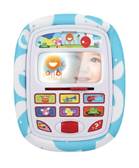 Just like yours, our toy toddler tablet has buttons, sounds, and images popping up on its mirrored screen. Packed with learning fun; teaches letters, numbers, colors, vocabulary, and musical instruments. Each press of the button triggers lights, sound, speech, and learning. Cooler yet, it's both easy to hold and easy to clean, because the soft-grip "bumper" removes for machine washing. With quiz mode, ABCs, numbers, songs, and English/Spanish toggle. Batteries included. 8″L x 6?"W x 1?"H. For ages 12 months and up.
My review: This first tablet is beyond adorable. You can learn about animals, music instruments, colors, numbers, and letters.  This is great to develop fine motor skills and tactile sense, which is two skills that are very important for a little one growing up. They have a lot of fun keys to press on to hear animals and music, your kids are able to spin the roller on the tablet, and they can also activate the slider near the backlit mirror.
Zane loves to look at himself in the mirror. It makes him smile every time! He loves to hear all the nursery rhymes and while we have not changed the language yet, I think it would be neat to hear the words and sayings in another language. This is the perfect learning tool for those 12 months and older. I highly recommend this beginning tablet!
#631517 iLOLTM Mini Tablet $24.95
iLOL Toy Smartphone
We found a toy smartphone for babies as young as 6 months! It looks like yours, but it's packed with learning fun. When baby presses or spins a button, she triggers lights, sounds, speech, and music, teaching her colors, animals, vocab, and more. Better yet, its soft, cushy "bumper" gives little hands a good grip, then removes for easy machine washing. No germ magnet here! Makes pretend calls, too. Great for building eye-hand coordination and verbal skills, while teaching cause and effect. Batteries included. 6″L x 3?"W x 1″H. For ages 6 months and up.
#631518 iLOLTM First Phone $17.95
Have fun shopping at One Step Ahead this holiday season!
*I received several of the above toys for review. All my opinions are my own and not swayed by outside sources.*