Oh potty training….How many times have you said these exact words in your household? While potty training is an absolute necessity, it is also the biggest pain in the neck! Can you relate? While I wish Zane would magically potty train, this is not the case. Thankfully, we have been using the ever so fabulous Bumbo products including the toilet trainer and step stool to make potty training easier on both Zane and I.
Bumbo has been a household name for quite some time. Both kids used the Bumbo floor seat until about 6 months, and they were lifesavers for us. Bumbo realizes the importance of making products that would help with the horrible task of potty training and they did this superbly with the Bumbo Toilet Trainer and Step Stool.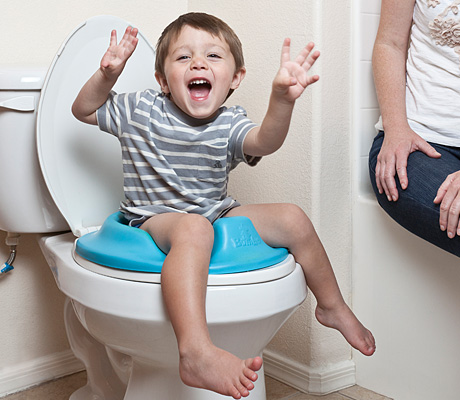 The Bumbo Toilet Trainer will give your children confidence when it is time to use the potty. Zane is deathly afraid of the potty but he is confident going when we put the Bumbo Toilet Trainer on. It gives him the extra boost to know he is O'kay actually going potty. It's unique one-piece design provides secure and comfortable seating for your potty training toddler.
The Bumbo Toilet Trainer fits great on almost all toilets. Zane has no trouble picking up the potty by the handles and putting it on the toilet seat himself. It is one piece that is easy to fit, and fit well. We had a lot of toilet trainers that slid right off the toilet, but this potty fits wonderfully and snuggly.  It also has contoured seat provides support and security for your toddler. If you are worried about messes, do not be, as the Bumbo Toilet Trainer is so easy to clean up!
The Bumbo Step Stool is a wonderful step stool to help transition your kids to having independence. Zane loves to use his step stool in conjunction with his toilet trainer, to give him the extra boost to get up. The Step Stool is very durable and sturdy, yet can easily be maneuvered by your children. Hayley uses this step stool daily to brush her teeth, and then Zane uses it to get on his potty. It has so many versatile uses.
The Bumbo Step Stool also has a slip-resistant surface on base and step, so your kids will not be in danger of falling. It is not very high but nonetheless, accidents can happen. With the Bumbo Step Stool, I am very confident with my kids using it. It supports kids up until  110 lbs! This Bumbo Step Stool is WONDERFUL!
While Bumbo itself has so many wonderful products, I love that they also stand for a very important cause!  A portion of proceeds from every Bumbo product purchase made worldwide is donated to Bumbo Cares, a non-profit organization Bumbo founded in 2005 to support the underprivileged and special needs children in its hometown of Pretoria, South Africa. This year, thanks to the support of those who have made Bumbo a part of their little ones' biggest moments, Bumbo is celebrating a $10 million milestone in charitable giving to Bumbo Cares.  So go out there and buy those Bumbo products today!
Please follow Bumbo on their social media channels today: