*This review was made possible by Double Duty Divas and Kids II. I was provided the featured product free of charge to facilitate my review, but all opinions are 100% mine.*
One of the most important baby must-haves is a good swing! I have to say it is my top three most important items for a baby. The problem is  through the years, it has been hard to find that perfect swing. One swing might be too big, while the other swing but not have all the features I am looking for. That is all changed now after we got the Bright Starts Up, Up, and Away Plug-in Sway & Swing. This is by the far the best value swing with some of the greatest features I have seen in a swing thus far.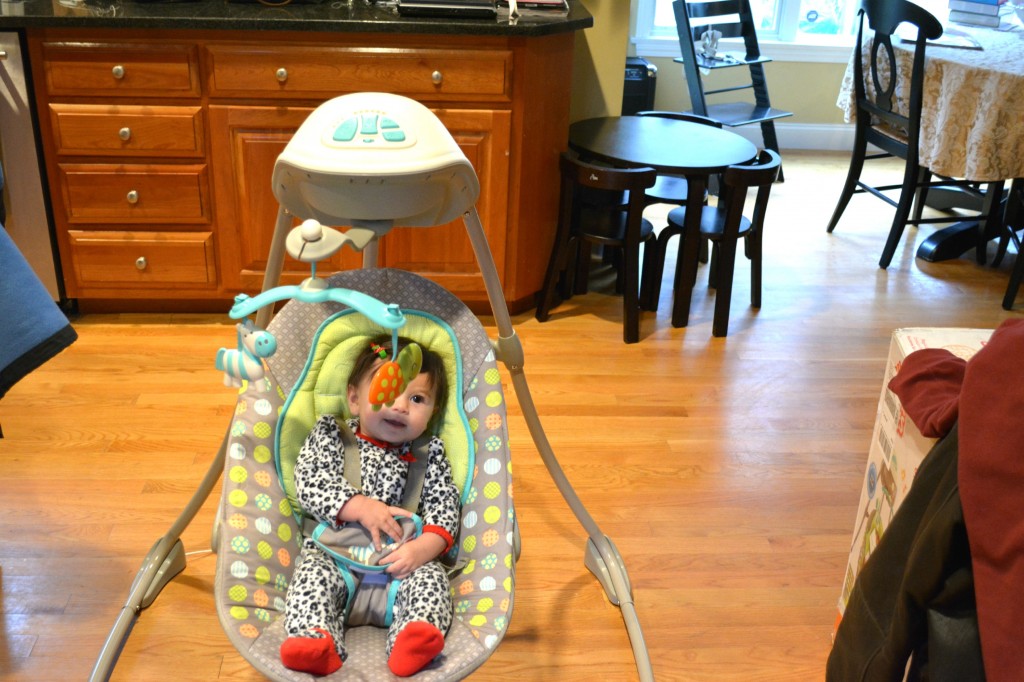 Since I do not have a baby in the house, this Bright Starts Sway & Swing has been used almost everyday by my neighbor, who comes over to watch my kids. She needs a good swing to keep her baby in and both of us have been so unbelievably happy with the Up, Up, and Away Plug-in Sway and Swing.
First, to put the swing together took about 20 minutes but it was readily able to be done with the instruction manual. It gave step to step instructions to make set up seamless. Once it was together, you will have the swing available whenever you need it. I am very used to swings taking up large amounts of space, but this swing was big enough to do the great features such as swaying and swinging, but not too big where it takes up your entire kitchen floor.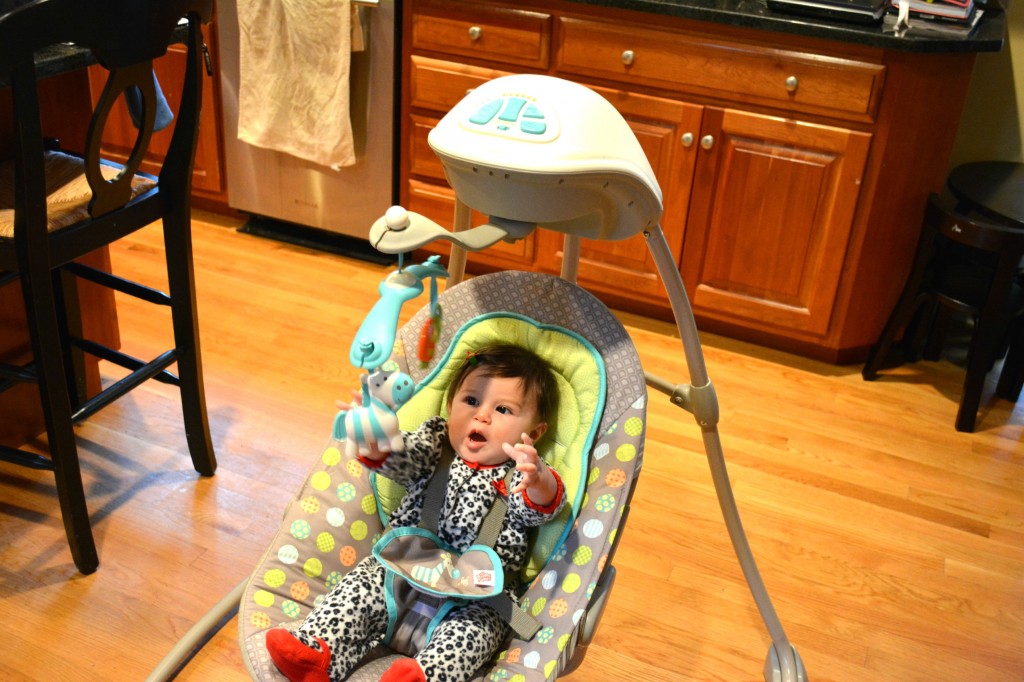 My far my most favorite feature is the ability to use the swing for both swaying and swinging. You can readily put your baby in the regular back to forth swinging mode, or easily change it to the side-to-side swaying mode (the seat rotates 180 degrees for this movement). I know one of my babies loved to use the swing in the "swing" mode but the next door baby loves swaying, just as much as swinging. This two dimensional swing will do it all for you!
The already cushioned swing comes with a removable infant support 'pillow' so your little babies will be comfortable in the swing and safe at the same time. The swing is so plush and comfortable. The baby we use this swing on, is always cooing when we put her in. She loves it! It also has two comfort recline positions so she can fall asleep in it and we can recline it to position #2 for more comfort for her.
There are 6 speeds that can be adjusted with the buttons on top of the swing. You simply increase or decrease speed, depending on what your baby likes. In the beginning when they are tiny infants, we usually like to use it on the slowest speed, but when they begin to grow, they seem to really love how fast this swing can move. You can always keep your eye on your baby because the swing seat rotates to face left, center, or right so parents have full view of baby while swinging. I know I like to cook and do my kitchen cleaning while the baby is in the swing. Wherever I am, I can rotate the seat so I can see the baby. This is absolutely brilliant!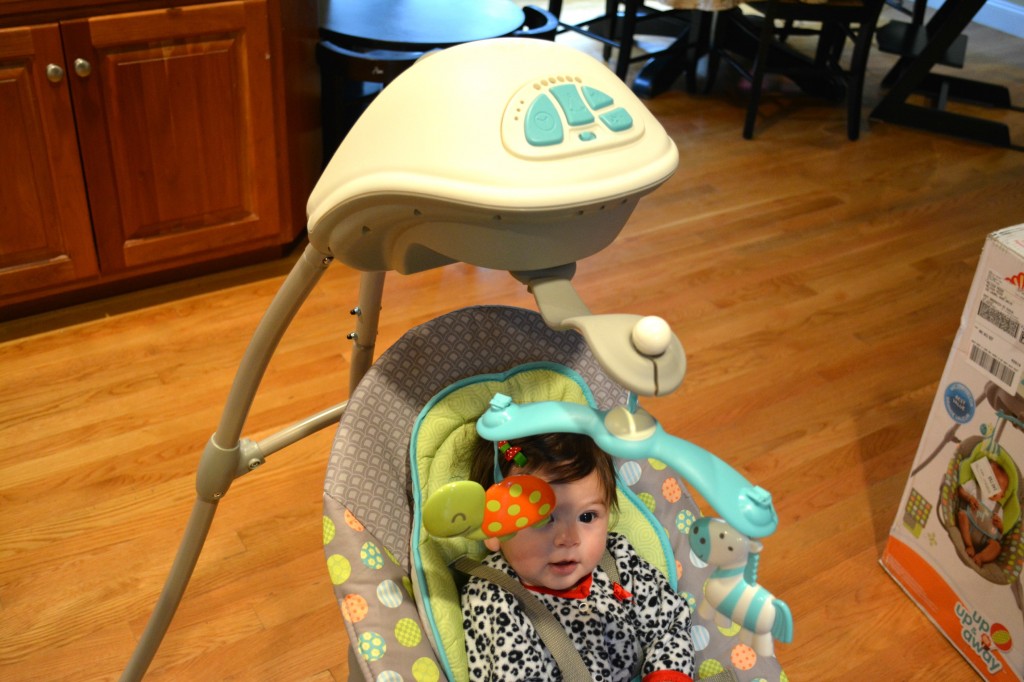 If your baby falls asleep in the swing, you can adjust the swing timer to 30, 45, or 60-minute intervals. Once the timer stops, it will go into a stationary position for comfort and safety.  Talking about safety, this swing has all the greatest features.  It has a 5 point seat harness that will keep your babies secure even on the highest level of swinging. It also has sturdy legs equipped with non-slip feet. It is extremely durable and once assembled, it can be used for years upon years.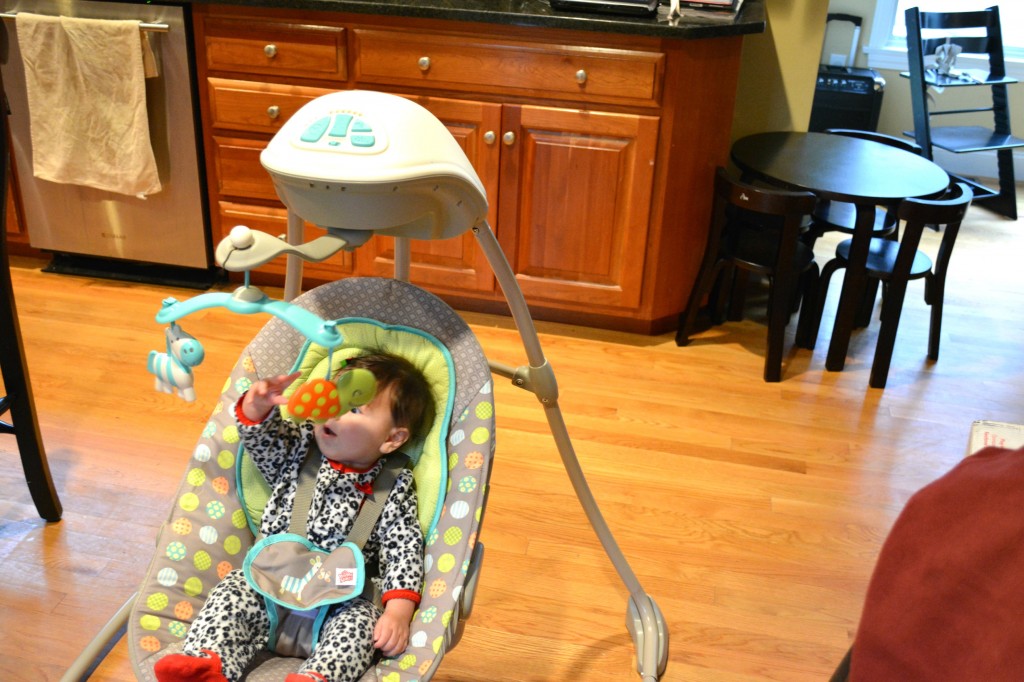 As a swing becomes part of your home, a swing needs to be fashionable with the decor of your home. With the Bright Starts Up, Up, and Away Swing, it comes with vivid and beautiful fabrics, that can be readily cleaned in the washer if need be. It also comes with two adorable toys that will keep your baby interested for hours. I know Baby J loves to constantly touch the toys and watches them constantly. It is very cute what she does- she plays with them and then glances at them until her eyes shut. Then she falls into a peaceful sleep.
I also love that this swing works via an AC Adaptor rather than batteries. I don't know about you, but in this household we go through so many batteries. It is so convenient to have a swing plug into the wall and just begin to work.  I also love the ability to play music with this swing. It features 20 minutes of 8 melodies and 3 nature sounds to keep your kids occupied.
The Bright Starts Up, Up, and Away Sway & Swing is an incredible swing for babies up until 25 pounds. The Bright Starts Up, Up & Away Sway & Swing is available at Walmart.com as well as Amazon. You can find more information about Bright Starts and their great products on their Facebook, Twitter, and Pinterest Page.