On December 10th, Universal Studios Home Entertainment will release DESPICABLE ME 2, the $863 million worldwide box office phenomenon and the year's #1 comedy, on Blu-ray™ and Blu-ray 3D™ Combo Packs, DVD and Digital HD including UltraViolet™!  Bonus features include three all-new mini-movies featuring the mischievous but lovable Minions, deleted scenes, a closer look at the evil minions and much more!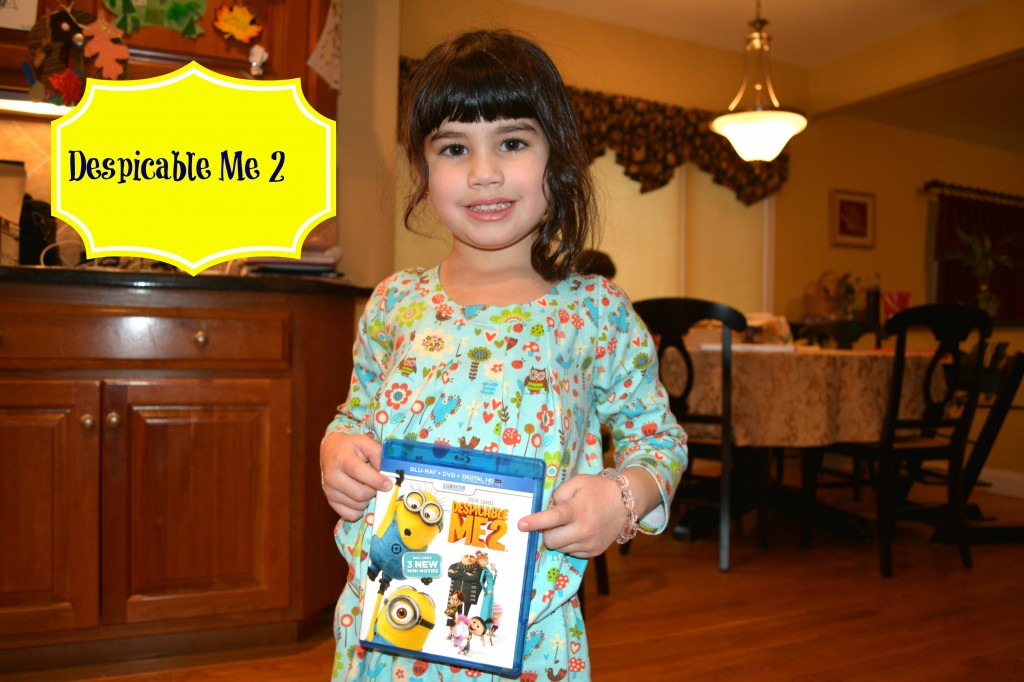 Hayley, Zane, and I saw this movie twice in the movie theatre since we absolutely loved it so much! Truth be told, we never saw the first one going in to see this movie, but we had no trouble following along once the movie started. The kids loved Gru and his role of trying to save the whole world by tracking down and making sure the evil "purple" minions returned to their normal selves without causing havoc on the world.  This movie was a true family movie and above all, it was downright hilarious. The kids and I laughed through almost every scene of the movie!  Their favorite part of the whole movie was the minions. They had a HUGE role in this movie and they provided non-stop entertainment for my 2 and 5 year old.  Minions rule! They also enjoyed Lucy and her woman powers in this movie.
SYNOPSIS:
Gru, his adorable girls, and the mischievous Minions are back with a cast of unforgettable new characters in the blockbuster sequel to the worldwide phenomenon.  Just as Gru has given up being super-bad to be a super-dad, the Anti-Villain League recruits him to track down a new criminal mastermind and save the world.   Partnered with secret agent Lucy Wilde, Gru, along with the wildly unpredictable Minions, must figure out how to keep his cover while also keeping up with his duties as a father.  Assemble the Minions for laugh-out-loud comedy in "one of the funniest, most enjoyable movies ever!" (MovieGuide®)

While the DVD is plain awesome, it also has  more than 45 minutes of hilarious and insightful bonus features,  three all-new mini-movies starring the film series' breakout stars, the mischievous but lovable Minions and so much more.  For a sneak peek of these mini-movies, and other great weekly offers from Despicable Me 2, call Gru at **DM2 (**362) from your mobile phone.*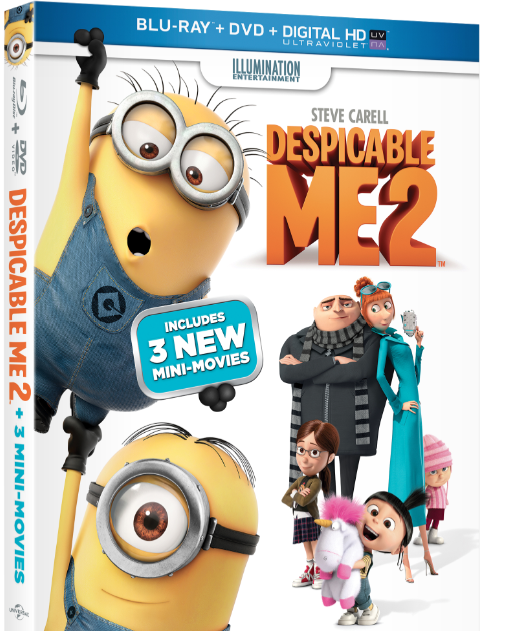 "Despicable Me 2 is the top box-office comedy of the year and is poised for spectacular success on home entertainment this holiday season," said Craig Kornblau, president of Universal Studios Home Entertainment. "This adored franchise, with its iconic lovable Minions, stands apart from all others and is sure to be at the top of everyone's wish list this December."
CAST: In this follow-up to the 2010 worldwide blockbuster, Steve Carell ("The Office," The 40-Year-Old Virgin) returns to play Gru, the newly reformed master criminal now trying to live life as a normal dad to his three adopted daughters. Carell leads a voice cast of comedic powerhouses that includes Kristin Wiig (Bridesmaids, Saturday Night Live), Benjamin Bratt (Miss Congeniality, Snitch), Miranda Cosgrove ("iCarly," Despicable Me), Russell Brand (Get Him to the Greek, Hop), Steve Coogan (Percy Jackson & the Olympians: The Lightning Thief, Tropic Thunder), Ken Jeong (The Hangover, Turbo), Elsie Fisher (Despicable Me, Raising Hope), Dana Gaier (Despicable Me) and Moisés Arias (Ender's Game, "Hannah Montana").  Despicable Me 2 is hailed as "Brilliant! One of the funniest, laugh-out-loud, most enjoyable movies ever" by MovieGuide®.
The Blu-ray™ Combo Pack and Blu-ray™ 3D Combo Pack include a Blu-ray™, DVD and Digital HD with UltraViolet™.
Blu-ray™ unleashes the power of your HDTV and is the best way to watch movies at home, featuring 6x the picture resolution of DVD, exclusive extras and theater-quality surround sound.  
DVD offers the flexibility and convenience of playing movies in more places, both at home and away.
DIGITAL HD with UltraViolet™ lets you watch movies anywhere, on any device. Users can instantly stream or download movies to watch on iPad®, iPhone®, Android™, smart TVs, connected Blu-ray™ players, game consoles and more.
Bonus Features Exclusive to Blu-ray™ Combo Pack & Blu-ray 3D™ Combo Pack.  
Three All-New Mini-Movies Starring the Minions—Introduced by Gru

Puppy
Panic in the Mailroom
Training Wheels

The Making of the Mini-Movies—A fun-filled take on the making of the mini-movies through the eyes of the artists who made them.
Deleted Scene 
The Minions—A visit to Illumination Entertainment in Paris and Los Angeles to hear what it's really like to work with the Minions.
Evil Minions—Bigger, badder and more purple than ever, the newest and fiercest addition to the Minion species can chew through metal and swallow a car. Find out more about the process that led to their creation and design.
A Gru-Some Transformation—A sit-down with Steve Carell as he discusses the transformation of Gru from the ultimate super-villain to super-dad and international spy.
El Hombre Malo: The Villainy Of El Macho—Every great story needs a good villain, and Despicable Me 2 brings on the diabolico in the form of El Macho! Learn about the creation of this character and the actor who brought him to life—Benjamin Bratt.
Bonus Features on Blu-ray™ & DVD
Gru's Girls—Miranda Cosgrove, Elsie Kate Fisher and Dana Gaier weigh in on working with Steve Carell and playing the daughters of a world-famous super-villain!
Gadgets Galore—Lipstick tasers, magnet ships, foam dart dispensers and jelly guns—these are the nifty gadgets of Despicable Me 2. Illumination Entertainment pulls back the curtain on what it takes to build a world that would leave even James Bond envious.
Feature Commentary With Directors Chris Renaud & Pierre Coffin 
We have watched this DVD over and over again since we received it. It truly is magical to my kids and we enjoy family nights watching this movie. Hayley already asked if next year we could all be Despicable Me 2 characters for Halloween. It is a fun and cute family film, that is a must own for a great holiday season film! Do not miss out on buying Despicable Me 2! Trust me your kids will thank you! Witty…Entertaining..Funny…Amazing- Need I say more!
*I received a copy of Despicable Me 2. All my opinions are my own and not swayed by outside sources.*