**I participated in a campaign on behalf of Mom Central Consulting for Boys and Girls Clubs of America. I received a promotional item as a thank-you for participating.**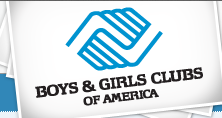 The Boys and Girls Club is near and dear to my heart. Last holiday season, I volunteered at our local Boys and Girls Club and it was an amazing experience. To see the good that the Boys and Girls Club does to our local community, melts my heart. Currently the Boys and Girls Club serves 4 millions youths but they are looking to increase this number each and every year!
This year marks the 3rd annual BGCA Give the Gift of a Great Future Holiday Campaign. We can help create a wonderful future for kids by making a donation to the Boys and Girls Club of America this holiday season! While the holidays are all about receiving, it would be wonderful to give to such a deserving association, as the BGCA! It feels so good and special to give this holiday season!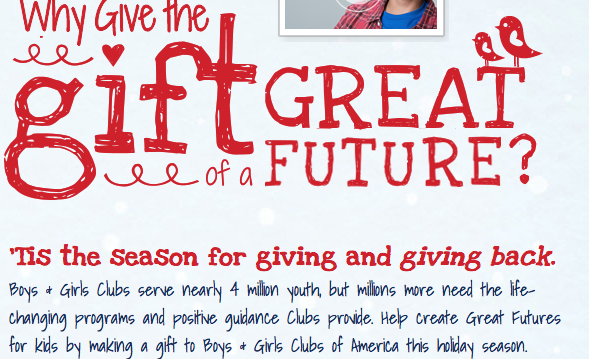 You can also visit the Kids Give Back contest, showcasing BGCA kids giving back to their communities throughout their year. I went through the participants last night and it was awe-inspiring. Young children giving back- that is what the holiday season is all about!  You can learn tips on how to inspire your children to do the same and give back to the community. This year, Hayley and I are donating bins of toys to those less fortunate. It was actually Hayley's idea and I love it!
If you are wrapping those special gifts this season, make sure you create holiday gift tags with the Gift Tag Generator! They have the cutest gift tags that you can readily get on their site! Make that gift extra special with the Gift Tag Generator!
Be sure to check out your local Boys & Girls Clubs' website to find ways to volunteer in your community! Tis' the season of helping others…