I'll confess that with kids ages two and five I can't quite claim to be cooking gourmet meals for my family these days.  The thing is, that once upon a time before kids, I really did love to cook gourmet meals. I think it is my artistic side that enjoys the creative outlet that putting together a recipe entails, and then my foodie side that enjoys eating it!  I have been feeling  after so many mac and cheese dishes, hot dogs or chicken nugget meals,  that my cooking skills may have gotten a bit rusty.
That is why I was so excited to learn about my new best friend in the kitchen, the Top Chef University To-Go app! This app teaches cooking techniques and culinary skills from some of the most popular Top Chef chef'testants. I can learn from them right on my  iPhone and it makes learning more engaging, natural, and  of course convenient. You can learn cooking techniques and culinary skills from some of the most popular Top Chef chef'testants. Training on your iPhone makes learning more engaging, natural and convenient.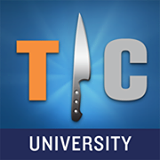 With the Top Chef University To- Go app, you will be able to learn professional cooking techniques and food preparation methods beyond just recipes.  There are over 200 hundred lessons, divided into 20 courses that have over 60 hours of video along with them. That is a high level of cooking mastery for one little app!  The really fun part is that you can keep track of your progress by identifying the lessons you have mastered.

You can browse and search for lessons as well if there is something specific you had in mind to make or master, or a certain chef you'd like to learn from.
The lessons are easy to follow with detailed directions, (this is key for me!) and there is space to take personal notes for each recipe right on the app.  Even if my kids will be in the "kid food" stage for a while, I'd love to get back into cooking nice meals at least for us grown ups.  Why should we have to eat chicken nuggets for dinner just because the kids want to?!   I feel like this app is going to be a great way to help me get back into they enjoyment of cooking nice meals as I learn along the way.  I've eaten my last hot dog for dinner for a while! Bon Appetite!
Some additional information about the app:
-Cook and learn from the top 11 chef'testants at Top Chef University
-Access over 200 lessons organized into 20 courses
-Browse and search for lessons
-Watch lesson videos in high definition
To learn more about this great Top Chef University To-Go App, be sure to follow them on their website, Facebook, and Twitter.
*This is a partnered post. All my opinions are my own and not swayed by outside sources.