Get your engines ready…Disney Planes has officially soared onto DVD!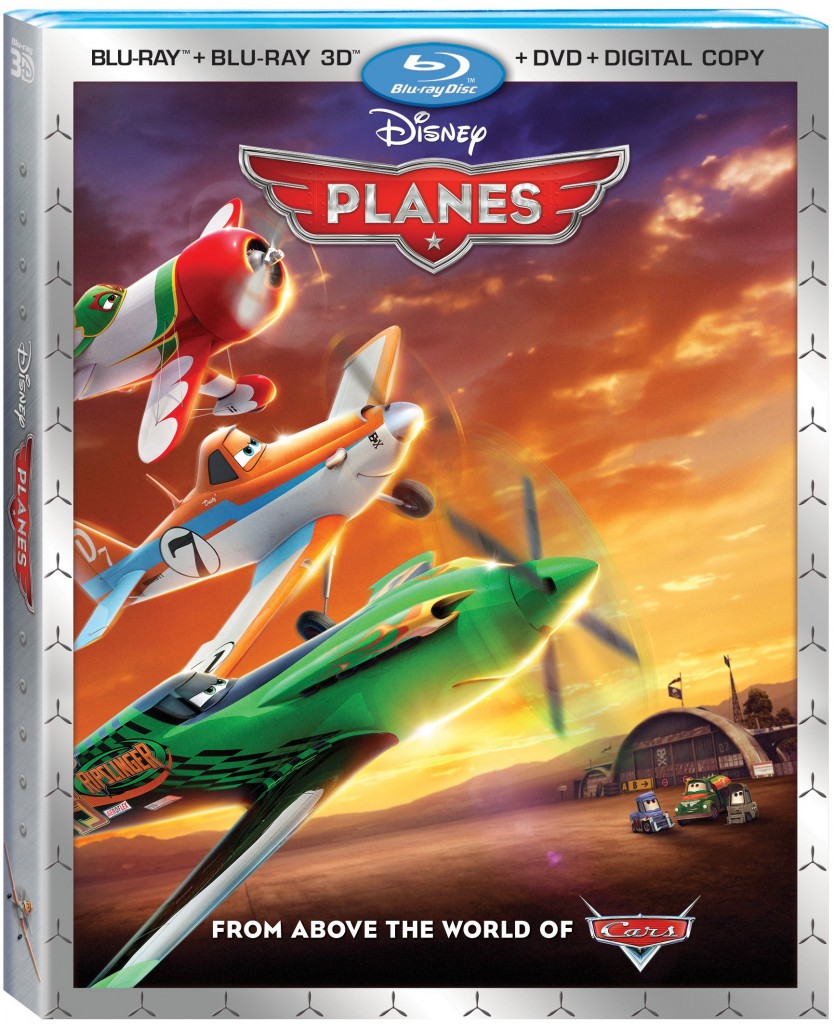 This past summer, I took Hayley and Zane to see Disney Planes on the big screen. It was the first movie for my two year old but I knew he would love it, since he is obsessed with Planes. He sat throughout the entire movie, not making one peep! Hayley also LOVED the movie, and we could not wait to make it part of our Disney DVD collection!
Film Synopsis:
The world of Cars takes flight in Planes, Disney's high-flying animated comedy revved up with action and adventure.  Join Dusty, a crop duster with sky-high dreams and a once-in-a-lifetime chance to take on the world's fastest flyers in the greatest air race ever. Dusty has a huge heart but two big problems…he's not exactly built for speed, plus he's afraid of heights.  His courage is put to the ultimate test as this unlikely hero aims higher than he ever imagined. With a little help from his friends, Dusty finds the courage to be more than he was built for—and the inspiration to soar.
Disney's heartwarming family comedy, "PLANES," revved up with high-flying action and adventure, lands in homes and mass retailers nationwide on November 19th.  This is yesterday people, so now is your chance to buy it! This endearing underdog story about a crop dusting plane named Dusty with sky-high dreams touches down on Blu-ray, DVD, Digital HD and On-Demand featuring a cargo hold full of exciting bonus features. Guaranteeing hours of fun, "PLANES" is the perfect gift for "ladies and gentle-planes" of all ages this holiday season.

After spreading its wings in theaters, "PLANES" soars to glorious new heights on Blu-ray, featuring wondrous high definition picture and sound and never-before-seen bonus features, including musical number "Franz's Song," deleted scenes, a behind-the-scenes featurette that follows Director Klay Hall's personal journey during the making of the film, a look at the ten greatest aviators in history hosted by ESPN's Colin Cowherd, and more.
Directed by Klay Hall ("King of the Hill," "The Simpsons"), produced by Traci Balthazor-Flynn ("Return to Never Land," "Bambi II," "The Little Mermaid: Ariel's Beginning") and written by Jeffrey M. Howard ("Tinker Bell," "Tinker Bell and the Great Fairy Rescue"), "PLANES" flew to the top of the U.S. box office this summer, holding altitude as the #1 family movie in America four weekends in a row.
CAST:
"PLANES" is propelled by a star-studded voice cast that includes Dane Cook ("Louie," "My Best Friend's Girl," "Dan in Real Life") as Dusty, Stacy Keach ("The Bourne Legacy," "Nebraska") as Navy Corsair Skipper, Teri Hatcher (ABC's "Desperate Housewives," "Coraline") as say-it-like-it-is mechanic Dottie, Julia Louis-Dreyfus ("Veep," "The New Adventures of Old Christine," "Seinfeld") as Rochelle, Priyanka Chopra ("Barfi!") as Ishani, John Cleese (Monty Python, "A Fish Called Wanda") as Bulldog, Carlos Alazraqui (James Garcia on Comedy Central's "Reno 911") as El Chupacabra, Roger Craig Smith (Captain America in Disney XD's "Marvel's Avengers Assemble," voice of Sonic The Hedgehog in "Wreck-It Ralph") as the world champion racer Ripslinger, Val Kilmer ("Batman Forever," "Top Gun") as Bravo and Anthony Edwards (TV's "ER," "Top Gun") as Echo.
BONUS FEATURES:
(Blu-ray, DVD and Select Digital Retailers)
Exclusive Franz's Song (approx. 1:40) – Blu-ray & Select Digital Retailers
Produced exclusively for Blu-ray and HD Digital, this never-before-seen completely finished animated song features the German mini-car, Franz Fliegenhosen, who encourages Dusty on his flight.
Klay's Flight Plan (approx. 15:00) Blu-ray, DVD & Select Digital Retailers
Follow Director Klay Hall's personal journey during the making of "Planes" and discover why his family connection to aviation made "Planes" his perfect project.  Fly along with Klay as he lands on a working aircraft carrier to get first-hand experience on the flight deck.
Deleted Scenes (approx.. 3:46) Blu-ray & Select Digital Retailers
Director Klay Hall and Producer Traci Balthazor-Flynn introduce deleted scenes from the movie.
1. Training Montage (approx. 2:38)
2. Taj Mahal (approx. 1:08)
Meet the Racers (approx.. 5:50) Blu-ray, DVD & Select Digital Retailers
Featurettes introducing racers El Chupacabra (1:15), Ripslinger (1:15), Dusty (:90), and Ishani (:90).
Top 10 Flyers (approx. 8:00) Blu-ray & Select Digital Retailers
ESPN's Colin Cowherd hosts a fun, fast-paced countdown of the greatest aviators in history.
This is a truly wonderful family film. While the animation and graphics are second to none, what I really loved about the movie was the lessons it taught. The lessons of courage, friendship, and believing in yourself all are displayed throughout the movie. This is a DVD you do not want to miss out on buying! It is available now for purchase on Amazon and in mass retailer stores.
Stay connected with the latest news and information about "PLANES":
Here is also some fun activities your kids can enjoy:

*We received Planes from Disney for review. All opinions are my own and not swayed by outside sources.*