*This is a sponsored post written by me on behalf of the Scott Shared Values program.*
NASCAR is a big family tradition in my household. When I was younger, I remember actually attending one of the most pivotal NASCAR races in sunny Florida. My dad is a HUGE fan and he brought the love of NASCAR to my family and I. Now, I like to start my own traditions by inviting family and friends over to watch, with some great food and fun. I will be doing just that, this coming Sunday, November 17, at my virtual tailgating party during the Ford Ecoboost 400. Be sure to follow along with my party on Twitter: @dentistmel and Instagram: MommyhoodChronicles. It should be a fun time had by all, watching this wonderful NASCAR race!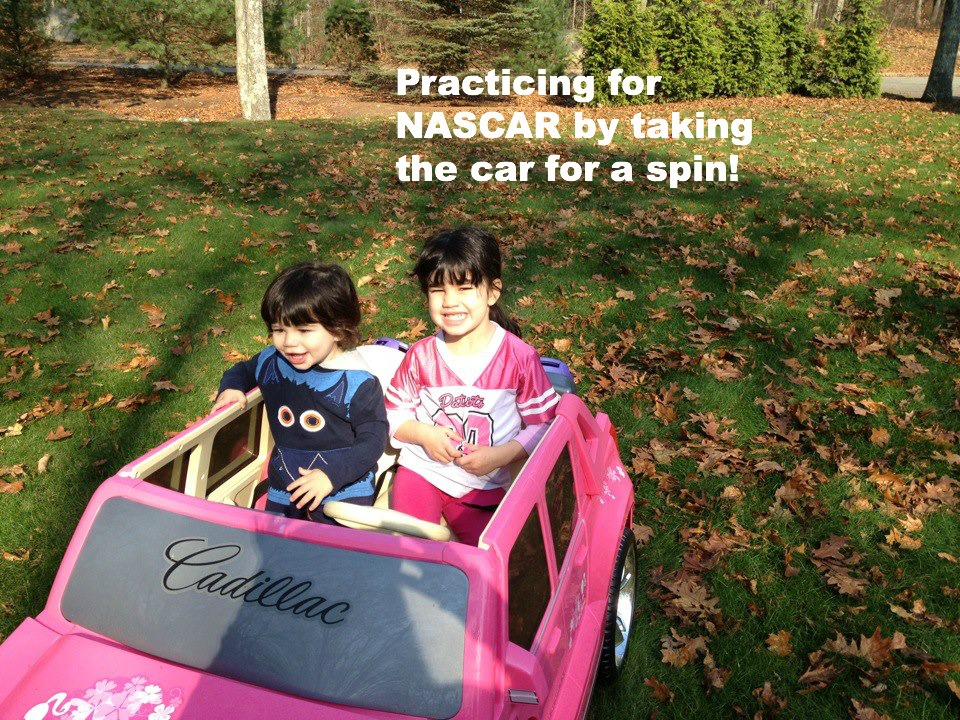 NASCAR has been on my mind lately with the upcoming races, and it's not just because I'm zipping all over town trying to get myself and my kids where we need to be on time each day. (A nearly superhuman task I might add!) No, it's because JTG Daugherty, AJ Allmendinger, and Scott Brand have teamed up to launch the "Win My Car" Sweepstakes that runs September 1 – November 30, 2013, and I want to win!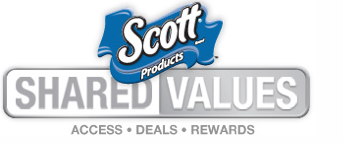 Why do I want to win so badly? Because for the "Win My Car" Sweepstakes and the Scott Shared Values program, Scott brand will be awarding one grand prize winner the choice between the ultimate NASCAR fan memorabilia. The grand prize options are AJ Allmendinger's actual No. 47 Scott Products racecar or a 2013 Toyota Camry! Scott brand is also giving consumers the opportunity to gas up their vehicles by awarding $100 gift cards to 90 winners over 90 days.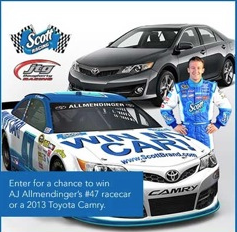 I love how Scott brand is all about bringing more value to your life.  I see this in the way they develop their products to do so, and pass on great values to me and my family. They've even created the Scott Shared Values program which gives members access to special values toward Scott bath tissue, paper towels, and exclusive deals from other top brands, like Papa John's, Disney, Clickphoto, Red Robin and more. You can visit ScottBrand.com each month for the latest value offers, and sign up for the Scott Shared values Program by going to the website and enter the contest while you are there. Members can enter as much a once a day to heighten your odds of winning. Scott is really taking the excitement of NASCAR season to a new level! My family loves the fun of getting caught up in all the racing action, and now we have even more to cheer about!
Okay what are you waiting for- Go sign up for the Scott Shared Values program and start adding great values to your life, by getting great deals and prices on some of the best brands on the market! Be sure to also enter the Win My Car sweepstakes today!
Giveaway: One winner will receive a $100 Gas Gift Card! It is time to start up those cars and get some gas! This giveaway is run via rafflecopter so click read more to see the actual giveaway. The only mandatory entry is to tell me if you watch NASCAR and how you celebrate? Please put all comments in comment section proceeding the post. While the other entries are optional, I highly suggest filling them out to increase your chances of winning. US only!
As part of the "Win My Car" Sweepstakes and the Scott Shared Values program, Scott brand will award the ultimate NASCAR prize of the actual No. 47 Scott Products racecar or a 2013 Toyota Camry. 

The Scott Shared Values program focuses on bringing more value to consumers' lives by providing access to special offers on Scott bath tissue and paper towels in addition to exclusive deals from top brands. Visit ScottBrand.com to enter the "Win My Car" Sweepstakes from September 1, 2013 to November 30, 2013 and for the latest value offers.

This is a sponsored post written by me on behalf of the Scott Shared Values program.
a Rafflecopter giveaway