*I participated in an Ambassador Program on behalf of Mom Central Consulting (#MC) for Sprint. I received product samples to facilitate my review.*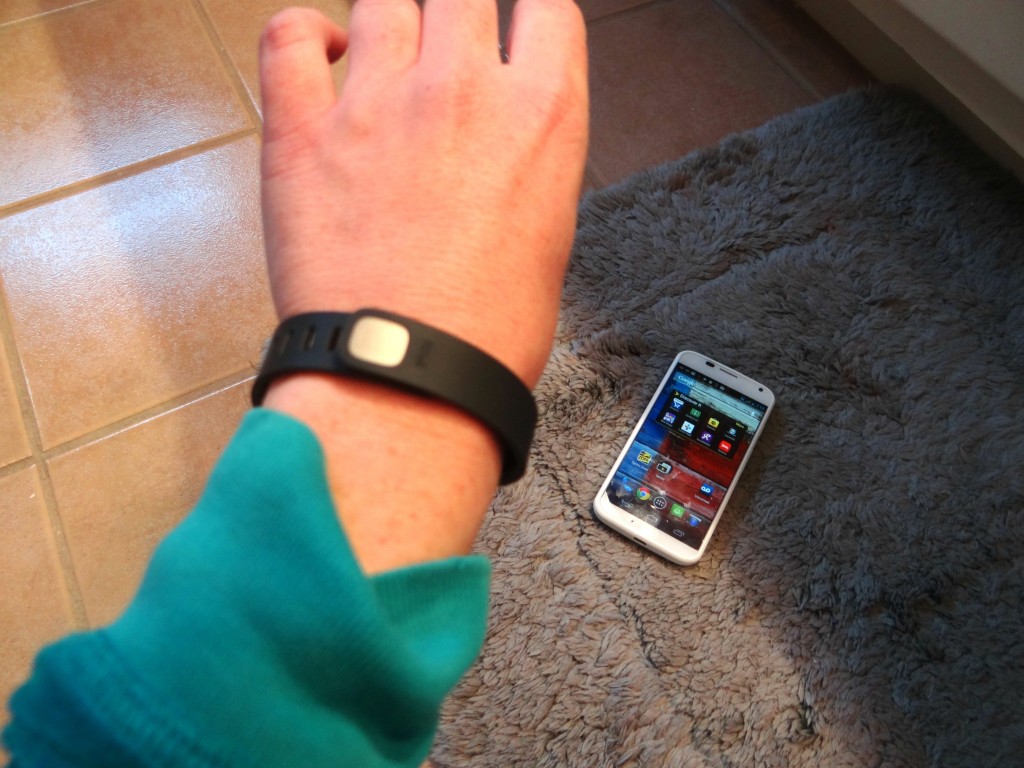 This time of year is absolutely crazy! Between juggling Hayley and Zane's after school schedules, work, and the holidays, it leaves me very little time. I usually go from 6 AM to midnight, trying to fit everything in with my kids, work, and schedules. I would like to have more than 24 hours in a day but this is unfortunately never going to happen. For this reason,  it is more important than ever this time of year to stay organized and on top of all of our various schedules. To do this, I have to rely on great gadgets that will make my life easier and help me take control of the organization I need.  Two of those wonderful gadgets that has made my life expedientally easier is the Motorola Moto X and the fitbit flex.
Moto X Smartphone:
When I first opened up the Moto X Smartphone, the first thing I noticed was the very sleek and functional design. The exact dimensions of this Moto X Smartphone are  5.1 x 2.6 x 0.22-0.41 inches with a weight of 4.6 oz. I love that it is incredibly lightweight, while being big enough, so I can see everything on one screen. I can readily put this phone in my pocket and keep it there until I use it next. The screen is clear and allows me to use all the wonderful aspects of the phone easily.
Once I had I took it out of the box, I was amazed by the Touchless Control.  I am able to check the weather, get directions, or do just about anything without touching the phone at all! Through the power of Google Now, it readily identifies my voice and is able is able to do exactly what I ask. If I state, "Tell me the weather" in the morning, I am able to get the answer in a second flat. I am always amazed at technology these days and this Moto X Smartphone has really amped up technology to include so many wonderful features!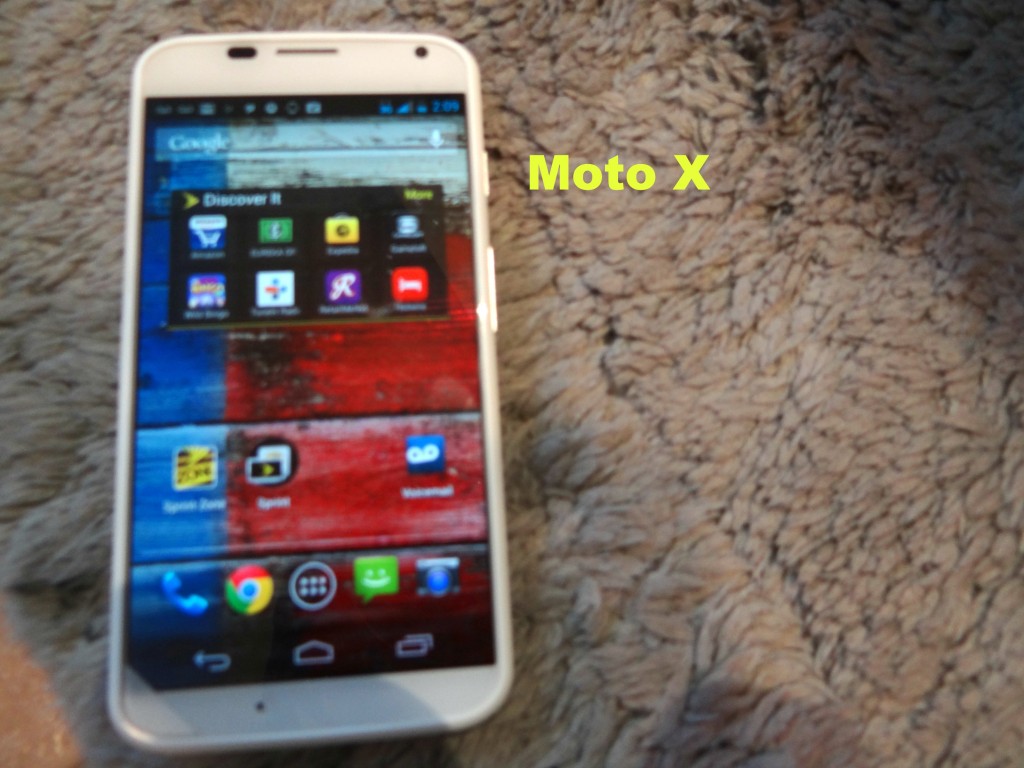 I also can go on and on about the camera. It took much clearer pictures than any phone I have had previously and it is very easy to operate. To take a picture, I simply touch the phone and the picture will pop up. I have had problems in the past with having to hold a specific button to take a picture. Now, I just need to touch the screen anywhere, hold down for a second or two in the camera mode, and it the picture will be taken.  You will LOVE the clarity! The video taking is equally as easy.
I really can go on and on about this phone but my last favorite feature is the ability to get the Sprint Zone on my phone, which has news/promos, entertainment features, and more. They even have a full music Sprint Music Plus section to get great ringback tones, and a large plethora of music, delivered right to your phone.
If you would like more information about the Moto X Smartphone, I have included some of the basic information, along with special features.
AndroidTM 4.2.2, Jelly Bean
Sprint 4G LTE
World Phone – Quadband GSM (850/900/1800/1900)Tri Band UMTS (850/1900/2100)DC HSPA+
X8 Mobile Computing System, 1.7 GHz dual-core application processor
Personal and business email and text messaging, as well as IM through Google TalkTM
Google MobileTM wireless services such as Google SearchTM, GmailTM, Google MapsTM for Android, Google CalendarTM and YouTubeTM
3G/4G LTE mobile hotspot capability supporting up to 8 Wi-Fi enabled devices simultaneously
Corporate Outlook email using Microsoft Direct Push Technology/Microsoft ActiveSync
Near Field Communication (NFC) capable
Wi-Fi® 802.11 a/b/g/nEntertainment/Personalization
Touchless Control – Without touching the phone at all, users can check the weather, get directions, or do just about anything—just by saying "OK Google Now" Because it learns their voice and with the power of Google Now, Moto X doesn't guess like other phones do.
Active Display – Moto X is always paying attention. Information quietly appears on the screen to tell customers what they need to know.
Quick Capture – Just with two twists of the wrist, Moto X is ready to shoot. Touch anywhere on the screen, and you'll get an amazing shot. All in just a few seconds.
Motorola Connect – Provides in-browser notifications
Motorola Migrate – Migrate call logs, text messages, pictures and music from an old Android device(must be Android 2.2, Froyo, or above) to Moto X
Dual Cameras: 10 MP rear-facing camera with LED flash, 4 X digital zoom and video capture, 2 MPfront-facing with video capture
Sprint TV® and Movies, with more than 15 channels of live sports, live breaking newsand full episodes of the most popular daytime, primetime and kids entertainment
Sprint Music Plus, a full-featured music store and player for music tracks, ringtones,and ringback tones, including millions of DRM-free music tracks and tones updated daily
3.5mm stereo headset jack
Bluetooth® 4.0 LE+EDRSPECIFICATIONS
Dimensions: 5.1 x 2.6 x 0.22-0.41 inches, weight: 4.6 oz
Display: Main Display: 4.7-inch AMOLED RGB HD (720×1280)
Memory: 16 GB standard and 2 Years of 50 GB storage offered for free on Google Drive
Battery: 2200 mAh battery for up to 13 hours continuous talk-time
Fitbit Flex: Along with the Moto X, we were sent the Fitbit Flex, which I able to sync directly to the Moto X (and other devices if you like) to help track all your exercise, food, and sleeping progress. If you do not know what the Fitbit Flex is, it is a wireless wristband that is a full activity tracker, along with sleep tracker. You are able to set goals and track what you are eating, how much exercise was done in the day, and see if you got that full 8 hours of sleep!
I have been wearing this everyday since I received it and I absolutely love it. I am trying to maintain my weight, and am doing this by taking brisk walks at night. With the Fitbit Flex, I can track the steps, distance, calories burned, and active minutes during the day. It is interesting to see how little steps I was actually taking during the day. Since I started wearing it, I have upped my walking, which in turn helped me to lose a pound or two! Win..Win!!
One of the coolest features for me is definitely the sleep tracker. It is so interesting to see the hours I slept, how many times I woke up, and my sleep quality. It even has a silent vibrating alarm. I realized quickly with the fitbit that I was getting way less sleep than I should be getting. I now adjust my sleeping times, and I feel overall so much better!
You are able to track your data by syncing your stats real time to either your computer of smartphone, such as the Sprint Moto X. I usually check my fitbit app on my phone at the end of the day, and see how much progress I have made.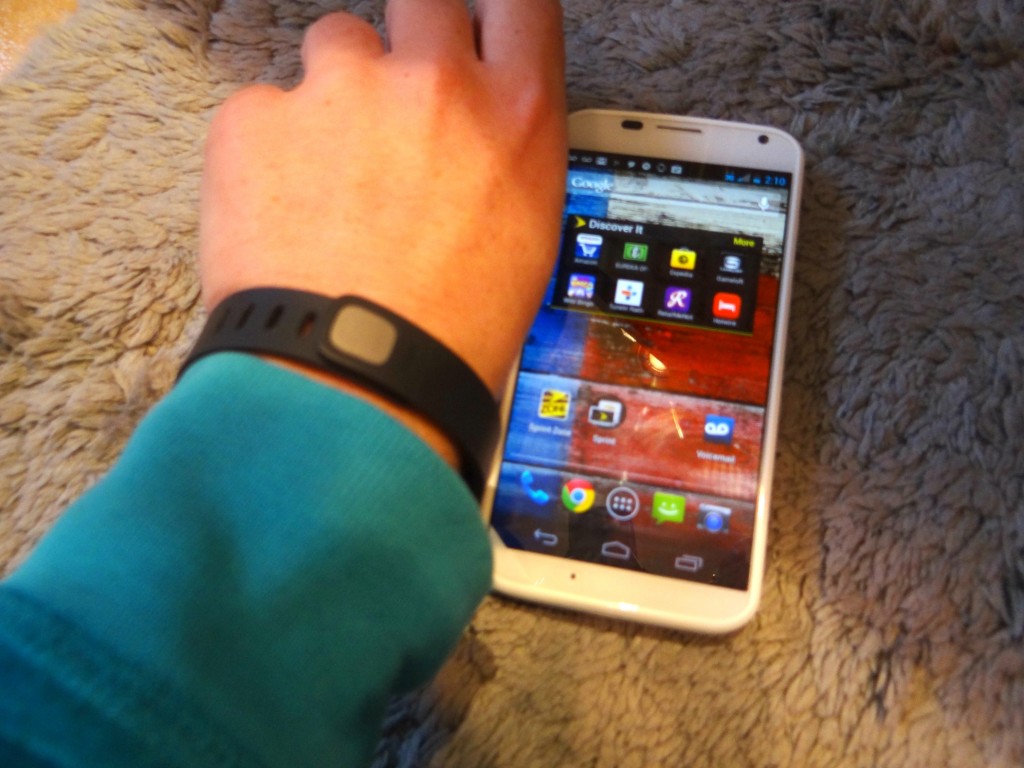 The Moto X and fitbit flex are invaluable tools for helping me with scheduling and making my life as a mom easier. The fitbit flex is available at Sprint! When purchased at Sprint, you'll have unlimited data – which makes it convenient to sync your fit bit data on-the-go as often as you want without worrying about overages on your wireless bill. If you are thinking of great holiday gifts, I highly recommend the Moto X from Sprint and fitbit flex!