Having two small kids, I am constantly getting my clothes dirty and wrinkly. By the end of the week, I have about four outfits that I need to bring to the dry cleaners. It is not advantageous to take time out of my busy day, to go each week to the cleaners. Also, the expenses of bringing my clothes to get dry cleaned really adds up. That is why I am so grateful I found about the HAAN Steam Station II-Garment Steamer and Sanitizer. This has been an absolute lifesaver to getting my clothes dry cleaned fresh in seconds, without ever visiting an actual dry cleaner!

When I received the HAAN Steam Station, set up was extremely easy. It came with the HAAN Steam Station Body Base, Telescopic Pole to connect to the base, 1 safety mitten, 1 pressing board, 1 crease tool with an extra clip, and a fabric brush tool. Once I had it set up, I immediately tested it with my black pants, which tend to get quite wrinkly.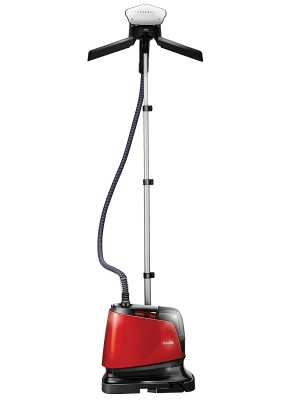 With the HAAN Steam Station,  it acts to steam away wrinkles quickly and gently. It works with most type of fabrics, that you may have. I even tested it with my velour top and after using it, there was no wrinkles. It was amazing!  On the hanger, you can put any type of garment from delicate silks to heavy woods. You can use this Steam Station for up to 30 minutes of non-stop use.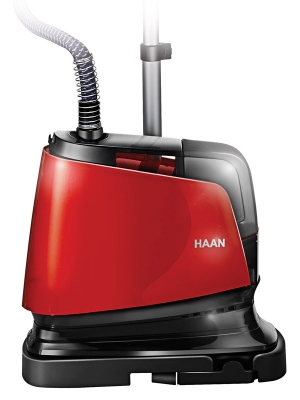 It features 9 high velocity steam jets that emit steam at temperatures in excess of 212 degrees F while keeping your hands cool and dry. The jets are powerful enough to get rid of those terrible odors and it kills up to 99.9 percent of germs without the use of any chemicals.  This system uses only water for a chemical-free freshness.  The heated steam plates on the HAAN Steam Station, also  helps perfect creases so you get wrinkle-free fabric when you are done using it.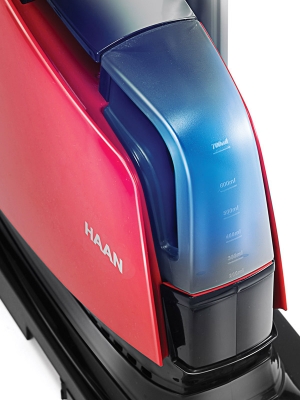 The steam hose is 47 inches, so it allows for easy maneuverability. It also features a 3 position adjustable pole to extend to fit any garment and folds for convenient storage, when finished. The adjustable pole locks is there to help loosen the pole, when you want to extend, as well as locking it to secure the pole in place.
THe HAAN Steam Station II  is by far gentler than any irons I have used and does a fantastic job of removing wrinkles from my fabrics.  My clothes have never looked better and it has saved me a pretty penny, by not having to go to my local dry cleaner weekly! The garment steamer's easy to grip handle gives it portability for use in refreshing, sanitizing, and removing wrinkles from other fabrics in your home. The stylish and compact design makes for easy storage at the end of the day. It is very easy for me to take the Steam Station out when I am ready to use, and return it to it's place when I am done.
High velocity steam jets and metal plate steam head get wrinkles out quicker
Removes odors and kills up to 99.9% of germs without chemicals
Adjustable garment pole extends up to 65" above ground
Uses only water for chemical free freshness
Quick start up – ready for use in less than 1 minute
Stylish, compact design for easy storage
Convenient power and water tank indicator lights
Removable water tank can be easily filled with tap water at the sink
This would make a fantastic gift for the holiday season! I have always wanted one but did not know the magnitude of what the Steam Station could really do! I highly recommend it. It retails for $119.95 on the HAAN website! If you are interested in buying it this holiday season, HAAN has given me a discount code to use for a limited time. Please put :
MOMCHRONICALSGS65 for $10 off the garment steamer GS65 and it will be valid 11/14 to 11/28!
Win it: One winner will receive the HAAN Garment Steam Cleaner. This giveaway is run via rafflecopter, so click read more to see the actual giveaway. The only mandatory entry is to tell me what is your favorite feature of the Steam Cleaner in the comment section proceeding this post. While the other entries are optional, I highly suggest filling them out to increase your chances of winning. US only. Good luck!
*We received a steam cleaner for review. All my opinions are my own and not swayed by outside sources.*