Hayley is now very interested in Phineas and Ferb! She has officially entered Phineas and Ferb territory! A while ago she was too young to really enjoy it, but times have really changed now. This is why we were so glad to receive the Phineas and Ferb Quest for Cool Stuff Wii game for review.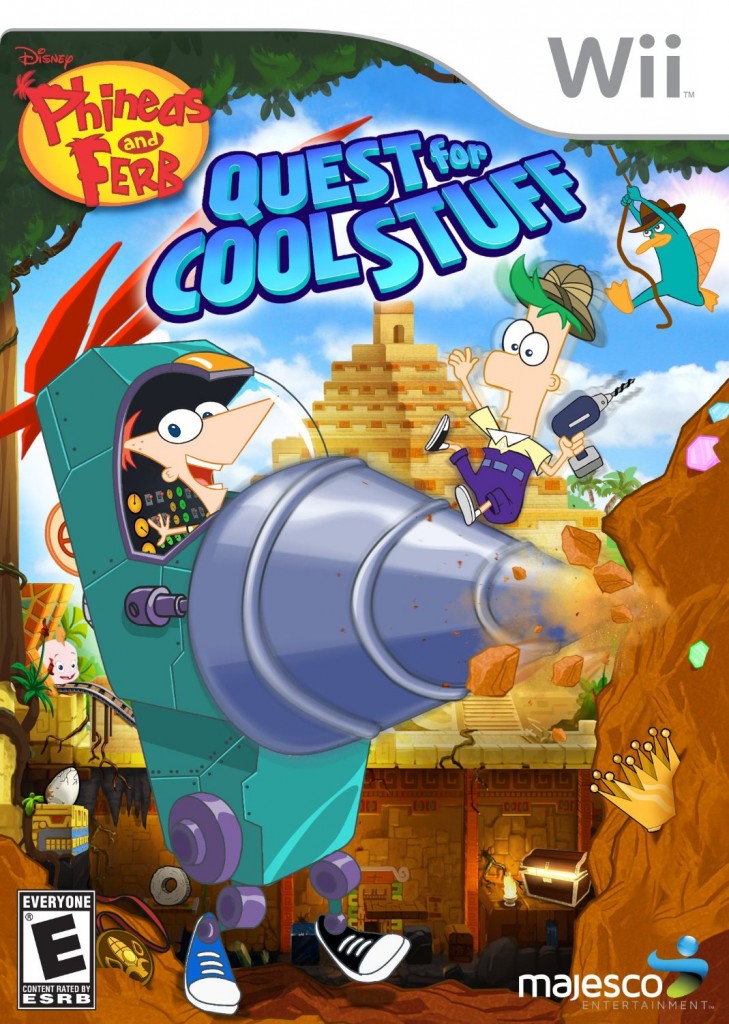 Phineas and Ferb Quest for Cool Stuff was a nice reprieve from the other simpler Wii games she has played such as Tetras. With this game, you can find cool treasures awaiting beyond the tri-state. You will be able to dig, drill, and blast through an out of this world adventure with Phineas and Ferb, as you collect fun stuff for the Museum of Cool!
Your children will have the chance to play 8 different characters and in doing so, the mission is to try to save the tri-state area by being a crime fighting agent. Your kids will be able to upgrade their gadgets to improve them and be able to explore caverns, lost temples, and even the surfaces of the moon. Along the way, they will be able to build, customize and upgrade the do-it-all transformations.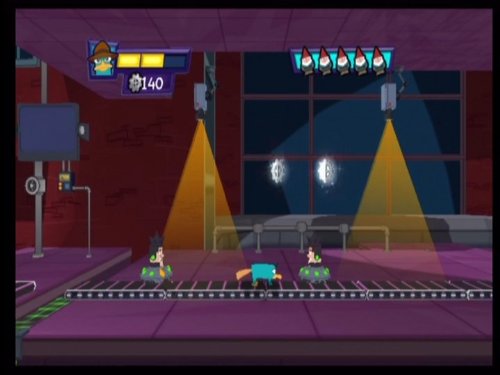 Here is some information about the game and some neat key features:
There's a whole lot of stuff to do during the last week of summer vacation and Phineas and Ferb want to do it all! Join these charismatic brothers of invention as they create, travel and explore in their quest for artifacts to fill out the Museum of Cool.  Perry the pet platypus, aka Agent P, has their backs when bumbling villain Dr. Doofenshmirtz unleashes his latest obscure "-inator" devices designed to take over the entire Tri-State area!
Key Features
Play as Phineas, Ferb and Perry/Agent P as you interact with characters from the show including Dr. Doofenshmirtz, Candace, Isabella, Buford and Baljeet.
Experience two unique play mechanics: Exploration Mode: Switch on-the-fly between ambitious innovator Phineas and silent, but stoic "Man of Action" Ferb as you explore their backyard, a lost temple, underwater caverns, and the surface of the moon! Action Mode: Transform Perry from subdued pet mode to super Agent P–jump, run, crouch, slide, hang from ledges, fight robot "inators" and sneak past traps and obstacles in Doofenshmirtz's diabolical lab.
Build and play in the A.T.T. (All-Terrain Transformatron Vehicle). Upgrade the A.T.T. by assembling new parts like pincers, drills, rocket boosters and headlights that you need to access new areas. Customize the A.T.T to your preference with colors, sounds and decorative parts.
Unfold an intertwining multi-episode storyline as Phineas and Ferb hunt for lost treasure and travel the world while crime-fighting Agent P embarks on a secret mission to foil Dr. Doofenshmirtz's zany schemes.
Defeat Dr. Doofenshmirtz's flying Norm Bots and robot hordes including the Patroller, Jumper, Charger and other "get-rid-of-cool-stuff-inators." Avoid Dr. Doofenshmirtz's nasty lab traps: collapsing floors, laser beams and falling boulders!
Collect silver sprockets then use them to buy spare parts for the A.T.T.
Swing by Phineas and Ferb's backyard Museum of Cool to access special items and loot you've collected on your adventures. Ferb's Amazing Fun Trinkets include some of the coolest artifacts the boys discover including the lost Atlantis hieroglyph, floating baby head, Meap's Mustache, caveman's first stone wheel, and more.
This was not an easy game for Hayley (who is 5) to play but one that required her to use her skills, determination, and her mind! Along the way, she was also having an incredible amount of fun. There are so many different challenges and activities you can see and play in this game. Your kids will not get bored as they can readily switch game modes and play various parts of the game. If your kids love Phineas and Ferb (and seeing their favorite characters such as Candace, Buford, Isabella, and more), then this is the game for you! You can buy this game now on Amazon for $29.95.
*We received the above product for review. All my opinions are my own and not swayed by outside sources.