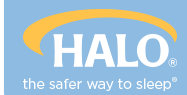 Did you know that 80-90% of SIDS-related deaths are due to unsafe sleep practices?   During the month of October, HALO will donate $1 to SIDS Awareness for every new Facebook "Like".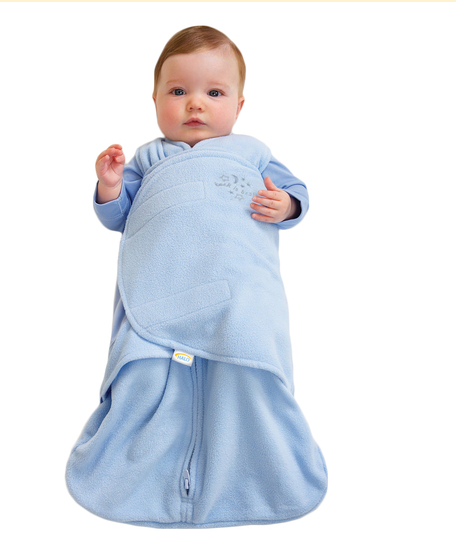 Safe Sleep Practices
ALWAYS
Place baby to sleep on his or her back at naptime and at night time.
Use a crib that meets current safety standards with a firm mattress that fits snuggly and is covered with only a tight-fitting crib sheet.
Remove all soft bedding and toys from your baby's sleep area (this includes loose blankets, bumpers, pillows and positioners). The American Academy of Pediatrics suggests using a wearable blanket instead of loose blankets to keep your baby warm.
Offer a pacifier when putting baby to sleep. If breastfeeding, introduce pacifier after one month or after breastfeeding has been established.
Breastfeed, if possible, but when finished, put your baby back to sleep in his or her separate safe sleep area alongside your bed.
NEVER
Never put your baby to sleep on any soft surface
Never dress your baby too warmly for sleep; keep room temperature 68-72 degrees Fahrenheit.
Never allow anyone to smoke around your baby or take your baby into a room or car where someone has recently smoked.
HALO is also participating in the HALO In-Hospital Sleep Sack Program!
Their HALO Safer Way to Sleep® In-Hospital Program replaces the traditional blankets in your well-baby nursery and NICU with a FREE* supply of HALO® SleepSack® Swaddle wearable blankets to model a safe, blanket-free alternative for parents.
Their FREE In-Hospital Program Includes:
Specially designed HALO® SleepSack® Swaddle wearable blankets for in-hospital use, made of durable fabric with easy access to monitor leads.
FREE safe sleep educational materials for parents and staff training.
Marketing and public relations support materials to promote your hospital's safe sleep practices.
HALO is a brand that I used on my children when they were babies! I found the SleepSack the easiest to use and now have given it on to my best friend, who had a baby recently.  It is so easy to use the SleepSack Swaddle by HALO by simply using the velcro wings to tighten for a custom fit. I don't need to struggle with making the perfect swaddle because HALO does it all for me with the SleepSack!
The HALO SleepSack offers two different uses including- both arms out like the original style, and arms in now with the swaddle wings!  One of the features I love with the SleepSack is the zipper goes all the way to the bottom near the feet, so I don't have to undo the whole thing. It makes it easier for quick over the night feedings and diaper changes! It really makes swaddling purely a cinch!
Visit HALO today for all the different patterns and colors available for the swaddle! Also don't forget that during the month of October, HALO will donate $1 to SIDS Awareness for every new Facebook "Like".
Giveaway: One winner will receive a Halo SleepSack. This giveaway is run via rafflecopter so click continue reading to see the actual giveaway. The only mandatory entry is to tell me what is your #1 safe sleep practice for your kids in the comment section proceeding this post. While the other entries are optional, I highly suggest you fill them out to increase your chances of winning. US only. Good luck!
a Rafflecopter giveaway

*I received a SleepSack for review. All my opinions are my own and not swayed by outside sources.