Welcome to another great weekend! My favorite season, fall is soon upon us! I hope you all have a fantastic weekend!
As always, come link up any cute or funny post. Feel free to check out the other blogs who link up, as they all provide a great laugh. I want to acknowledge that I have been doing this blog hop for 18 months now, and I thank all of you, who provide me with laughs every weekend. Feel free to share on social media or take my button although this is not necessary!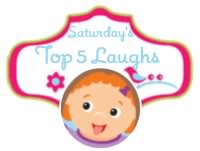 My top five laughs:
5. Hayley is obsessed with Zane. She gives him hugs all day long and all he reciprocates with, is pushing her. Is it bad that I laugh?! He is 2.5 years younger, but for sure, the bigger bully!
4. Zane told me the other day that the cookie I made him was "Truly fantastic!" I was cracking up! It is funny hearing him talk such big words now. And I thought he would never talk-LOL!
3.  Hayley started school last week and loves it. Yesterday, she told me that it was letter F day at school and gave me an object of a unicorn for her to bring in. I told her unicorn starts with a U but then she tells me it is a funny looking unicorn, which starts with a F!
2. We went to see Disney on Ice this week. Zane  is obsessed with Mickey and throughout the show kept asking me, "Where is Mickey?" Whenever Mickey came on, he said, "Mommy…Look it is Mickey..Look Mommy!" I think the boy is going to flip out when we go to Disney!
1. Yesterday, I went to do laundry and I came back to find Zane on the kitchen table, totally naked (except for his diaper). Notice how nonchalant Hayley is during this! Look how she goes along eating her dinner!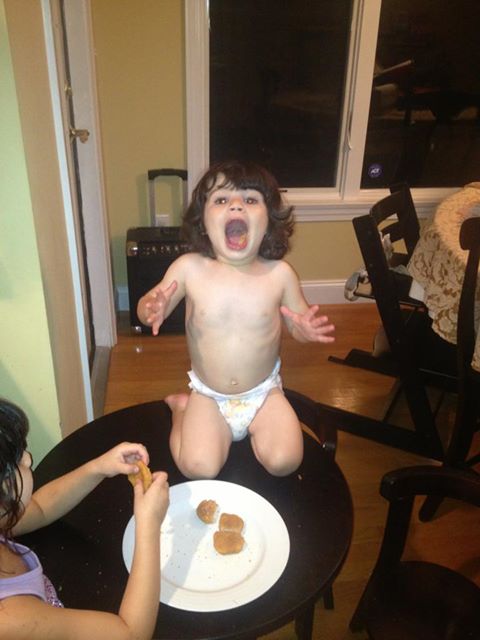 Now your laughs: