It is the weekend and the weather is getting cooler! Can you feel it in the air?! I hope you all have a great weekend with whatever you do!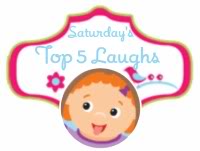 As always, please link up any cute or funny post. Definitely check out the other blogs who link up, as they provide a great laugh. Feel free to take my button or share on social media, although this is not necessary!
My top five laughs:
5. Zane did not feel good this week. When I asked him how he felt, he told me not good. When I asked him what hurt, he said, "I am not sure..You tell me?" LOL!
4. I am just so excited about my little surprise or shall I say huge surprise for Hayley next week for her birthday! I am taking her to Disney and have it all planned out! However, she has no idea and has been begging me for the last year to take her. She found out her friend was going this week and she told me, "Mommy…I have been a good girl! I deserve to go to Disney!"
3. Hayley is again not sleeping through the night. She wakes me up anywhere from 3 AM to 5 AM. Each night is a different reason. Last night, it was tell me that she felt it was necessary to tell me how much she loved me! I understand Hayley but it is 5 AM!!! Love can wait…
2. Zane loves to tease Hayley. This week he told Hayley that she needed to clean up his room. He said, he was tired and she needed to do it. And guess what! She did it..Sucker!!
1. Hayley has this girl who she is very good friends with. This week they were hanging out and playing. Hayley said to her, "You are my best friend and we will be best friends, even when we are as old as our mommies." Oh thanks Hayley- calling me old! I know I am going grey but still!
Now your laughs: