I am back with my laughs! Sorry about taking off last week but it was for a good cause- Blogher of course! Anyway, I am back and as usual, I can't wait to share my laughs!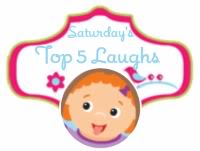 Come link up any cute or funny post. Feel free to share on social media or take my button if you like. Also, definitely check out the other posts who link up, as they all provide a great laugh!
My top five laughs:
5. Zane is my biggest laugh! That kid is a comic show all in one. Last night we went to dinner and he screamed he was hungry. Boy was he ever, as he ate 3 hot dogs, salad, watermelon, corn, and dessert! After he was done, he replied, "Still hungry!"
4. Hayley keeps asking me if it is December yet so we could go to Disney. She is like a kid in a candy store. She is going to be so excited when her and I fly to Florida alone to celebrate her 5th birthday in November.
3. Zane's favorite words to me lately are -"Go away mommy!" Lovely, right!
2. Hayley got 4 inches of her hair cut yesterday. She immediately looked in the mirror and replied, "I am so pretty now!" Girl…You are conceded is what you are, LOL!
1. I say it over and over but I love how Hayley and Zane are really bonding these days! They won't leave each other sides. They have become the best of friends. Wait…Remind me I just said that when they start screaming at each other:)
Now your laughs: