We recently received the new Nickelodeon DVD, Let's Learn: Colors which features many wonderful episodes of Nickelodeon favorites including Bubble Guppies, Dora the Explorer, Blue's Clues, Team Umizoomi, The Wonder Pets, and more!  This DVD is such a great way to learn colors, 123's, and ABC's. If you have a preschooler, this is the DVD for you! It is available on Amazon today!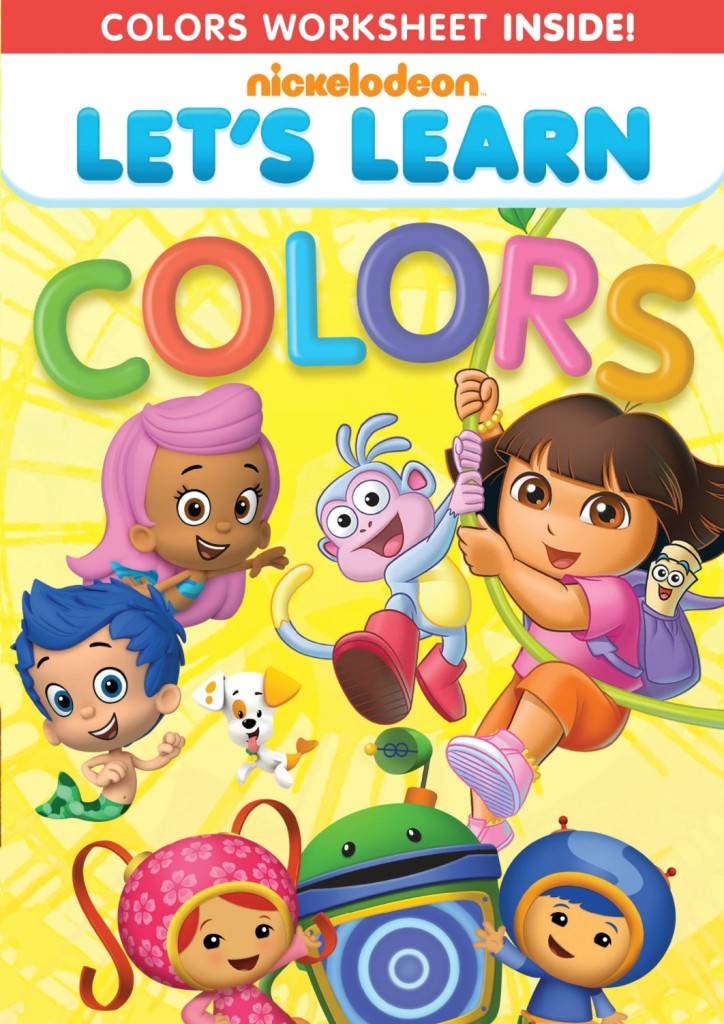 Get to know the educational values of Nickelodeon programming with Let's Learn: Colors. As part of the Let's Learn line of DVDs, this all-new DVD packs over two hours of edu-tainment with episodes from Nickelodeon's hit preschool series Bubble Guppies, Dora the Explorer, Team Umizoomi, Blue's Clues and The Wonder Pets!. Kids will have a great time whilelearning with their favorite Nickelodeon friends; and as an added bonus included inside, there's a coloring activity sheet to keep kids learning more about the colors of the world!  Created by Nickelodeon Home Entertainment, and distributed by Paramount Home Media Distribution, Let's Learn: Colors is available on DVD on now, for the suggested retail price of $14.99.  Also available now are Let'sLearn:123s and Let's Learn: ABCs.
Episode Synopses:
Bubble Guppies: The Crayon Prix!
Green means GO! The Bubble Guppies are learning about colors while car racing! Help them mix colors, make new shades, and speed across the finish line!
Dora the Explorer: Quack! Quack!
When Dora and Boots color in a picture of Mami Duck and her eggs, their coloring book magically comes to life and the eggs start to hatch. Suddenly, the wind blows one of Mami Duck's eggs away. Oh no!
Team Umizoomi: Kite Festival
Jeannie can't wait to fly her kite at the big Umi City Festival. But, when a gust of wind blows the kite out of her hands and scatters its pieces throughout Umi City, she needs Team Umizoomi's help to find the missing pieces.
Blue's Clues: Colors Everywhere!
Today we're painting portraits of our friends. We play Blue's Clues to figure out who else Blue wants to add to our Portrait of Pals. All the colors then dance, mix and sing the color mixing song along with Joe.

The Wonder Pets!: Save the Moose in the Caboose!
Ming-Ming draws a colorful story about a Moose stuck in a caboose that's headed for a cliff!
The Wonder Pets!: Save the Flamingo!
The Wonder Pets get a call from a Baby Pink Flamingo who is stuck in a marsh in a coloring book. The Wonder Pets use crayons to draw a bridge and save the Pink Flamingo.
Fast Facts:
Street Date: July 23, 2013
Catalogue: 804274
DVD SRP: $14.99
Running Time: 120 Minutes
Let's Learn: 123s
You can count on your Nick Jr. friends to make learning math as easy as 1, 2, 3 in these five play dates! Count comets with Team Umizoomi, journey through school with Dora, figure out Blue's favorite number, plus more!
Catalogue: 880444
DVD SRP: $14.99
Running Time: 138 Minutes
Let's Learn: ABCs
A is for "awesome" in these five ABC play dates from Nick Jr.! Kids learn about letters and reading as they visit libraries with Team Umizoomi and Diego, help Dora save ABC animals, and jump into classic stories with Blue's Clues and the Wonder Pets!
Catalogue: 880454
DVD SRP: $14.99
Running Time: 137 Minutes