Yesterday, I showed you all some of the pictures from my husband's 40th Surprise Birthday party! It was a truly amazing day. So much preparation went into making the party go off without a hitch, including finding the perfect invitation.

Since I usually end up buying my holiday cards from Tiny Prints, I decided to see what they had in stock for birthday cards, and specifically surprise birthday cards for his party. It was quite easy to see their stock by using their search engine on the top of the Tiny Prints website. Once I put in my search terms, it pulled up many different parties and surprise party invites for any occasion.
I decided to go with this invitation: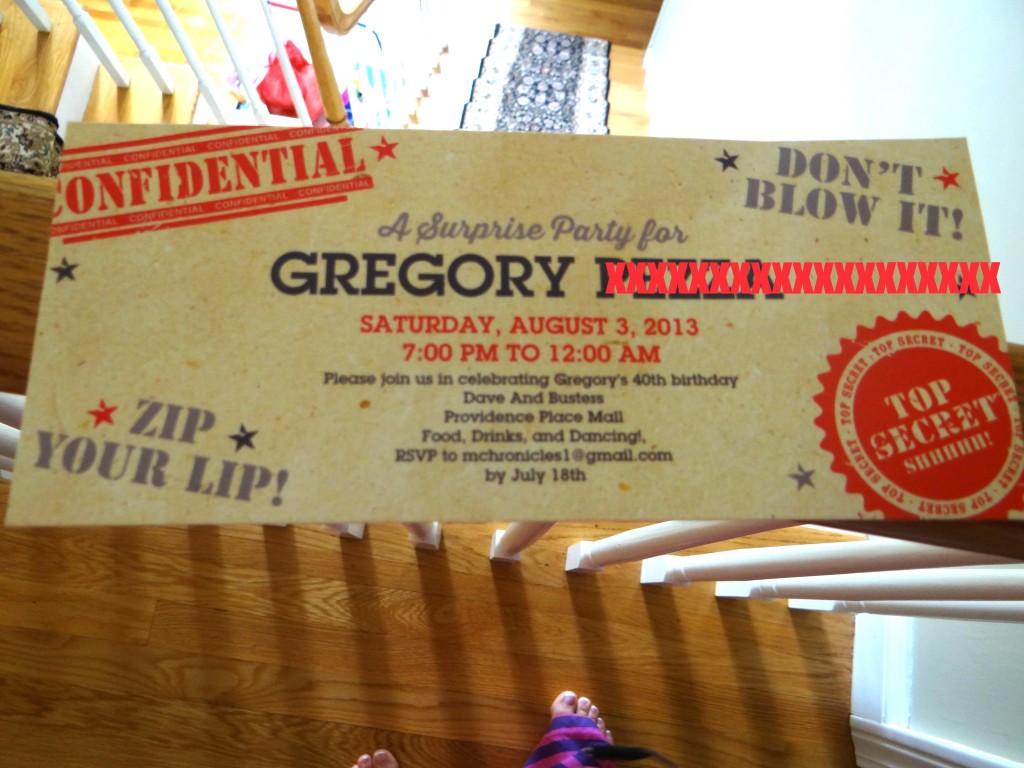 I laughed when I saw it because it was just too darn cute! Special phrases are all over the invitation such as Confidential, Don't Blow It, Zip Your Lip, and Top Secret. The card was just what I wanted to make sure this party was kept a surprise.
Ordering the invitation, was virtually seamless. All I needed to do was personalize the invite to what I wanted it to say. I was able to put in the time, date, and information in the square box for personalization. Then once I put in the information, I was able to preview it to see exactly what it would look like before it went through the printing process.
Since I ordered very late, I was able to do rush shipping for an extra charge. Then all I needed to do was wait for the invitations to be ordered directly to my home address. Less than 48 hours later, they arrived and were gorgeous! I was expecting a nice invitation, since I already previewed what it would look like, but I was not sure how the actual card would look like after printing. The card stock they use is very thick, which I loved. It also was made on high quality paper using the best processing, to ensure my invitation was top notch!
I am a huge fan of Tiny Prints! They have an incredibly large selection of just about any card, invite, announcement, stationary, gifts, and more that you may be looking for. Be sure to check out Tiny Prints for your next party to make it that much more special!
* I received invitations for review. All my opinions are my own and not swayed by outside sources.