Being a huge Stokke fan, I was more than excited to receive the Stokke Scoot for review. Having two kids who are both still in strollers, receiving the Scoot came at a wonderful time.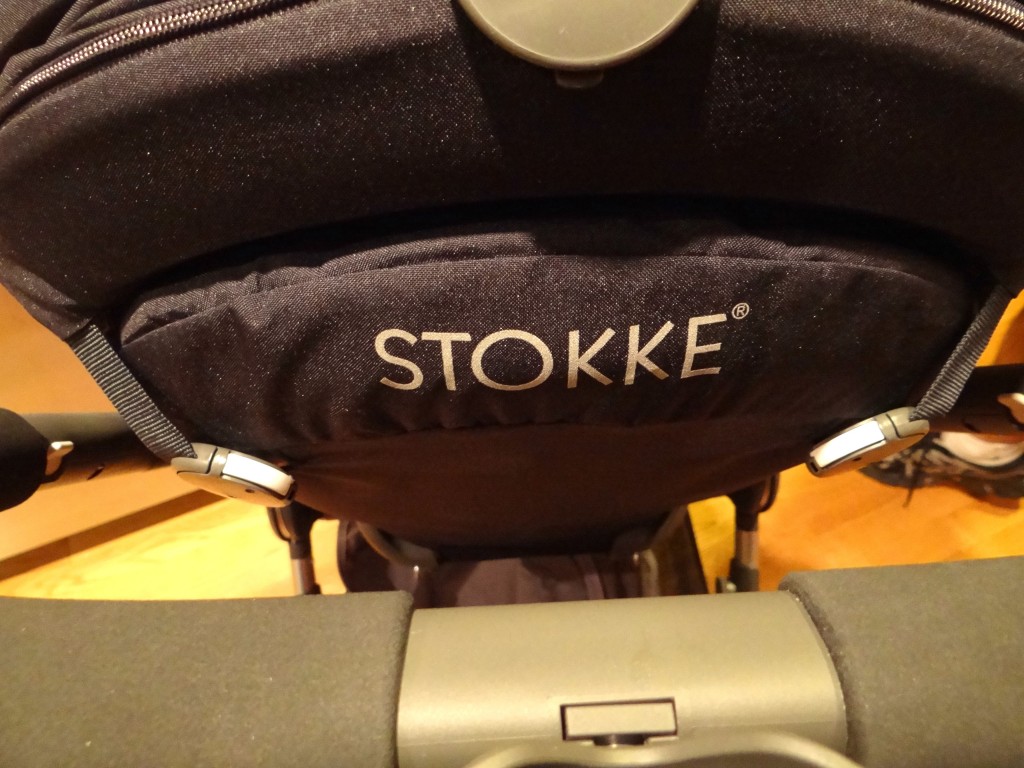 One of the best features of the Stokke Scoot is the ability to grow with my children. So many times, I purchase a stroller where it is good for my infant through the beginning toddler stages, but then I no longer have use for it, as my young one gets bigger. Purchasing a stroller where I only have limited use out of it, is worthless to me. However, with the Stokke Scoot, I will only have to use one stroller from the time they are babies to the time where they officially have outgrown the stroller. It is the ultimate compact connection stroller to last for years!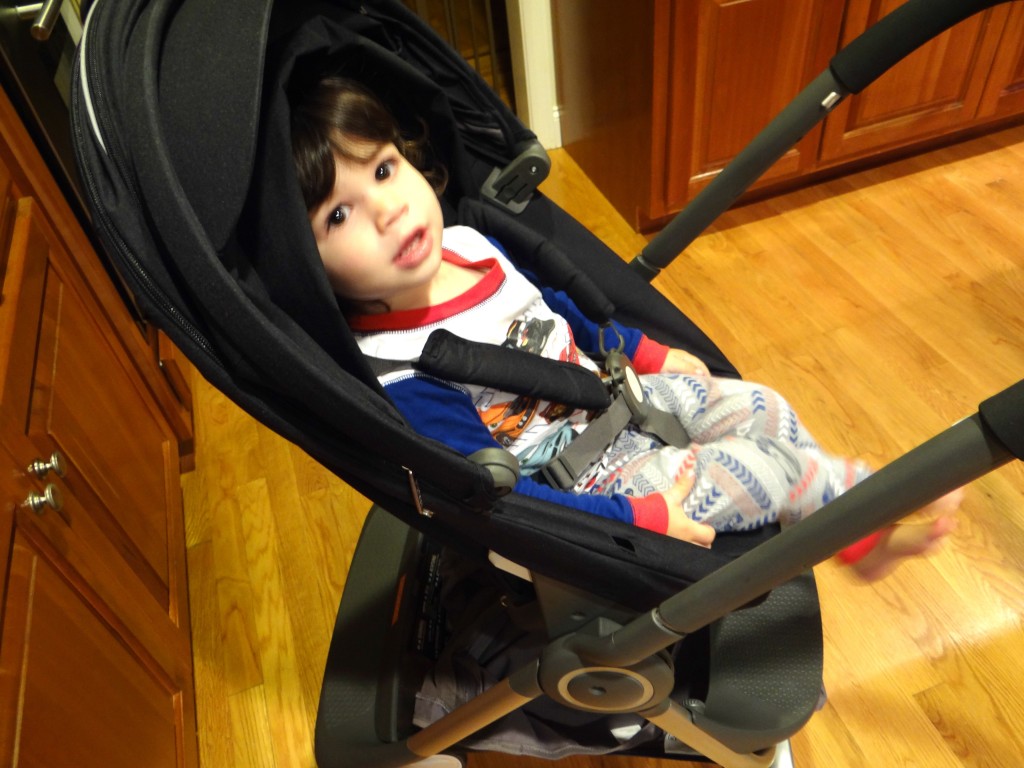 Before I go any further in telling you all about the amazing features of the Stokke, I have to stop and tell you that this is one of the most beautiful strollers I have ever seen before. Not only is it beautiful, but the manufactures at Stokke have put so much detail in the design. It seriously has every bell and whistle you could ever imagine for your little one. If you are worried about set up, do not be, as the instruction manual guides you through step to step instructions to set up the stroller. In under 8 minutes, the Scoot was all set up.

Once it was set up, my initial thought was how sturdy, durable, and well made the stroller is. With a child who is not known to be the most gentle to the items I purchase for him, I definitely appreciate how well the Stokke Scoot holds up in basically any environment. I have taken the Scoot on rocky terrains through trails, as well as the crowded streets in NYC, and I have never had one issue with maneuver or durability.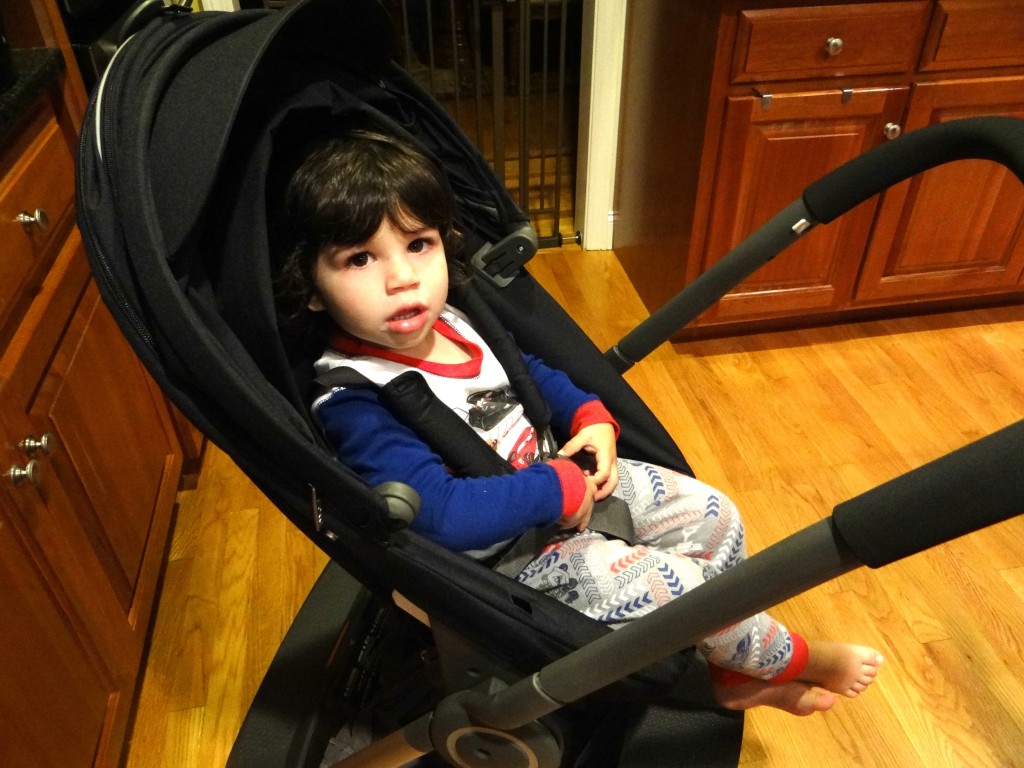 The seat is very easy to change from one position to the next with the pushing of the buttons on the back of the seat and then sliding the seat into the position you want. Once you have it in that position, you hear a click and the button will turn a gray color to green, knowing that the seat is secure and will not go anywhere. It also has a higher seat position which I find advantageous when I am trying to look at my kids. As a baby, the higher seating can be used to bring the child close up to stimulate child/parent bonding. Also, with this stroller, you will not have to put your child in a highchair. The stroller is high enough and has an incredibly soft, padded seat, that there really is no reason to not take advantage of this.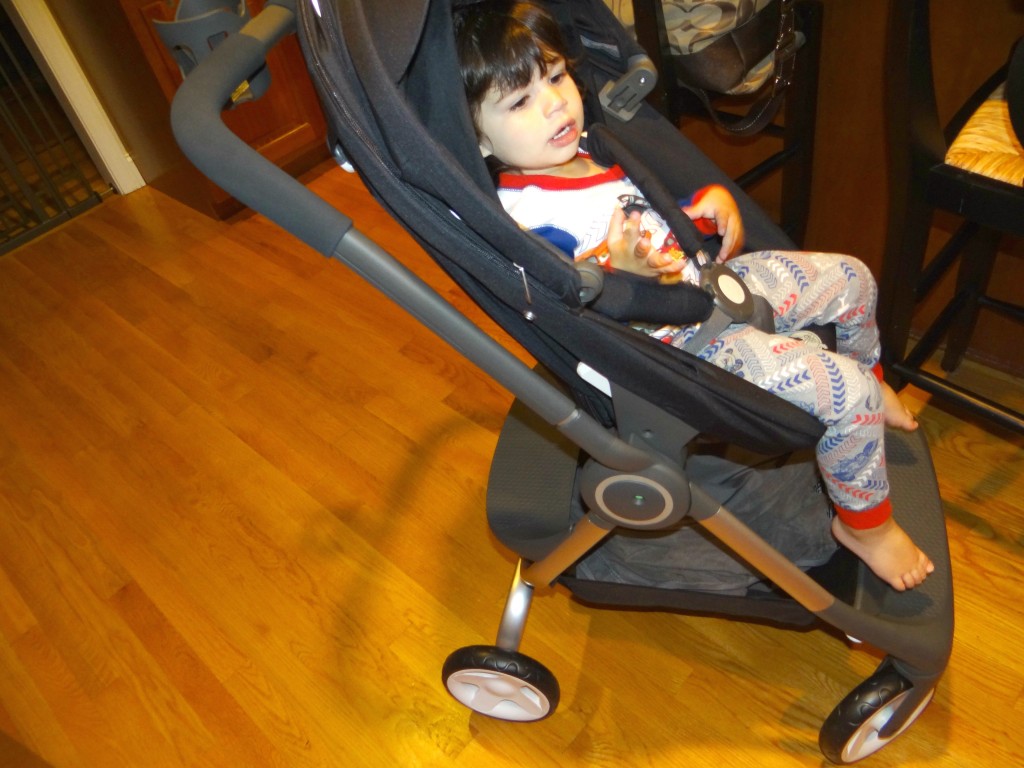 Another amazing feature is the ability to fold the stroller with one hand. You can readily fold up the Scoot in whatever position you have it in. All you have to do is flip up the front of the seat and then you will see the button that you will push to collapse. You can fold the stroller, even carrying a baby in your hand. That is simply amazing! I know how many times I had suffered with trying to fold a stroller and it is so hard to do so with a screaming toddler/baby in the background wanting your attention. Thankfully Stokke makes it easy for us moms and dads by having one hand folding.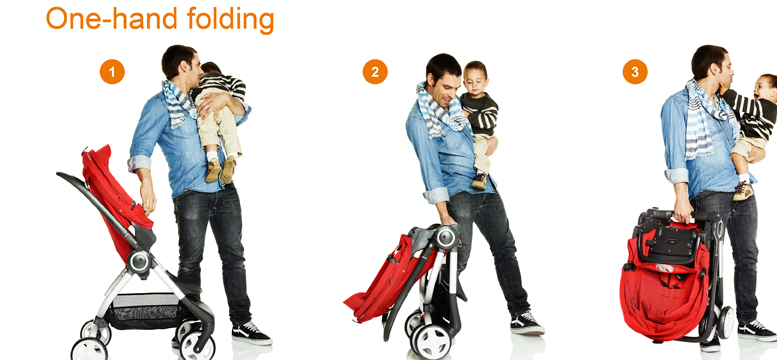 The whistles and bells of this stroller keep going on and on with the multi functional hood and large shopping basket. So many strollers have the smallest baskets with hardly any room. However, with the Scoot, I can fit my large diaper bag and can take it in and out without any problems. The basket can be accessed from all sides of the stroller, which is very nice. It also features a visor for extra protection against wind and sun. The visor is probably the biggest I have ever seen on a stroller and keeps my kids happy in the summer months when it is so bright, as well as the winer months when it is very windy. The canopy on the stroller is water resistant and features an optional opening for ventilation through the hood, to prevent your child from overheating. Through the ventilation window, you can readily use it to see your child if they are forward facing. This is an awesome feature!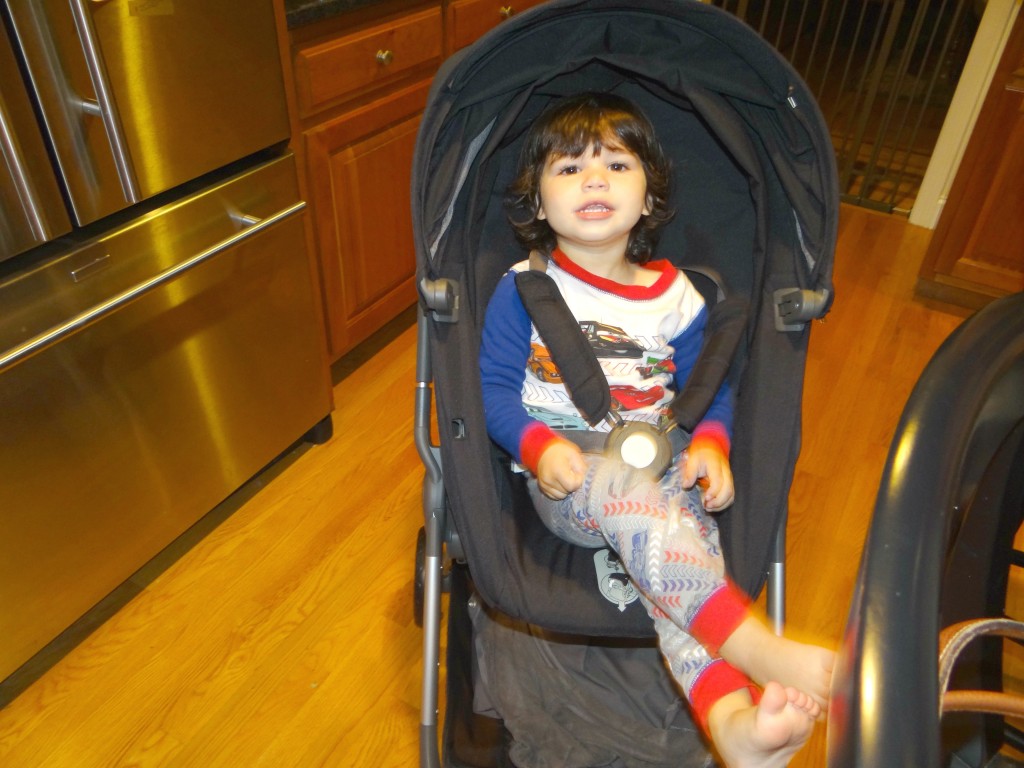 The Stokke Scoot comes all over with me on any terrain I am on. It is very easy to stroll on rough and uneven surfaces. My husband was amazed we were able to take it when we went hiking. The swiveling wheels make it easy to stroll, even in the tiniest spaces. This is very convenient in the elevator when I am trying to stroll my two year old and simultaneously trying to pay attention to my five year old. There is a single brake solution for both of the wheels as well. Stokke is all about safety and is this is very evident in all the safety features of the Stokke Scoot.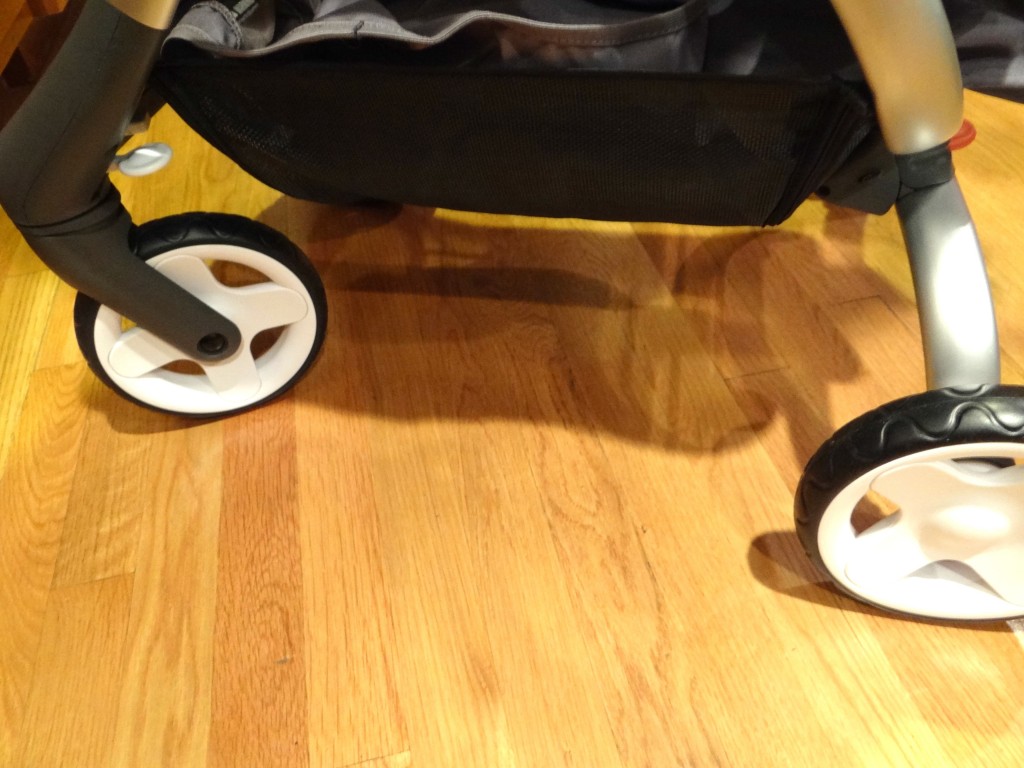 As well as the foot break, the Scoot has a five point harness which allows your child to be restrained efficiently and effectively. It clicks right in, but it is almost impossible for a young one to open it. Once they are seated, there is a footrest for your child. They will be comfortable and have no dangling feet. The foot rest is also adaptable as your child grows.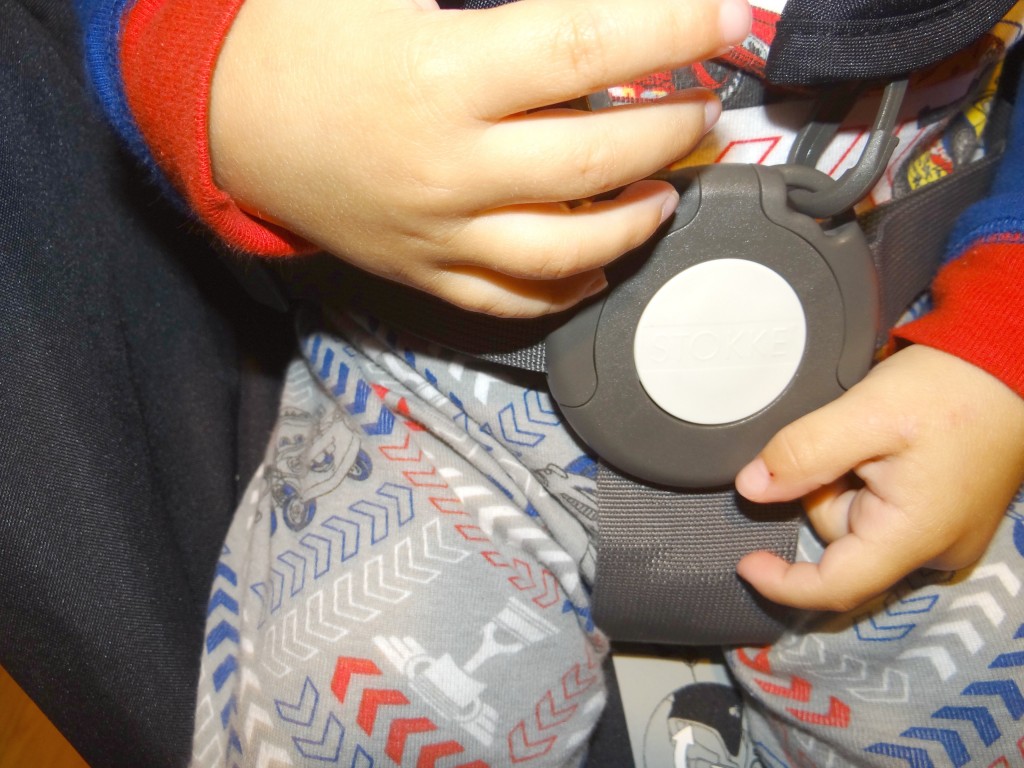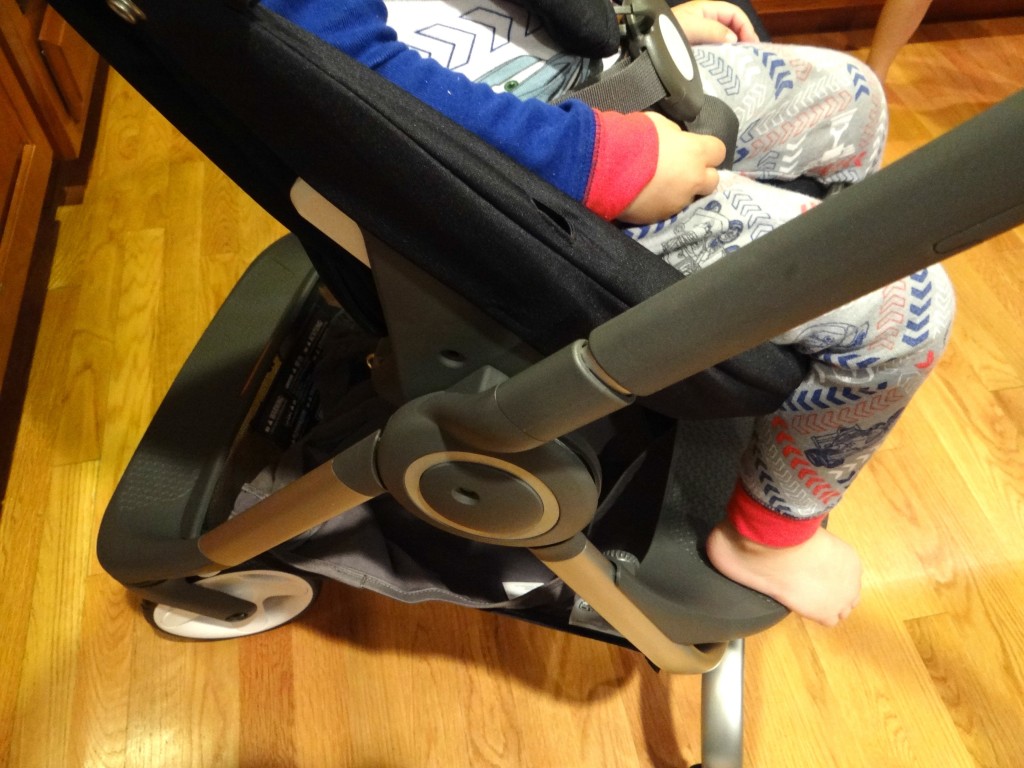 The Stokke Scoot is a truly amazing stroller. It is extremely lightweight at 11.8 kg, which allows me to take it with me wherever I go. It is durable, fashionable, versatile, and a fantastic stroller. It comes in a wide array of colors including purple, beige, dark navy, brown, red, and black melange. It retails for around $599.00 and is available at retailers nationwide including Nordstorms, Toys R' Us, Magic, Magic Beans and more!
*We received the Stokke Scoot for review. All my opinions are my own and not swayed by outside sources.