**I participated in a campaign on behalf of Mom Central Consulting for Healthgrades. I received a promotional item as a thank you for participating.**

When I had moved to my new state where I live now, I was pregnant with my first child.  Moving itself is overwhelming; it is that much more so when you add in the task of staying on top of your healthcare at a critical juncture in your life.  Needless to say I was a tad bit stressed about the move.  One of my first tasks was to find an OB/GYN for myself.  My first visit with the doctor I had found was horrible. The physician I had chosen had no bedside manner and I was uncomfortable with the level of care he was offering. I thought it might have been just a bad first impression so I gave him a second chance.
After experiencing an unhappy second visit I was starting to get concerned. O.K., not concerned, I was freaking out. I was having my first child, and had no idea what was going on!  If only at that time I had known about healthgrades, I could have saved myself so much angst! Luckily through friends I found a wonderful OB, and all went smoothly after that. The whole experience really highlighted to me the importance of finding the right people and places for all of our healthcare needs. I can now readily do this with healthgrades.
Healthgrades has created a rating system and database for people to find the best dentists, physicians, and the best hospitals available in their area.  This takes the guesswork out of who you are selecting to care for you and your family.  As a Mom, we are often the primary caregivers and healthcare resources of our families. I like to be proactive with our healthcare and we are now totally a '
know before you go' 
family.  I have come to realize through all of our medical experiences since finding that first OB, to my husbands medical issues (having brain surgery two months after Hayls was born), that it is critical to take the proper time to research any doctors, dentists or hospitals our family uses.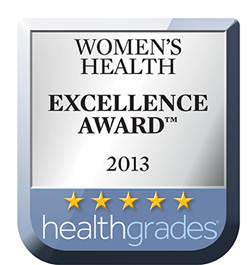 Healthgrades has now launched their 
Healthgrades 2013 Women's Health Report
where they encourage women to "Lean In" When Making Healthcare Decisions to Get Your Best Outcome. This is an amazing report and I encourage you to take a look if like me, you are the person in your household who makes those decisions about who your family sees for care. It is really helpful, thorough, and will certainly give you confidence that you are getting the best, most up to date healthcare recommendations possible.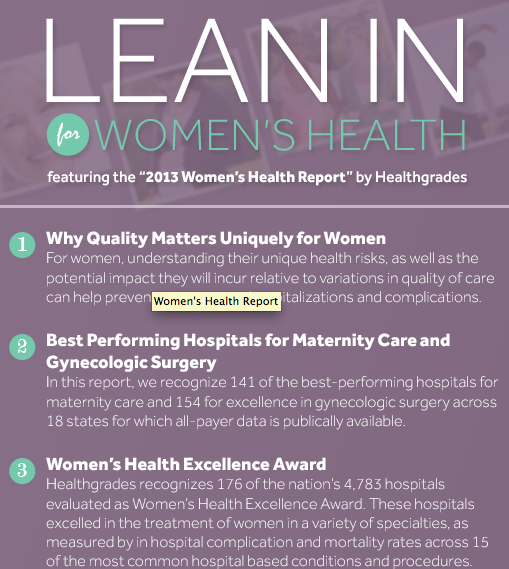 Healthgrades believes it is important for women to understand their unique health risks and through the "2013 Women's Health Report" makes it possible to see who the top rated hospitals are in the various areas of women's healthcare. Whether you are searching for the right physician, dentist or hospital to care for you or your family, healthgrades provides an excellent and trustworthy resource.  Thankfully I think our family is planning to stay put for a while, but if we do move again I know exactly where to find the best health resources if we do. In the meantime, now I know how to quickly and easily research any new needs that may come up for our growing family, most importantly, I now know a trustworthy source.
Be sure to download and read the Healthgrades' Women's Health 2013 Report to make important decisions on your family's health providers for your entire family! This report really opened my eyes to some fantastic providers across the country and gave me a wealth of knowledge on subjects such as Childhood and Maternity care, cardiovascular disease, and more more!
**I participated in a campaign on behalf of Mom Central Consulting for Healthgrades. I received a promotional item as a thank you for participating.**