Now that Hayley is getting close to 5 years old, education is a key part of our everyday play. While she loves playing dress up, coloring, and doing art projects, she also equally loves to learn! Games that incorporate her love of learning is always a household favorite here. Recently we found out about a company called Super Duper Publications,which features hundreds of creative, colorful educational and therapy materials for your children to learn and love.
Super Duper Publications warehouse of learning tools was for 27 years only available to therapists, teachers and special needs professionals. Today, they expanded to include the consumer market on their wonderful products. Super Duper Publications has won six Spring 2013 Seal of Approval this year alone.
Super Duper Publications features witty games designed and written by learning experts, yet cleverly disguised as fun. They have so many great learning products including games, IOS app games, card decks, and workbooks. These games are made for children to tap into imaginative play,while simultaneously learning and having fun!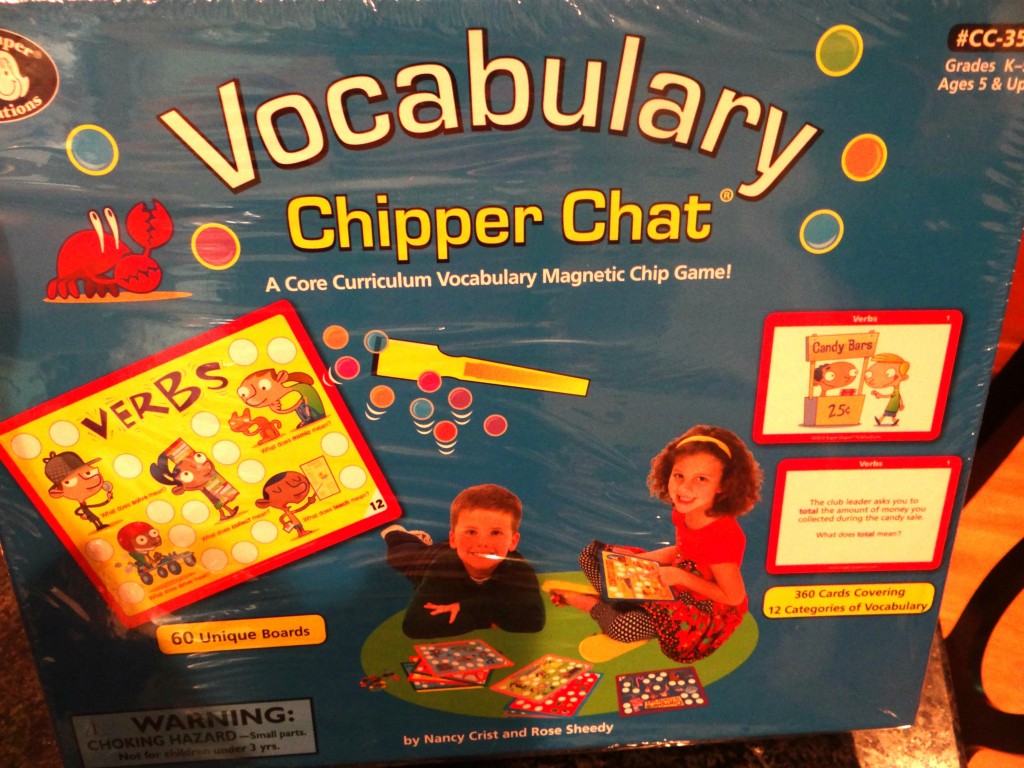 We had the chance to review of their 6 award winning games including Just for Laughs, Ring Bling, Super Duper StoryMaker App, Vocabulary Chipper Chat, WH Question Cards, and Which One Doesn't Belong. All of these games retail from $4.99- $64.95. They have a great deal going on now on their Super Duper Publications Site where nearly everything is 20 percent off with a minimum order of $20 or more. After $20, there is also free shipping.
We decided to review the Vocabulary Chipper Chat as this is the ideal kindergarten game for fun and learning. The Vocabulary Chipper Chat is a fun and motivating magnetic chip game designed to help students with vocabulary and language skills and is geared towards the curriculum objectives of Grades K-5.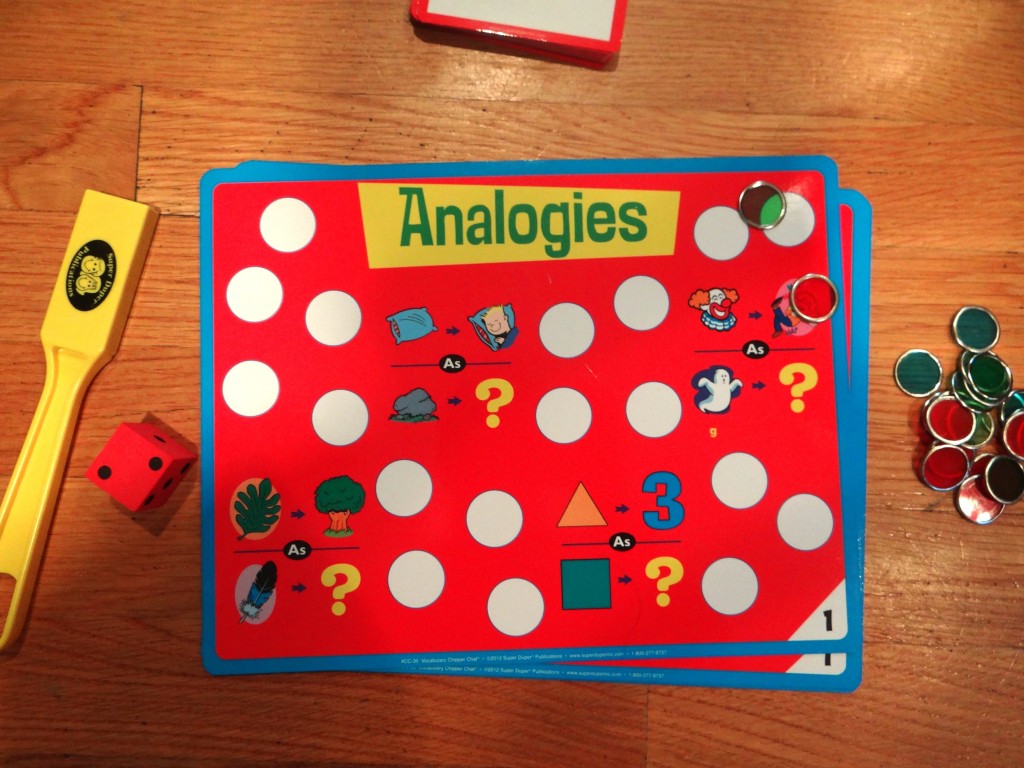 It includes 12 colorful game board designs and 5 copies of each of the learning boards. You will have 60 total boards so mom/dad and child can play together. You can also add up to five children to play at the same time. There are 30 skill prompt cards for each skill including compare and contrasting, analogies, associations, attributes, categories, compare and contrast, context clues, figurative language, functions, homonyms, homophones, synonyms and verbs. It has just about everything that will be taught in schools. This game is used to enhance your child's language schools and improve on them!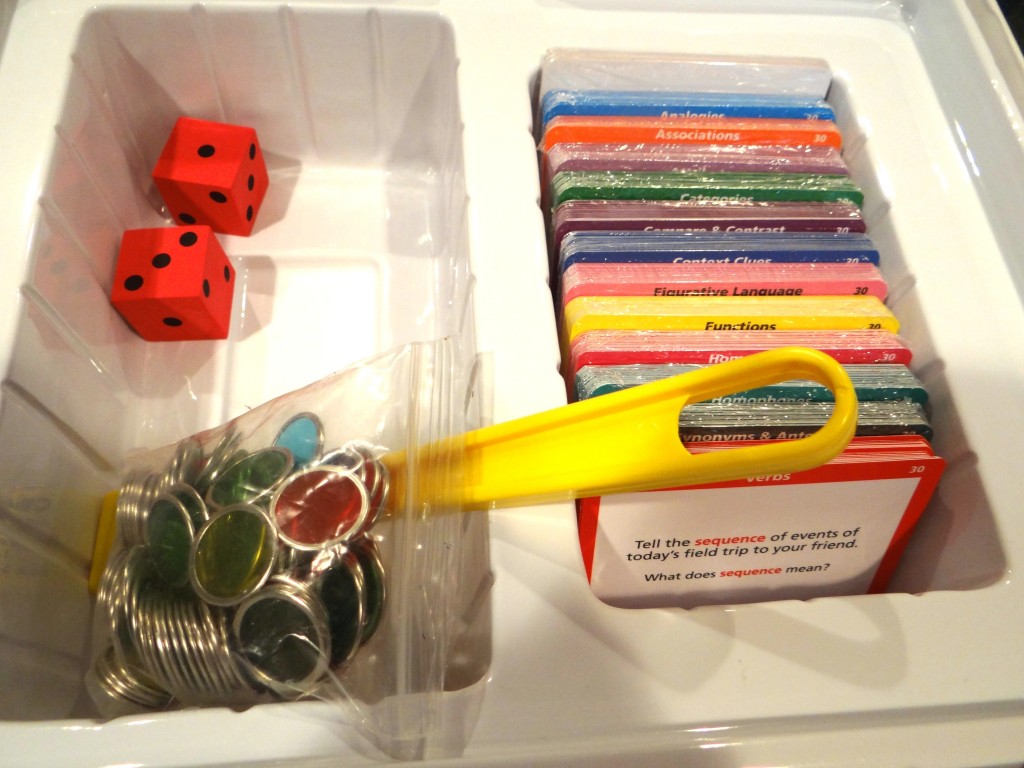 Hayley and I used the game boards and skill prompt cards so she can begin her language skills. While she is on the young age for this game (recommended for K-5), she really got the hang of it and enjoyed learning! It was very neat to see her learn the meanings of associations, analogies, etc. that she will see in her school from this point forth.  It teaches different language concepts and are numbered in order of difficulty based on your child's learning! Hayley  also loved how colorful the game boards were and they were basically indestructible. The game pieces are magnets, which are brilliant since they stay in place and can easily be removed with the included Magnet Wand. Hayley loves picking up the magnets with the wand. It was very cute!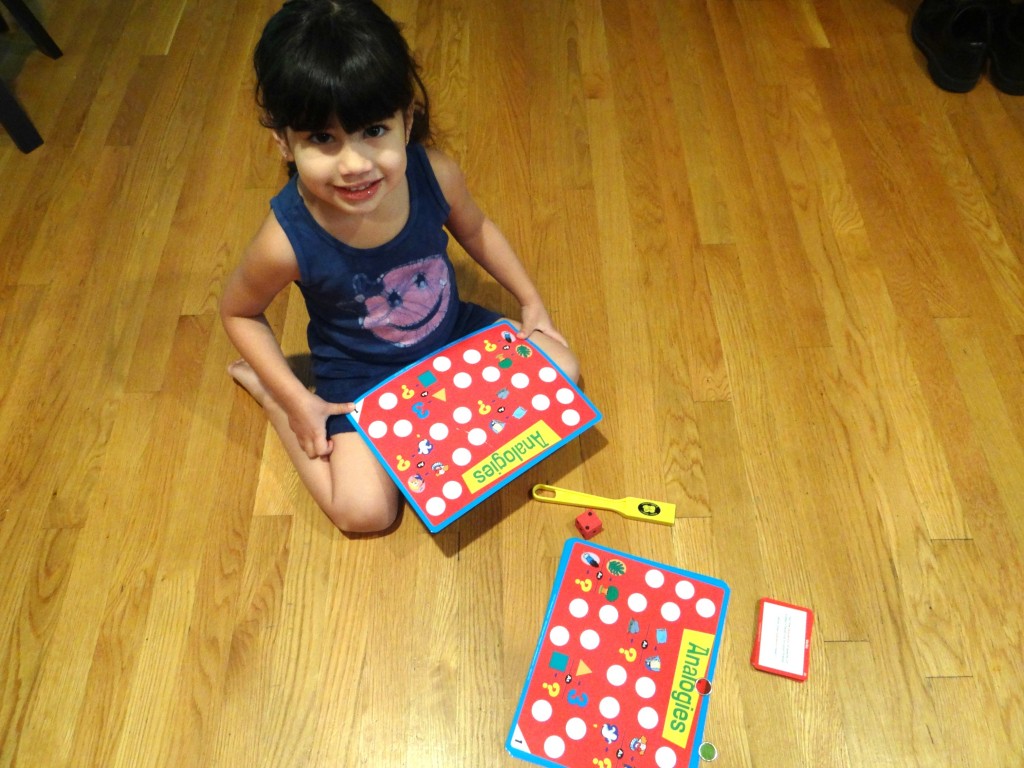 Be sure to check out Super Duper Publications today to learn about fun and educational learning products.
Win it:  One winner will receive one of the 5 Super Duper Publications games listed above. This giveaway is run via rafflecopter, so click read more to see the actual giveaway. The only mandatory entry, is to tell me what you like about Super Duper Publications in the comment section proceeding the post. While the other entries are optional, I highly suggest filling them out to increase your chances of winning. US only. Good luck!
a Rafflecopter giveaway

*I received the above product for review. All my opinions are my own and not swayed by outside sources.