**I participated in a campaign on behalf of Mom Central Consulting for Cascade. I received a product sample to facilitate my review and a promotional item as a thank you for participating**
Over three years ago, I got this gorgeous dishwasher as a nice present from my husband.  I cook A LOT and tend to run the dishwasher at least three times a week. With two small kids and lots of little plates, coupled with tons of cooking, my dishwasher gets a lot of use. However, I am always complaining about my dishwasher detergent because no matter what I use, my dishes are streaky and not clean. I sometimes run the dishwasher with the same dishes in twice just to try to get it clean, but I have no luck at all! I even tried hand-washing my dishes before to see if that would stop my streaky dishes, but alas, again, I have no luck! It is really frustrating when you are trying to get nice and clean dishes.
However, recently we tried out the Cascade Platinum Pacs and I might be in love! Let me just give you an example of how horrible my dishes could look when I am done making a dish: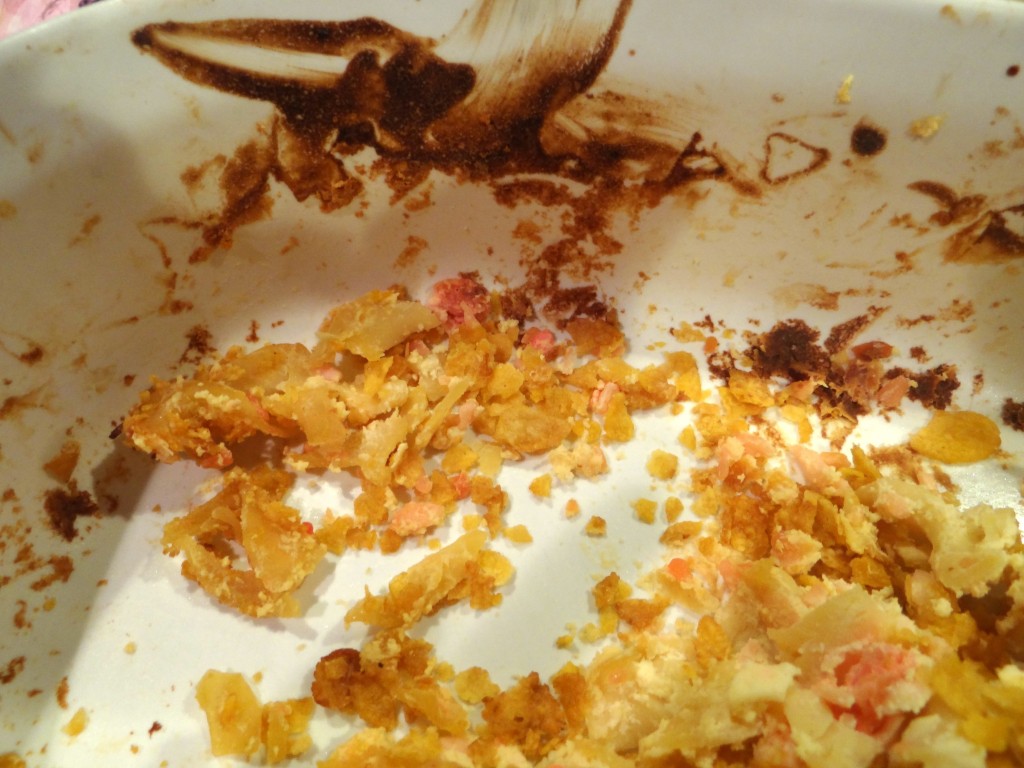 Normally with other detergents, I can no way get the dishes clean 100 percent, but with the Cascade Platinum Pacs, my dishes came out PERFECT! Just take a look: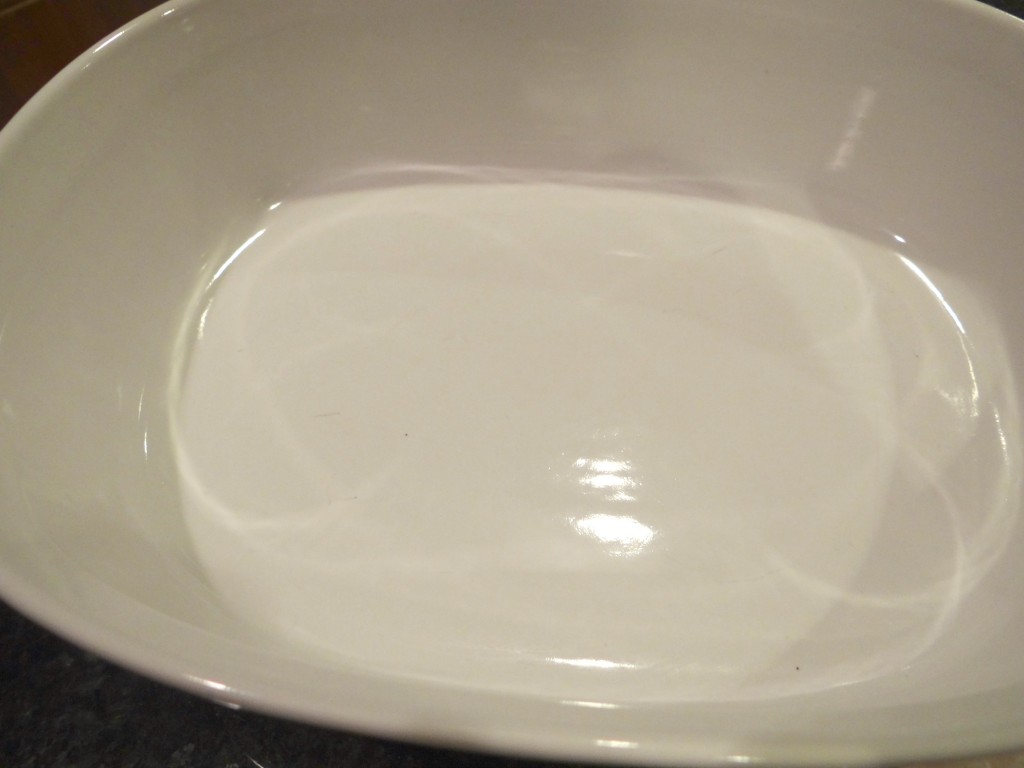 The Cascade Platinum Pacs are the ultimate cleanser for dishes and even helps keep dishwashers sparkling clean, by preventing hard water films from forming. It requires absolutely no pre-rinse or washing of your dishes before. You simply take out the pacs, place the pac (just the way it is in the package)  in the main dispenser cup of your dishwasher and close the dispenser door. Then let the dishwasher do all of the cleaning! Nothing could be easier! You take out one pac,as needed from the package, and reseal the bag after each use.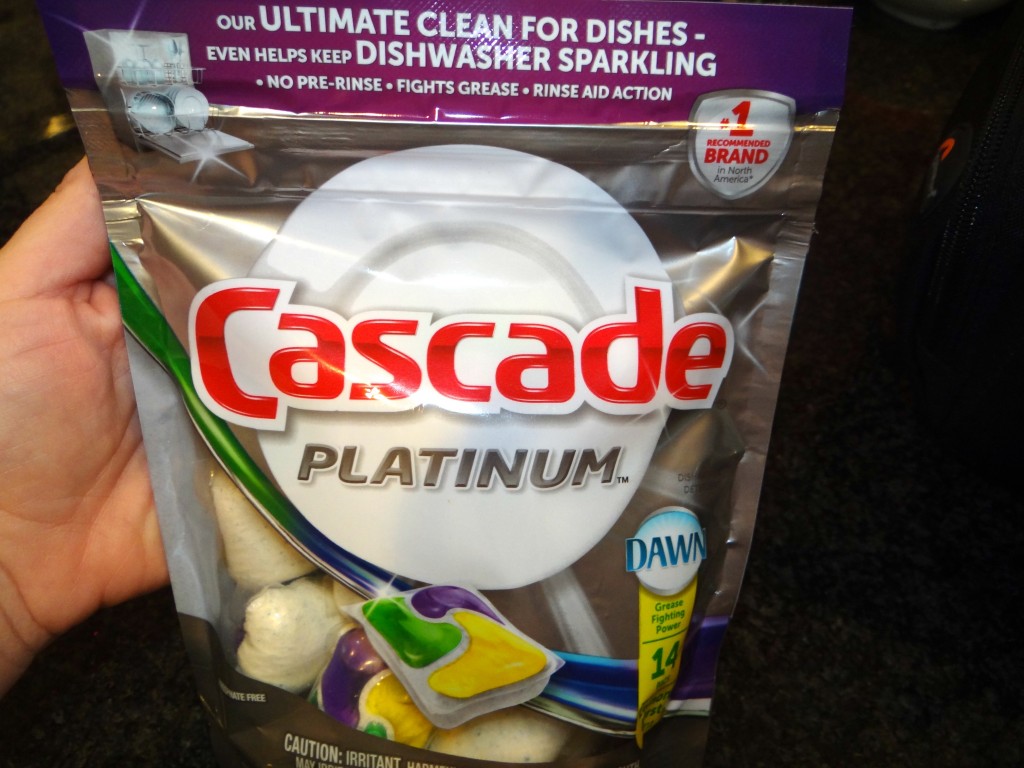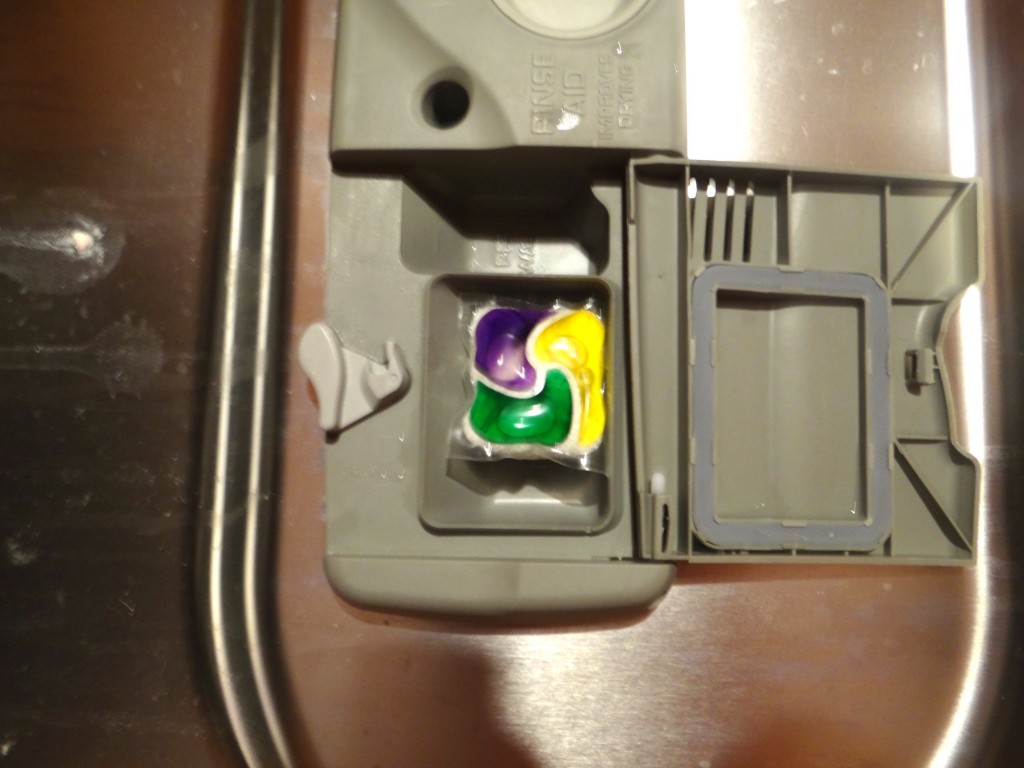 The Cascade Platinum Pacs has a triple-action formula which provides the ultimate cleaner for dishes and helps prevent hard water film from forming! It is the ultimate stain fighter for your dishes and helps to get rid of the hardest stains including grease, tea/coffee, and red stains. It  powers away tough, 24 hour stuck-on food. I know that I sometimes am guilty for leaving the dish that I cooked with the night before in the sink for quite some time. By the time it gets to my dishwasher, the food is so caked on that I embarrassed. We never in a million years were able to get those dishes clean to the standards I like before I tried the Cascade Platinum Pacs.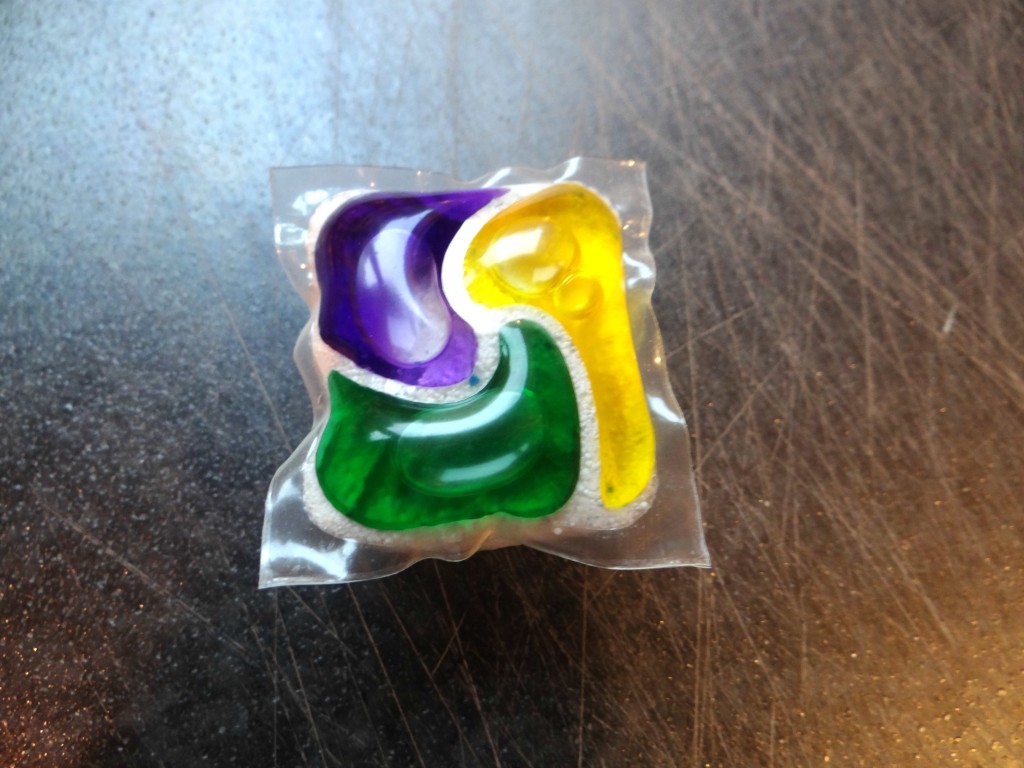 I love that my dishes are virtually spotless and I have no more stains, dirt, or food on my dishes! I seriously am in LOVE with these pacs! The tough food enzyme activity helps me to have my dishes in the same condition as when I first bought them!  It also eliminates the time I need to do dishes, as I don't need to do any pre-rinsing or pre-washing.  It delivers exceptional dishwasher shine every single time!
You might ask, for this great product- is it expensive? The answer is a resounding NO! For a 14 pac, it is only $4.29. You can also buy a 23 count for $6.69 or a 43 count for $12.49! You can't beat that!
While a great recipe goes a long way, it is also presentation that makes a big difference when you serve a dish for a special occasion.  I love using Cascade and then serving my food on beautiful/clean plates.  I also love photographing my recipes, so having a clean dish, goes a long way!
Now, Gail Simmons, Top Chef judge and editor of Food+Wine magazine, has partnered with Cascade to discuss why presentation is just as important as preparation. She has some great advice for presentation that she shares below:
From prep to plating: It's more than just a great-tasting recipe, but also perfect presentation. Sparkling dishes, shining flat ware and spot-free glasses truly let you put your best food forward with culinary creations that pop!
Gail recommends impressing with a Platinum Presentation: "The easiest recipes pop with unexpected, gourmet presentations. Drizzle bright sauces on sparkling white plates or layer desserts in crystal-clean glassware. Keep your presentation sparkling with Cascade Platinum, which keeps dishes perfect for anytime entertaining and impromptu guests."
To Learn more about Cascade's partnership with Gail Simmons by viewing videos available on the Link to the Cascade Facebook page: http://on.fb.me/10Y8RQQ and Cascade YouTube page: http://bit.ly/124rLfa.
To keep the fun rolling with Cascade, they are doing a Cascade "My Platinum" contest .
The Cascade "My Platinum" contest  is a four week Instagram contest encouraging fans to upload photos related to the weekly contest themes. Go show off how sparkly Cascade makes all your pots, pan and plates! I am definitely going to upload my photo above of my noodle pudding on my white dish. For more information to enter the My Platinum contest, click here: Cascade. Be sure to enter today!! Each week, two contestants will be selected to receive a brand new Whirlpool dishwasher. Additionally, one lucky grand prize winner will receive a Platinum kitchen makeover! How awesome is that!
See below for more information:
To win, users have to both register and upload a photo with the #MyPlatinum hashtag and tag @MyCascade. Participants that have not registered will be disqualified from winning.
Each week they will have a 6-day entry period where Instagram users can enter the contest with their #MyPlatinum Photo. Cascade will choose two weekly winners and one final grand prize winner after the entry period has ended. Please be sure to include both the #MyPlatinum hashtag and tag @MyCascade in your entries to the contest!
Week 1: My Platinum Plate (Entry Period: 6/3-6/9)
Show us your best dish styled from the sparkling plate up!
Week 2: My Platinum Bite (Entry Period: 6/10-6/16)
Show us your best bite and most creative use of sparkling silverware!
Week 3: My Platinum Clink (Entry: 6/17-6/23)
Show us how you serve up creative concoctions in sparkling glasses. Cheers!
Week 4: My Platinum Table (Entry Period: 6/24-6/30)
Show us your sparkling tablescape for your most special celebrations!
Grand Prize Winner (Entry: 6/3-6/30)
Be sure to purchase the Cascade Platinum Pacs to get your dishes sparkly clean! I no longer will use my previous detergents, that left my plates spotted and dirty! I will continue buying the Platinum Pacs for a long time to come! Oh, and I might add that my dishwasher has never looked cleaner using the Platinum Pacs!
Check out Cascade on Facebook to learn more about their wonderful products.
**I participated in a campaign on behalf of Mom Central Consulting for Cascade. I received a product sample to facilitate my review and a promotional item as a thank you for participating**