Every girl needs a good pair of light shoes for the summer! I need a cute sneaker that I could wear all the time in the heat, without my feet getting overheated! Thankfully, I found a wide assortment of sneakers  from Victoria Shoes.

Victoria Shoes has 12 different colors in their line including blue, pink, orange, white, and more!  I received the Rosa shoe from the Victoria Shoe USA line.  This is the ideal slip on shoe for easy take off and on during the sweaty summer months. They are classic European tennis shoes made of 100 natural cotton grown in Spain and incorporating natural rubber.
These shoes are super comfortable- I honestly wear them wherever I go! I have trouble because of my wide feet but I had absolutely no trouble with the comfort of these shoes. I also love that I do not have to have lace up these sneakers. That is what makes these shoes stand apart. I can just put them on and go. They have a spandex insert where the tongue of the shoe is, so once you put them on, you are good to go! However, if you do like laces, they do come with them, if you wish to tie them up!
I also love that they have a thick sole so it adds support to when I am walking. I tend to do a lot of walking in the summer and these shoes enable me to do so.  Just slip them on and go! What could be better!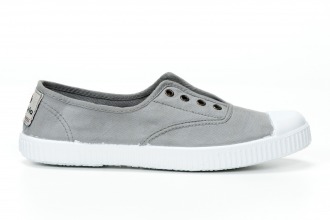 Be sure to check out all of the Victoria shoes on their website today!  They run around $55 which is a great price for a sneaker that will last!
Win it: One winner will receive their choice of a Victoria sneaker. For this giveaway, simply fill out the rafflecopter below. Click read more to see the rafflecopter. For the mandatory entry, tell me why you want to win the Victoria sneaker in the comment section proceeding the post. While the other entries are optional, I highly suggest you fill them out to increase your chances of winning. US only. Good luck!
*I received the above pair of sneakers for review purposes. As always, all my opinions are my own and not swayed by outside sources.