Hayley and Zane are obessed with Mickey Mouse! Zane has been watching Mickey Mouse for about 3 months now and it is hands down, one of his favorite shows! My Hayley, of course, is equally infatuated with Mickey! We'll, just in time for the summer, there is a new DVD on the market called Mickey Mouse Clubhouse: The Quest for Crystal Mickey which has turned into my kids favorite DVD!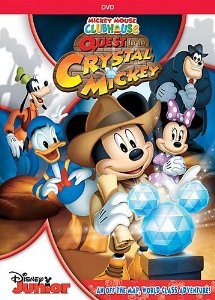 Join Mickey, Minnie,  Pluto and all their pals in the newest Clubhouse crusade. When the legendary Crystal Mickey goes missing, Mickey and friends go on an adventure to save the Clubhouse from losing its magic. Grab your hat, buckle your seatbelt, and get ready to embark on a thrilling adventure in Mickey Mouse Clubhouse: The Quest for the Crystal Mickey.
There is no time to lose after greedy Plunderin' Pete snatched the legendary Crystal Mickey statue from the Clubhouse. Without this sparkly statue's magic, the Clubhouse will dissapear forever! Can the world's most extraordinary hero, "Kansas City Mickey" get the magical statue back in time? Only with help from young viewers at home… and the right Mouseketools can Mickey journey across the Sandy Desert, brave the Rushing River and make his way through the Hidden Jungle..But watch out for Pete's trickiest traps!
Full of magic and mystery, the DVD includes four extra episodes of Disney Junior's Emmy nominated series, "Mickey Mouse Clubhouse" and a FREE Adventure Activity Map plus Stickers. Don't miss the latest Clubhouse adventures on Mickey Mouse Clubhouse: The Quest for Crystal Mickey which can be bought now on Amazon!
Episodes include: -Mickey Mouse Clubhouse: Quest for the Crystal Mickey -Donald of the Desert -Donald the Genie -Goofy's Coconutty Monkey -Goofy's Giant Adventure.
This DVD is a HUGE hit in our household! Zane is now saying, "Crystal Mickey" whenever he wants the DVD on. It has over 2 hours of play time so it will keep the kids busy for hours!  This is one of the most popular DVDs on our shelves now.
* I received the above DVD for review purposes. As always, all my opinions are my own and not swayed by outside sources.