*This is a sponsored post with The Motherhood. All opinions are my own and not swayed by outside sources.*
Growing up, I had tremendous issues with my stomach. I hid it from my parents but I dealt with embarrassing bouts of stomach problems at home and had no idea why. After a visit to the doctor, we figured out the culprit- I was lactose intolerant. From the time I was 14 to about a year or so ago, I could hardly have any dairy. Milk would make me end up in the bathroom (sorry if TMI) with serious problems. Forget about pizza- that could never be eaten by me! I was lucky though that there was an alternative in my house, that we have been drinking for a few years now-Lactaid!
In the past year or maybe two years, I have been able to stomach milk again. I started out testing it in small doses and had baby-step successes. I actually made meals with cheese. However, I am still drinking my Lactaid every day and making recipes using Lactaid. Stay tuned because I have a crazy good recipe using Lactaid next month! My daughter is starting to show some signs of having some lactose intolerance so she has been following along drinking Lactaid milk with me. They even made Chocolate Lactaid, which my family are huge fans of.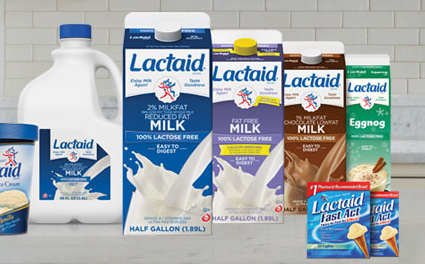 Just last week, I had the opportunity to receive information from a session with celebrity chef, Melissa d'Arabian, and registered dietitian, Michelle Harrington. They gave very useful information for people that have an issue digesting foods with lactose such as cheese, milk, and pizza to name a few.
Melissa d'Arabian is a mom of four girls and author of NY Times best selling cookbook, Ten Dollar Dinners. She is a celebrity chef and an acclaimed television host. She was on live segments on the TODAY Show with Kathie Lee and Hoda on April 15 for her Breakfast Recipes and will be on June 25 for her Entree recipes. She has 8 online videos available on food.today.com and youtube.com/LACTAID.
Michelle Harrington , R.D. and LACTAID Regulatory and Nutritional Affairs Manager is a pediatric Dietitian at Children's Hospital in Philadelphia  and is passionate about helping families find nutrition solutions in today's complex world!
So what is lactose?
***What is Lactose? ***
Lactose is the major carbohydrate in milk and other dairy foods
Lactose (milk sugar) consists of two simple sugars – glucose and galactose
Lactose must be broken down into glucose and galactose by the intestinal enzyme lactase before it can be absorbed by the body
***What does it mean to be Lactose Intolerant?***
Most people produce that natural enzyme, lactase, which breaks down lactose (sugar in milk). The amount of lactase your body produces will determine how much lactose your body can break down
Everyone has different levels of lactose intolerance
It is common for lactose intolerance to be progressive; many people develop a lactose intolerance later in life

I love LACTAID! It is the perfect product to help  people who have a lactose sensitivity to digest dairy products without stomach discomfort, so they can enjoy the creamy, delicious taste of dairy that they love. It also provides the lactase that the body can't produce enough of, which helps you break down lactose. LACTAID dairy products are 100% real dairy, just with a natural yeast-derived enzyme added called lactase! It is the nation's #1 lactose-free dairy brand! 
LACTAID Milk
LACTAID is real milk – 100% lactose free – with the same nutrient profile
The lactase enzyme is added to the milk to break down the lactose, resulting in a slightly sweeter taste
LACTAID is ultra pasteurized and lasts longer under proper refrigeration – once open it should be consumed within 1 week
LACTAID products are calcium enriched
We need about 1000 mg of calcium each day
I also wanted to share some tips that I received from the seminar that I wanted to send to you, for those that have lactose intolerance or know somehone who does!
Tips for eating with Lactose Intolerance: 
Important note: if someone who is lactose intolerant consumes products containing lactose on an empty stomach, they will be more prone not to tolerate it. Eating lactose with other food will help you digest it more easily
Many lactose-intolerant people find that yogurt doesn't bother them

Yogurt has live and active cultures in it that help digest the lactose
Greek yogurt has double the protein and fewer carbs, which means less lactose and easier to digest
If tolerated, yogurt is a great way to get nutrients and calcium needed in an everyday diet!

Rule of thumb for eating cheese: the harder the cheese, the less moisture or whey in it—as a result, the less lactose in it

Always choose the aged cheeses, as they are lower in lactose
Aged Cheddar, Gruyère, Pecorino and Swiss cheeses will have less lactose in them
Melissa suggests introducing these aged cheeses back into your family's diets in small amounts to see how much they and/or you are able to tolerate

Next month, I will be back talking all about Lactaid and my recipe that I created using Lactaid! Stay tuned…
Giveaway: One winner will receive a Lactaid coupon to try it for yourself! To enter this giveaway, simply leave me a comment about which product you want to try from the Lactaid site. Please leave comments in the comment section proceeding this post. Giveaway ends 5/26. US only. Good luck!