My kids are very into learning these days especially Zane who is starting to become interested in numbers! I also will mention that one of Zane's favorite Nickelodeon shows is Team Umizoomi, so when we found out that there was a new DVD entitled, Team Umizoomi: Animal Heroes, we needed to watch it. In this DVD, your kids will learn mighty math powers including number identification, shape matching, measurements, and more!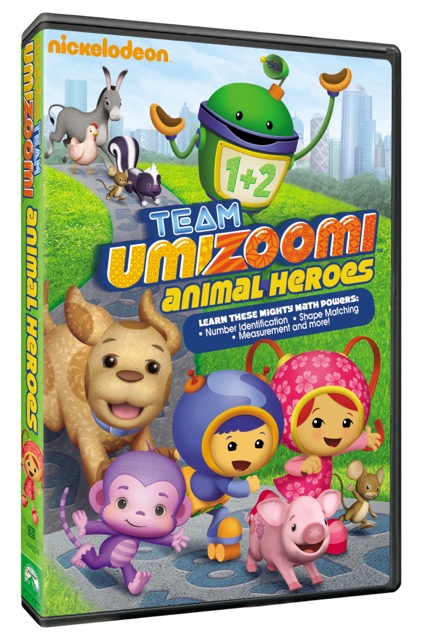 Team up with Team Umizoomi on four fantastic animal missions! Help Mill, Geo, and Bot get Purple Monkey to his new Monkey Jungle home at the zoo, rescue Monkey Jungle home at the zoo, rescue Buster the dog at a construction site, fix the Cuckoo Bears' clock, and find all of Farmer Dan's missing animals!
Episodes include -Purple Monkey Mission, Buster The Lost Dog, Cuckoo Bears, and Animal School House!
This DVD was so vivid and colorful for both of my children. Each episode features a different animal that Team Umizoomi helps, and along the way incorporates shapes, numbers, patterns, and learning! What more can you want in a great DVD!!! Team Umizoomi is a fan favorite here and will continue to be so for many years to come! Be sure to pick it up today at all of your local retailers or on Amazon.
*I received the above DVD for review purpose. All my opinions are my own and not swayed by outside sources.