Have you ever heard of Birchbox? If not, let me give you some information. Birchbox is  a discovery retail platform that gives men and women a way to discover the latest grooming, beauty and lifestyle products available. It's a 360-degree process: try, learn, buy. When you subscribe to Birchbox, you receive high-end beauty and lifestyle samples that have been tailored to your beauty profile. Once you've tried the products, you can go online to learn all about the product, the brand behind it, and how to use it through original content: product pages, blog posts, video tutorials, and much more. Once you find a product you love, you can purchase the full-size version in the Birchbox Shop, earning points  with every purchase! Sounds awesome, right!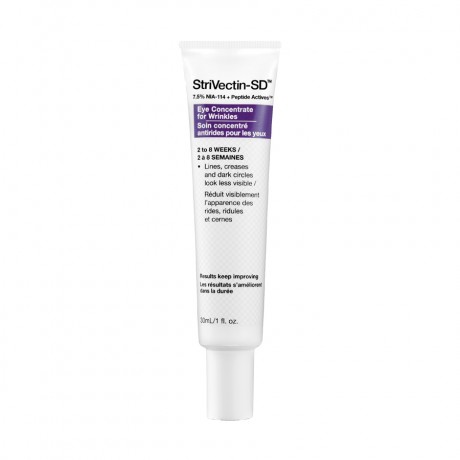 This month, they are debuting the StriVectin-SD Eye Concentrate on Birchbox. This is a eye concentrate that you use around your inner and outer eyes, to reduce the wrinkles that are caused by age. It is used after moisturizing to reduce the lines, creases, and dark circles around your eyes.The fragile area around your eye is one of the first places to show it's age. To combat these frustrating dark-circles and lines, all of the  Birchbox Moms use this clinically proven award-winning concentrate regularly for its hat trick of benefits: it reduces the appearance of wrinkles, diminishes dark under-eye circles, and keeps puffiness in check. A patented molecule called NIA-114+ promotes the production of collagen and elastin, thus reducing the appearance of crow's feet and the dreaded dark circles.
I have been using this product now for about 7 weeks, I have definitely seen less puffiness and darkness around my eyes. I have been known to have circles underneath my eyes, from lack of sleep. I can never find a good lotion to reduce the visibility of these circles. Now by using the StriVectin-SD, my dark circles are a thing of the past. It truly works wonders and made me a huge fan!
Be sure to check out the StriVectin-SD now on Birchbox!
*I received samples for review. As always, all my opinions are my own and not swayed by outside sources.