**I participated in a campaign on behalf of Mom Central Consulting for Aflac. I received a promotional item as a thank you for participating.**
It is always refreshing to get a girls night out when you have small kids at home, so as I settled into the Art Gallery where several best selling authors were speaking I breathed an audible sigh of relief.  Just as things were about to get started my cell phone rang. My husband had just experienced some sort of seizure on the soccer field and had been rushed to the hospital.  I could not image what could have happened to my wonderful, healthy husband.  Not yet knowing what was going on, I rushed to meet him.  We could never have been prepared for something so sudden and unexpected, as responsible as we both were as working professionals.  I was so grateful to have good insurance coverage in place because I could not imagine going through all that we went through over the next four months, and having to deal with the financial stress of how to pay for it on top of everything else.  Our experience convinced me more than ever, that everyone needs to be aware of the possibility, and prepared for the unexpected.  One of the best ways I know to help cover life's real costs, and prepare for future financial stability is with Aflac's "Real Cost Calculator".
What sets Aflac apart is that when a policyholder gets sick or hurt, Aflac pays cash benefits fast, so they don't need to worry about money through hardships. For nearly six decades, Aflac insurance policies have given policyholders the opportunity to focus on recovery, not making people stressed because of finances.  It makes me feel confident that Aflac has been recognized by Ethisphere magazine as one of the World's Most Ethical Companies as well as FORTUNE magazine recognizing in 2013, Aflac as one of the 100 Best Companies to Work For in America for the 15th consecutive year.
The Real Cost Calculator is an unbelievable tool that looks at the average medical expenses that may not be covered in the event of a medical emergency. It also takes into account the amount of expenses that would pile up, if you were out of work because of your injury, and additional expenses you might need if you are sick, such as child care. I know for me, with my husband being in the hospital, I had to have babysitting 24/7 so I could be with my husband those first few days. It really adds up! The Real Cost calculator is an interactive tool that they designed to show in three easy steps, potential out-of-pocket medical costs and household expenses like rent/mortgage, utilities and car payments. By visiting Aflac.com/Real Cost, consumers can prepare financially for the costs, as well as the hidden costs that you might not think of,  associated with unexpected injuries and illnesses.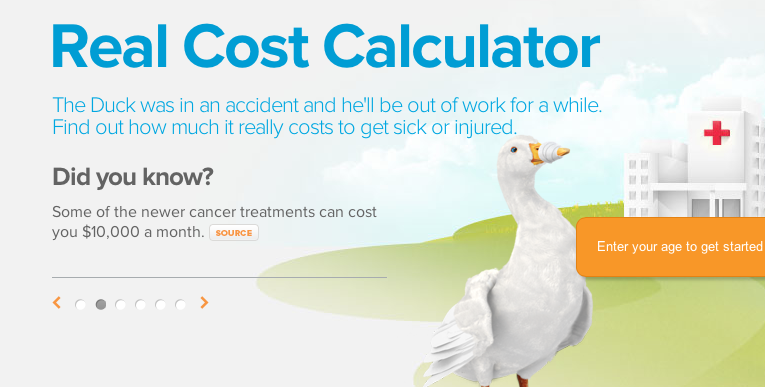 Trust me, sitting in that emergency room, looking down at my husband and not knowing what was going on with him, I felt like I was in a living nightmare. Thankfully he is healthy today, but I would not wish that type of scare on anyone and we were so grateful to have the support of a great insurance company to see us through. I am very thankful for Aflac for helping us get through this!
Take a look at the Real Cost Calculator and see what could happen financially if someone is injured or sick! Make sure you are not in a financial hardship, if an injury or medical emergency occurs, by taking advantage of Aflac and all they have to offer!
**I participated in a campaign on behalf of Mom Central Consulting for Aflac. I received a promotional item as a thank you for participating.**