Just last month on the news, a family in our town got very ill because their carbon monoxide alarms were not tested in the last few years and they were inflicted with carbon monoxide poisoning. Lucky for them, none of their injuries were fatal, but if they were not found when they were, it definitely could have turned that way. I strongly advocate making sure you test out your carbon monoxide monitors and have them in all areas of the house.
Just a few weeks ago, we were sent the Kidde Worry-Free Ten Year Sealed Battery Carbon Monoxide Alarm for review. Kidde released its Worry-Free Carbon Monoxide Alarm, the first and only UL-listed CO alarm proven to provide up to 10 years of protection – up to twice the lifespan of other available alarms. Kidde's Worry-Free CO alarms contain a sealed-in lithium battery that powers the alarm for a decade, eliminating annoying low-battery chirps while helping to keep your loved ones safe.
Some benefits of Worry-Free Carbon Monoxide Alarm include: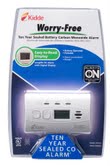 Goodbye late night low battery chirps: The sealed lithium battery is tamper proof and provides 10 years of continuous power, meaning no low battery chirps or battery replacement
Longest Sensor Life Available: Carbon monoxide sensor is proven effective for 10 years –
nearly twice as long as some models
Money Savings: no batteries to buy and replace every six months, save up to $40 over the life of
the alarm
Quick and Easy Installation: simply slide the alarm onto the mounting bracket and it activates automatically. Place on a desk, shelf, table or the wall.
It's Always On: 24 hr/day, 7 day/week protection from CO
End of Life Hush Button: After 10 years of power, the alarm will sound a warning to indicate it needs replacing. The hush button will temporarily silence the warning for up to three days.
Overall Product Line Features Include: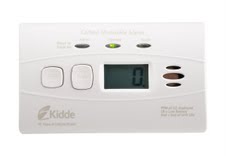 UL Listed – tested by an independent nonprofit testing agency to ensure it meets the US standard
85 decibel alarm – loud enough to wake the average sleeping adult
Nighthawk electro-chemical sensor, which is proven to be the world's most accurate based on claims by major manufacturers
Test-Reset Button tests the alarm circuitry and horn, resets memory after alarm has sounded
End-of-life signal chirps every 30-45 seconds when alarm needs to be replaced – approximately 10 years after power
Deactivation switch disables the alarm and makes the batteries safe for disposal once the unit has reached the end of its 10-year life
Tamper resistant feature prohibits a disabled alarm from being placed back onto the mounting bracket 10-Year Limited Warranty lasts the life of the alarm 
We set this alarm up in our hallway leading to my kids room. I love the fact that I could readily see the display number on the alarm. Even in the dark, I can see what the alarm is reading and make sure it is registering at zero. The fact that it never makes those chirping noises is a huge advantage to me. I have woken up in the middle of the night with other monitors and could not figure out which alarm it is coming from. I never have to worry about that with the Kidde alarm! It has a 10 year limited warranty on the alarm which is incredible!
The Kidde Worry-Free Carbon Monoxide Alarms are sold at The Home Depot as of March 2013. Suggested retail prices range from $40 to $50.
Be sure to be safe this spring season and not be subjected to this horrible and very silent killer! Take precautions by purchasing the Kidde Worry-Free Carbon Monoxide Alarm today!
**Giveaway: One winner will receive the Kidde Worry Free Carbon Monoxide Monitor. This giveaway is run via rafflecopter so click read more to see the actual giveaway. The only mandatory entry is to tell me if you currently have Carbon Monoxide monitors in your home, in the comment section proceeding the post. While the other entries are optional, I highly suggest filling them out to increase your chances of winning. US only. Good luck!
a Rafflecopter giveaway

*This is a sponsored post. As always, all my opinions are my own and not swayed by outside sources.