It all started in 2012, when I met some of the most amazing women I have ever encountered in my life at a small restaurant. It was a small group of bloggers from the smallest state in the country, Rhode Island, and we met for dinner after discussing that we were all bloggers in our facebook group. I was nervous attending that small gathering, not knowing most of the people there. It turned out to be a great dinner and over the year and half since we first met, our group has nearly quadrupled.
Not only do I call these people bloggers, I call them friends. Over the past couple of weeks, I told you all about my girlfriend's daughter, Belle, who got diagnosed in last December with Leukemia. It is a parent's worst news in the world to hear that their child is battling cancer, and worse yet, she is only two. They are the greatest family and we as Rhode Island bloggers wanted to do something about it.
As I said in some of my posts and on Facebook/Twitter, we held a truly fantastic benefit for Melissa and her family at La-Z-Boy in Warwick, Rhode Island. The idea was set up by Melissa and Jen, who worked countless hours trying to sort out all the donations, the sit-a-thon, and all the logistics. It was truly incredible the labor of love that went into this. After they set it up, all of the Rhode Island bloggers partook and rallied together through donations, sitting in shifts for 48 hours straight to raise money, monitoring events in the store, and so much more. While I could not attend Sunday since it was Zane's birthday party, I did get to sit and attend on Saturday and Friday.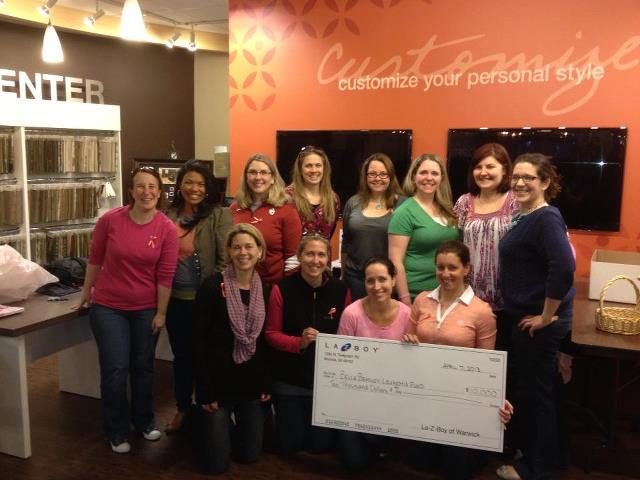 When I was sitting, it brought tears to my eyes, seeing what a group of bloggers did to support such a wonderful benefit. It was amazing that such a group of outstanding bloggers, people, and friends came together and made this event what it was. We raised 10,000 dollars for Melissa and her family! It was amazing! I saw many of my friends there and I personally want to thank them. I have even had a few friends both who I have met and some who I have never met, give donations for Belle's Sit-A-Thon! I also want to give a huge thank you to all the amazing bloggers, as well, as La-Z-Boy and Jake Coleman with his leading team! We could have never done it without you! I am amazed at the generosity and true kindness of the La-Z-Boy associates. I will be a shopper there for life!
If you have not donated yet, you can still do so here: You Caring For Belle.
Every little bit helps Melissa and her family out! Thank you so much again and in no particular order here are our Rhody Bloggers:
Alicia- Born Ready Baby
Audrey – Mom Generations 
Candice – The New Modern Momma
Carla – All Of Me Now
Chelley- A is for Adelaide
Courtney – The Mod Mommy
Elizabeth – DocuMama
Elizabeth – Learning To Juggle
Erika- Fox Trot Press
Heather – Housewife Heather
Heather – Kraus House Mom
Jane – Mom Generations
Jen- Keekoin
Jenn – Savor The Thyme
Jessica – 30 Something Mother Runner
Jessica – Keeping Mommy Sane
Joanna – Baby Gators Den
Jodi – Blush Mamas
Kameron – My Wrinkle In Time
Kerri – Six Until Me
Kirsten- The Queen of the Earth
Kristin – Mama Luvs Books
Laura – My So Called Sensory Life
Lauren – Don't Lick The Trashcan
Liza – Cira's Lyrics
Mary- Tall Mom Tiny Baby
Megan – A Baby Makes Four
Melissa – Filling Our Bucket
Melissa – A Woman of Steel
Melissa – The Mommyhood Chronicles
Michele – Dodging Acorns
Michelle – Wildflowers Studio
Renee – Lute Family
Sarah – Simply Mommies
Sarah – Soxy's Diamond
Sarah – Sweet Lil You
Sheri – When The Kids Go To Bed
Stephanie – Everyday Family Living
Tera – Girl Gone Healthy