***In the much anticipated remake of the 1981 cult-hit horror film, five twenty-something friends become holed up in a remote cabin.  When they discover a Book of the Dead, they unwittingly summon up dormant demons living in the nearby woods, which possess the youngsters in succession until only one is left intact to fight for survival. ***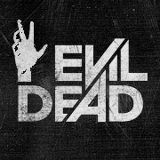 Last week, I was able to attend a prescreening of Evil Dead.   I will be the first to admit that I usually dislike scary movies. While I do get scared at some of them, they sometimes leave me with a "cheesy" feeling after I watch them. When I found out that I was going to attend Evil Dead, I went in with a very open mind for the movie. I did not see the 1981 original so I walked into the theatre, not knowing anything about the movie at all.
I took my seat and the opening scene had me jumping out out of my chair. I think I may have let out a scream and this was in the first two seconds of the movie. The movie follows the story of five friends who head to a remote cabin in the middle of the woods, where the discover a Book of the Dead. In the Book of the Dead, there is a spell that is cast upon them, that opens up demons living in the woods, to take over their bodies. All of the friends are ultimately fighting the evil until only one is left to fight!
Without telling you too much, this movie is scary, gory, and totally awesome all in one! It is a R-rated remake of the Sam Raimi 1981 cult classic. I am so anxious to see the original now but based on what I have read, this movie may have even surpassed the scariness of the original. There are some very gruesome scenes (that I had my eyes closed for at times) but this is what makes the movie incredible, suspenseful, and exhilarating all in one.
If you are looking for a spooky, scary, and creepy movie that is totally awesome, Evil Dead is for you! Be sure to check out Evil Dead in the movie theatres now. Here is the trailer for all those interested:
For tickets, visit Evil Dead on Facebook.
*I attended a screening of Evil Dead. All my opinions are my own and not swayed by outside sources.