How does a fun night in sound with some wine? What about a nice date with your significant other staying in and drinking wine?   Every now and then moms need to take a well-deserved night for themselves and enjoy quality time with friends/family while enjoying delicious wine. 
Sounds great-right! We'll, now there is a fun new game in town called Wine Battles, which will have you battling out against another person or group to see what wine will be the winner!  Never before, have moms across the country been able to expand their wine knowledge while simultaneously having a refreshingly different and unique night with friends.  It is a truly fun game involving wine!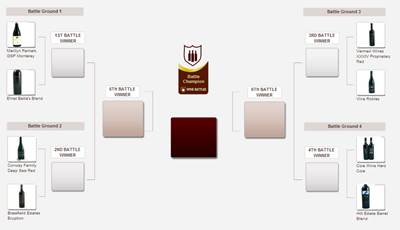 Wine Battles, the tournament-style social wine game where you drink amazing wines to become a more knowledgeable wine enthusiast, announces three new battles. Wine Battles offers experiences that two people or a group can play at home alone or as a party.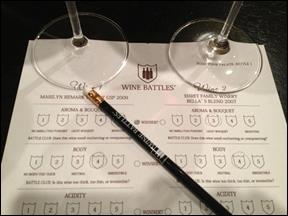 How Wine Battles Works:
During a battle, members receive two naturally contrasting bottles of the same varietal of wine. By tasting and voting, members decide which wine should advance to the next round. Battlers have the rare opportunity to interact with the wine merchants, as well as fellow wine lovers while exploring new wines and develop tasting profiles.
Members open, decant and rate the two wines using the five-construct system outlined in the Battle Guide – the scores come in real time and members are encouraged to share their findings. The wines compete in a peer to peer bracketed competition, until one wine emerges victorious.
Each Battle Includes:
·         All the wine you need for two people
·         A Guide on How to Taste Wine
·         Battle Tasting Game Guidelines
·         Battle Sommelier Script
·         Individual Winery & Wine Battles Tasting Team Notes
·         Two online accounts for users to rate and vote for weekly winners
Greg and I had a wine battle challenge this past weekend. We sampled two wines- the Core Wine Hard Core 2007 and the Marilyn Remark GSP Montery 2009. Greg and I competed against ourselves while we tasted and sampled the wines. Each round we tasted the wines for aroma, body, acidity, and sweetness. At the end, we gave an overall score to see if the wine was unacceptable, good, or perfect. It was funny that Greg and I had the same overall score- we both rated the Core Wine Hard Core 2007 a 4/5 and the Marilyn Remark GSP Monterey 2009 a 5/5.
It was fun playing wine battles. We got to have a fun date night and learn to really taste the wines. It would be awesome activity for date night or to play with your girlfriends! Now bring on the wine…
***About Wine Battles
The Wine Battles is the world's largest (and most fun) wine competition! The unique company launched in October 2012 and is the first wine competition of its kind. Battles consist of four (Skirmish) or eight (Full Battle) wines with only one emerging as Battle Champion. Each week, members open, decant and rate two wines – the scores come in real time and members are encouraged to share their findings.  The wines compete in a peer to peer competition bracketed competition, similar to World Cup Soccer or Madness, until one emerges victorious. Scoring and choosing the correct wines improves members' relative ranking on the website where they compete for awards. For more information visit www.winebattles.com**
"Wine Battles is a great way for wine lovers to get an education and have fun with friends and loved ones at the same time," said Michael O'Brien, CEO of Wine Battles. "It is a unique opportunity to explore, experience and engage in something new and exciting every time."
*We received wines for our review. As always, all my opinions are my own and not swayed by outside sources.