Is it really the weekend already? Again the week flew by! I hope you all have a great weekend and let's hope for some great weather for a change!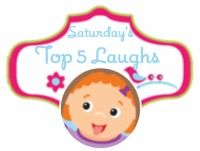 As always, please link up any cute or funny post. While it is not mandatory to take my button or share on social media, if you like, it would be appreciated. Feel free to check out the other bloggers who link up, as they all provide such a great laugh!
My top five laughs:
5. I forgot to change the clock in Hayley's room on Sunday night. So off she came in my room an hour earlier and declared it was wake up time. I told her that we changed the clocks and she needs to go back to sleep. She looked at me again and said, "Wake up time." I guess she does not understand daylight savings.
4. Hayley saw someone running this past weekend. She yelled out from the car, "My mom runs too." I was dying with laughter!
3. I think Zane is bipolar or in other news, a typical 2 year old. One minute he will be laughing up a storm and not two seconds later, he will be having a full, blown out tantrum. I can't help but laugh at him! Is that bad?
2. Along with laughing at him, the best is when he has a full blown out tantrums in the middle of the store. I had that happen when we were checking out. There was nothing for me to do (I was almost done checking out). So I proceeded to let him flare his arms and kick and scream, all while I was laughing inside. Again, is that bad?
1. Hayley's imagination is fierce these days. This is more of a cute one, than funny, but I decided to add it in. She likes to play all these imaginative games like being at a beach or going on a ride. We will be sitting there pretending and she turn to me and say, "Mommy… You are in big trouble..You forgot sunscreen." The girl can spend hours with imaginative play and I welcome it:)
Now your laughs: