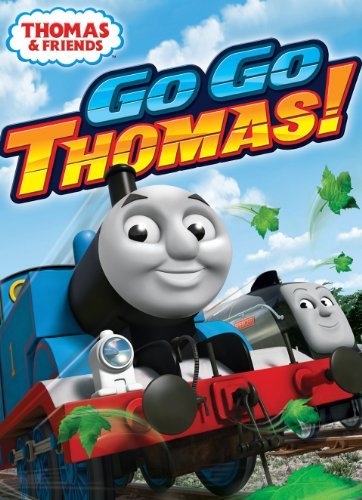 It's high speed fun on the rails as Thomas and his engine friends race around Sodor!  Meet new engine Stafford and your favorite friends in five high spirited adventures plus four interactive bonus features, in THOMAS & FRIENDS: GO GO THOMAS. available on DVD and Video on Demand now from Lionsgate and HIT Entertainment.
The award winning THOMAS & FRIENDS teaches timeless life lessons of discovery, friendship and cooperation, inviting children to enter a world of imaginations through the tracks of a train and the words of a story.
Thomas the Train is new to our house, but the minute I showed her the DVD Gwen was super excited!  She couldn't take her eyes off of the "choo choos" and was enamored with each of the characters, especially Thomas.  I was surprised at how engaged she stayed the whole time, and I love how fresh and fun Thomas and Friends were, especially with the introduction of Stafford, a fun new electric train.  Gwen requested it again after her nap too. A hit!
The interactive features were very age appropriate, and Gwen needed very little help from me to participate.
Synopsis: Thomas and friends are charged up and ready to Go, Go!  Thomas shows Gordon that being quick is as useful as being strong, while Flynn the fire engine learns to put his pride aside and race to the rescue.  Thomas causes some trouble on the tracks trying to be a model engine for a new photographer, while Spencer's on the move, ignoring warnings about electric engine Stafford's battery.  Thomas pumps his pistons to Misty Island to help fix Ol' Wheezy.  Will the number one blue engine be on track and on time? Ready, Set… Go, Go Thomas!
All-Aboard the Express Track to Adventure With Thomas & Friends In An All-New DVD Featuring Five Fun-Filled Episodes. THOMAS & FRIENDS: GO GO THOMAS is now available on DVD, Digital Download and Video On Demand now, from Lionsgate and HIT Entertainment.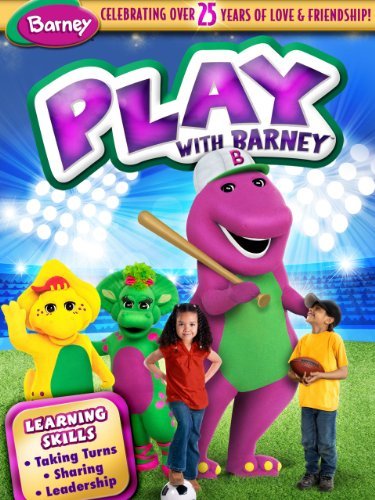 Join everyone's favorite purple dinosaur Barney and his friends in the all-new Barney: Play With Barney arriving on DVD, Digital Download and Video On Demand  from Lionsgate Home Entertainment and HIT Entertainment.  Little ones let their imaginations soar as they learn the importance of being a team player, sharing and trying your best while playing games.
Trusted by moms and adored by children, Barney displays sharing, caring, imagining, dancing, and learning on television, online and through live events, home entertainment, toys and publishing.  The Emmy award-winning series, Barney & Friends is one of the top-rated preschool shows today, airing on PBS KIDS and Sprout.
Something that I love about Barney, that Gwen isn't aware of, is how much she is learning!!  Barney teaches such great and needed social skills.  Taking turns and sharing are such important lessons, and Gwen loved watching Barney and his friends play so well together.  I really think she wished she could have joined them in the TV!  The dancing and singing had her so in tune to the DVD, especially when they sang the "Clean Up" song, which we sing many times each day.  Gwen laughed and danced and loved every minute of this Barney DVD.
The bonus features were adorable.  A great karaoke video, which is always a big hit in our house and a fun Opposites game were played quite a few times. Being a mom, I really love any learn tools that I can find, and this is a great one!
Synopsis:
It's game time!  Barney and his friends demonstrate all the benefits of play with their signature style of imagination, music and laughs!  Baby Bop, BJ and Riff get practice being leaders and trying new sports, like baseball and basketball, and everyone learns that taking turns, following the rules, practicing and cleaning up makes every game more fun… especially when you do it with friends!  So join the team and have a ball with Barney and friends!
It's Time For Learning Through Play With Barney!  Barney: Play With Barney Available on DVD, Digital Download and Video On Demand  From Lionsgate And HIT Entertainment.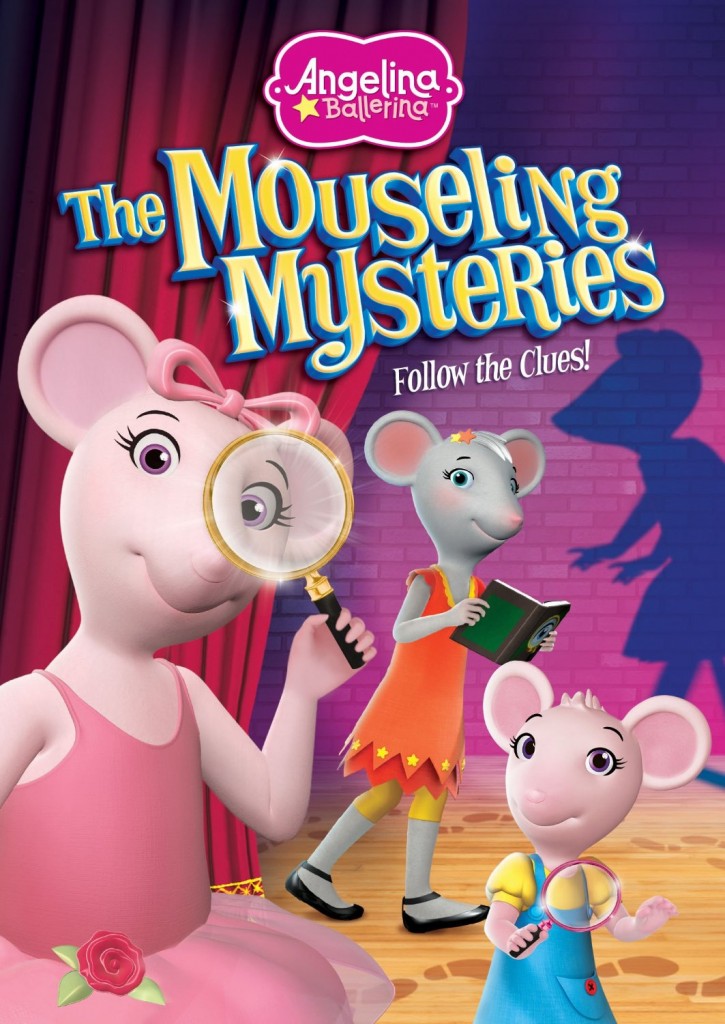 Get ready for some mystery-solving fun with everyone's favorite dancer in the all-new Angelina Ballerina: The Mouseling Mysteries available on DVD, Digital Download and Video On Demand as of March 12, 2013 from Lionsgate and HIT Entertainment.  From vanishing music to a missing bird, to seeking out eerie noises echoing through a haunted hall, Angelina Ballerina and her pirouetting posses are on the case to get to the bottom of this fantastical collection of whodunits.
A beloved publishing property for close to three decades, selling over 1.5MM books and printing over 50 titles,Angelina Ballerina embodies dance, music and performance while inspiring girls to achieve their dreams.
"Angelina, Mom, Angelina pleeeease?"  That has been all I have heard since Gwen watched this adorable DVD.  The dancing and music and mystery were right up her alley, she just wanted more.  The episodes were perfectly paced for Gwen's age, and demonstrate a great amount of teamwork, which is a great lesson!  It also provides a wonderful example of friendships, something that I feel is very important for Gwen to learn.  I think that Angelina will be playing on a regular basis in our house!
The DVD Bonus features were equally as fun as the episodes!  Gwen loved rocking out to the Karaoke Music Video quite a few times!
Synopsis:
Put on your detective cap and search for the clues with Angelina Ballerina in The Mouseling Mysteries!  Something suspicious is going on in Chipping Cheddar: Gracie fears Roquefort Hall is haunted when she hears strange sounds, Marco's music goes missing and Mr. Chirpyface disappears while Angelina is bird sitting for Ms. Mimi!  Can Angelina and her friends stay an pointe and follow the clues to solve these mysteries?  Join the fun and gather the evidence with Camembert's star detectives!
Angelina Ballerina And Her Friends Search For Clues To Uncover The Mysteries In An All-New DVD.  Angelina Ballerina: The Mouseling Mysteries is now available on DVD, Digital Download and Video On Demand  From Lionsgate and HIT Entertainment.
Giveaway: One winner will receive all three DVDs above. For this giveaway, leave me a comment and let me know which is your child's favorite DVD! For an additional +2 entries, tweet out about this giveaway. This can be done daily and will count for 2 separate comment entries. Please leave all comments below in comment section. Winner chosen 4/17 by random.org.
*I was sent DVDs for review purposes. My DVD blog reviewer, Sam at Adventures with Gwen,was given these DVDs for review purposes, All her opinions are her own and not swayed by outside sources.