I can't even begin to tell you how messy my kids get. They are known to play outside (when the weather is nice) 24/7. Along with playing outside, comes getting dirty from the mud and the sand from our sandbox. Their new thing is to pretend they are planting flowers and by the end you should see their hands caked with dirt. It is actually quite disgusting.
The problem is by the time we get inside and they go to the faucet, they need to pump out the soap on their hands. Then my soap pump gets filled with dirt and it is an all around mess! Trust me, by the end of hand washing, you should see my bathroom. For this reason, I am so grateful to learn about the Lysol No-Touch Hand Soap.
My mother-in-law uses the Lysol No-Touch Hand Soap and actually recommended it a few months back. However, I finally took her suggestion and decided to put the Lysol No-Touch Hand Soap in my bathroom and see how the kids like it, and if it eliminates messes.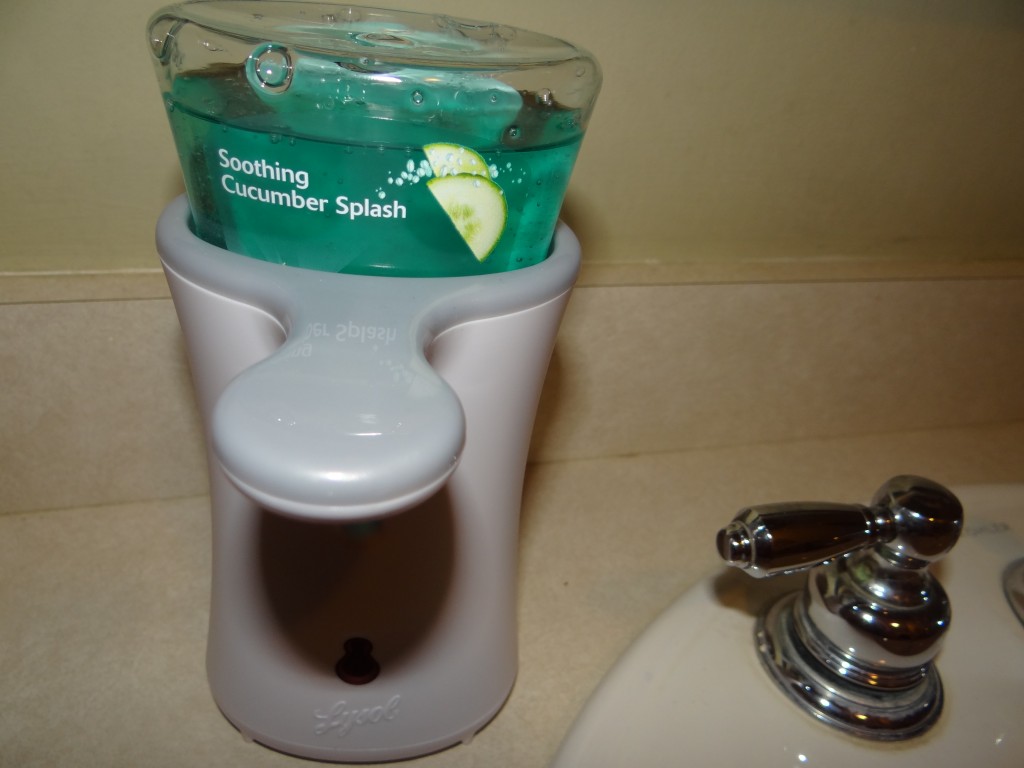 I am so happy to report that hand washing is mess free when using the Lysol No-Touch Hand Soap. They way it works is it is a soap dispenser where you never touch a germy soap pump again. The package for the Lysol No-Touch soap includes the soap dispenser, hand soap refill, and AA batteries. It is very easy to set up.  You simply open the battery door and remove the red insulation tab to activate the batteries. After this is done, press the battery door back into place and make sure it is fully sealed and moisture-resistant. You then remove the seal from the Hand Soap cap, insert the refill, and click into place.
This takes all of two seconds and then you place the dispenser on the counter and press the on switch. At this point, your No-Touch Dispenser is ready to dispense the right amount of soap. Simply place your hand underneath it and the soap dispenser does it all!
Hayley tried it out first. She had no problem waving her hand under and getting the soap come out. As she exclaims, "Mommy, it is magical." Even little Zane had no problem getting the soap like this. We have now replaced all our manual soap dispensers with the Lysol No-Touch Hand Soap.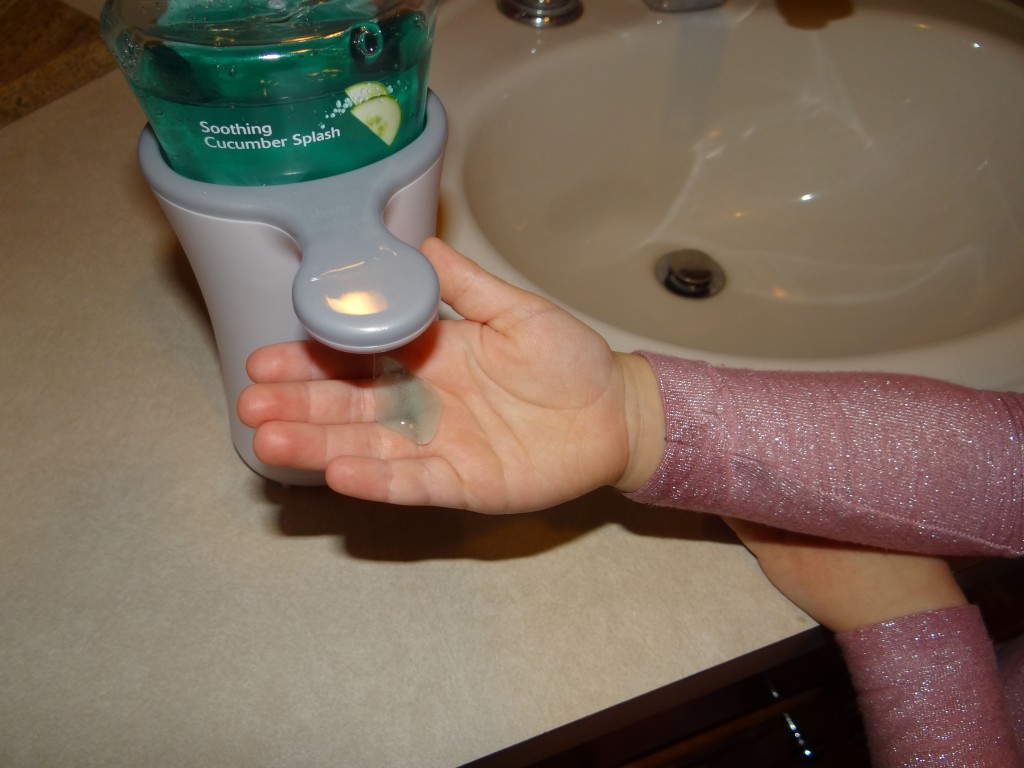 Another thing I love about the Lysol No-Touch Hand Soap is the fact that germs are not spread around from hand washing.  Now, we never have to worry about the kids getting sick if they use the No-Touch Soap! The Lysol No-Touch Hand Soap System has 10 times more germ protection than the leading antibacterial hand soap. Its no-touch dispenser makes hand washing a fun, interactive activity, while helping to stop the spread of germs.
We as a family use it all the time after cleaning up kitchen messes, playing in the dirt, doing messy crafts, and when we cook at home. It has been a truly wonderful product and one that I recommend ten-fold!
Now for all my readers, I have an exciting new contest you can enter! On February 25th LYSOL launched The Kid Who Touches Everything Contest, with the grand prize is a trip to Disney! I highly Encourage you to enter your best Messy Moments pictures.
Celebrate your kids being kids and the messes they get into by
entering the Kid Who Touches Everything Contest for a chance to
WIN A FAMILY VACATION TO DISNEY WORLD!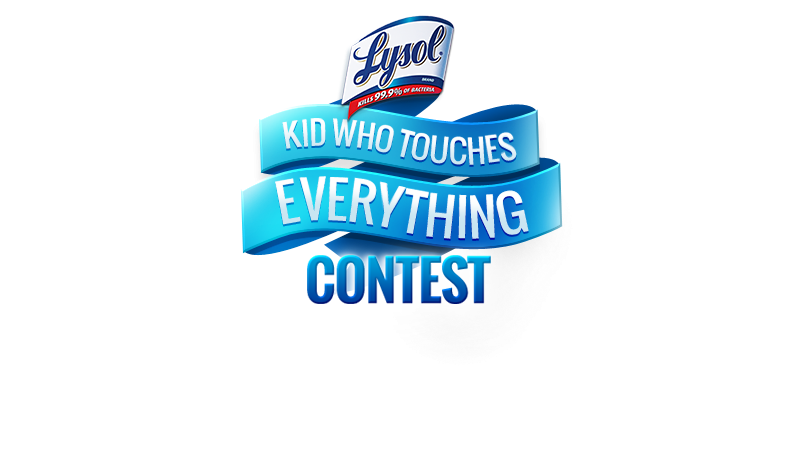 The contest kicks off on February 25, 2013 and entries will be accepted until May 25, 2013.The contest  invites moms nationwide to submit photos of their child's messiest moments.
Each week, a category winner will be randomly selected to have his or her photo featured on Lysol.com and Lysol's Facebook page. Photos can be entered into one of the following categories:

Future Artist
Food Fanatic
Mud Madness
Young Explorer
Critter Kid
All details can be found here: No purchase necessary. Contest runs from 2/25/13- 5/25/13. Open to US residents ages 18+. Void where prohibited. Click here for official contest rules.
The No-Touch Hand Soap System is meant to stop the spread of germs by eliminating the need to touch that germy soap pump. After using it for some time now, I can honestly say this product is awesome and helps eliminate lots of messy hands!
*I participated in a campaign on behalf of Mom Central Consulting for LYSOL®. I received product samples to facilitate my review and a promotional item to thank me for participating.