I decided to link up to my friend Joanna from Baby Gators Den. Every Thursday, she does a feature about things we have to be thankful for. With Easter coming up, I thought of no better time to be thankful.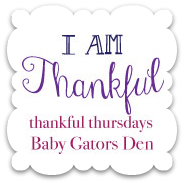 5. I am thankful that my kids are finally interacting and playing with each other. I never thought the day would come where I could have a reprieve for a few minutes, while they play together. We'll, although I don't get long periods of time where they play, it is still nice to have it every now and then. I love seeing their love for each other.
4. I am thankful that I have a bright and beautiful boy who is turning 2 on Sunday. Sure, there are some times, he is the most rambunctious kid in the world, but he brightens up my day each and every day!
3. I am thankful for the amazing Rhode Island bloggers. We are all pulling together for a fundraiser to benefit our friend Melissa's daughter, Belle, who is battling leukemia next week. I am grateful for our "team" and our friendships.
2. I am thankful for my IRL (in real life friends) and my friends who I have never officially met, but I feel like I know so well. It is just so nice to have friendships and be able to talk to them no matter what day or time.
1. I am thankful for my babysitter who comes a few hours each week and allows me to have some time to blog. She is amazing and without her, this blog would not be here. She has such an infectious personality and Hayley/Zane really love her.
What are you thankful for this week?