My FairyTale is a company that sells photo personalized kids DVD/Books that will excite your kids for hours. I have been in touch with them for well over a year and a half, as they have been an advertiser on my blog, and I truly have nothing but the best things to say about their company and their management.
If you have not heard about My FairyTale Personalized Kids DVDs/Books, you need to stop what you are doing and run over to their page now. They feature a wide array of personalized books that feature your child's name all throughout the story, as well as many themes of DVDs, that have your child right in the DVD- your child and his/her face will be seen throughout the entire DVD.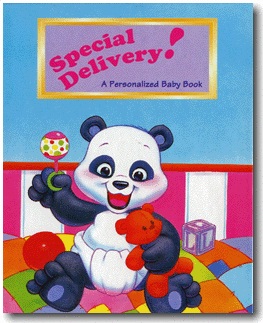 Some of the MyFairyTale book selections include adventure, birthday, educational, fantasy, holiday, sports, and superhero books. I have bought the special delivery baby book before and it is a truly one of a kind baby gift! It has the baby's name in a story that welcomes him/her. As your child gets older, and recognizes their name, they will be delighted to see it on many of the pages of the book. All of their books are beautifully illustrated and hard-bound, so your kids will not be able to rip them.
The photo personalized DVD section is truly incredible too! They feature themed DVDs such as Snow White, Little Mermaid, Care Bears, Christmas Story, Precious Moments, and more. Hayley was recently sent the Little Mermaid Personalized DVD and I have to tell that it is truly terrific!
It was very easy to set up the personalized DVD. All I needed to do, was send in a photo of Hayley, and they took care of the rest. They put her picture as Little Mermaid. All she kept saying was, "Mommy… Look at me…I am swimming" "Mommy…Look at me….I am going to see my prince." It was close to a 30 minute DVD telling the story of a princess and her prince, through the sea waters. Hayley was seen in almost every still on the DVD! The excitement of her watching herself was adorable! I loved the ideas so much as well.
Be sure to check out My FairyTale Personalized Kids DVDs/books/CDs for a fantastic gift for a loved one or present for your children. I promise you that this will be a gift they will never forget!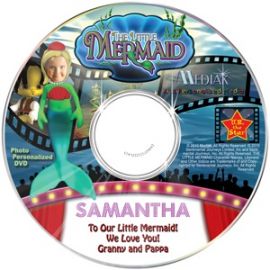 All  of their books are processed and hand bound in their facility.  They take special care with each and every order to make sure all information is correct and shipped out on time. Their customer service representatives are available to answer any and all questions you may have. They will work with you to make sure you receive the perfect personalized children's book that the child in your life will enjoy forever!
Win it: One person will win their chose of a personalized kids DVD or book. This giveaway is run via rafflecopter so click read more to see the actual giveaway. The only mandatory entry is to tell me if you had the chose, which personalized DVD you would want from the list here: My FairyTale in the comment section proceeding the post. While the other entries are optional, I highly suggest you fill it out to increase your chances of winning.  Good luck!
*I received the above product for review purposes. As always, all my opinions are my own and not swayed by outside sources.