I can't even begin to tell you how much I LOVE Kidorable! I love to buy raincoats, rainboots, towels, and so much more there. They have some of the cutest prints and fun character designs on their items such as Dora the Explorer and Spongebob Squarepants. Their products delight not only children, but parents too!
Recently, I found out that they made a wide variety of truly awesome backpacks for little ones. You have to see the designs on Kidorable to see how precious these bags truly are. They have so many themed backpacks including Dragon Knight, Ballerina, Butterfly, Dinosaur, Fairy, Fireman, Frog, Ladybug, Lotus Flower, Lucky Cat, Mermaid, Pirate, and Space Hero Backpacks.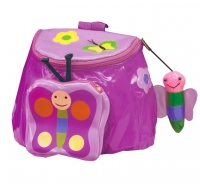 Hayley was recently sent the Ballerina Backpack which is designed to hold the imagination of my little Hayley. It could be used at the beach, park, or as an everyday school backpack. Hayley decided she was going to use it to hold her tap and ballet shoes in it. She takes her Ballerina Backpack whenever she goes to dance and all the kids do the "oohh..ahhh" when they see it.
It is also very easy to wash the PVC backpacks and have inside and outside pockets for child outings. Best of all, for the cutest backpack made of very durable materials, it is only $23.00! That is one good price for a reliable backpack.
Now, I have a special discount for the readers of my site. If you wish to purchase a backpack they are now offering a 20 percent off coupon.
**From March 10th through March 23rd, you  can purchase their backpacks for 20% off by using code BACKPACK88 at checkout on www.kidorable.com.***
Children love packing them up with their snacks, books and more.  Remember to place the backpack in the cart first. This promotion cannot be combined with any other offers.  ***
Great time to pick up a great backpack! Be sure to check out their site today!
*I received the above product for review purposes. As always, all my opinions are my own and not swayed by outside sources.