As a mom, life is busy from the time I rise in the morning until the time my head hits the pillow at night. By the time I get through my day, the last thing I want to worry about is dinner. However, one of my passions is cooking and I try to make the time to cook meals for the kids at least a few times a week. It does not have to be anything extravagant but I like to know that I am cooking my own food for them, and knowing they are getting the necessary nutrients from my cooking.
One food that I cook often with is Tyson Chicken. Not only do my husband and I love Tyson, but my kids gobble it up! I can't even begin to tell you how many meals I make for them that end of being untouched. However, no matter what meal I make with Tyson, they absolutely love it and want seconds. For this reason, we ALWAYS have Tyson in our household.
This coming week is going to be a crazy week with the holidays and my son's second birthday coming up. I decided I wanted to cook a fabulous dish but something that was simple, yet healthy for me. I headed to Sam's Club to buy some essential ingredients, including Tyson Chicken. When I was there, I heard that there was going to be a demo for a meal created with Tyson Chicken and Prego in the next couple of days. While I didn't get a chance to see the demo, I had an ingenious thought. Why not combine Tyson Chicken with Prego sauces for a delicious pairing meal? I immediately did some searches for recipes that would be allow me to combine our love of Tyson and Prego in one fabulous meal.
I went to the freezer aisle at Sam's and selected uncooked chicken breasts. They have so many wonderful Tyson options there including chicken breasts, chicken nuggets, chicken tenderloins, and so much more! Half of the frozen food options at Sam's was Tyson. I then went on to select all my other necessary ingredients including Prego Sauce. Since my husband is 100 percent Italian, most of our meals involve sauces and Prego is one we stock-up on pretty frequently. Once I had all my ingredients, I headed home from Sam's to begin to cook! To see my full shopping story at Sam's click here: google plus.
Once I got home, I told my family I was making Mediterranean Chicken which I adapted from cooks.com. They were so excited because it was a new recipe and sounded yummy to all of them. I was eager to try the pairing of Prego and Tyson in the Mediterranean Chicken, so I instantly started cooking.
My ingredients: (to feed a family of 4)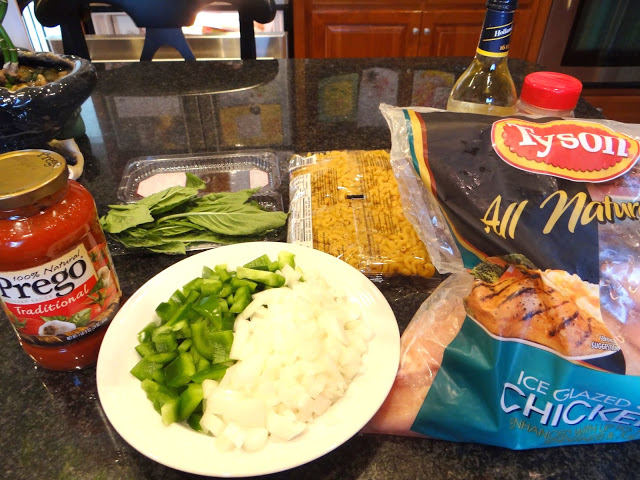 -4 (4 oz.) halves Tyson Chicken Breasts
-Fresh Pepper
-1 1/2 Tsp. Butter
-1 tsp. garlic powder
-2  cup green pepper chopped
-2 cup onion, diced
-1 tsp. fresh basil leaves
-1/2  jar Prego Original Sauce
-1/4 cup cooking wine
-cooked pasta (shells, macaroni, linguini)
Directions:
1. Take out the Tyson Chicken Breasts. Season each side of the chicken breast with pepper. Pan sear chicken for 5 minutes on each side in the pan. Make sure the chicken is not overcooked, as you will also be baking it in step #5.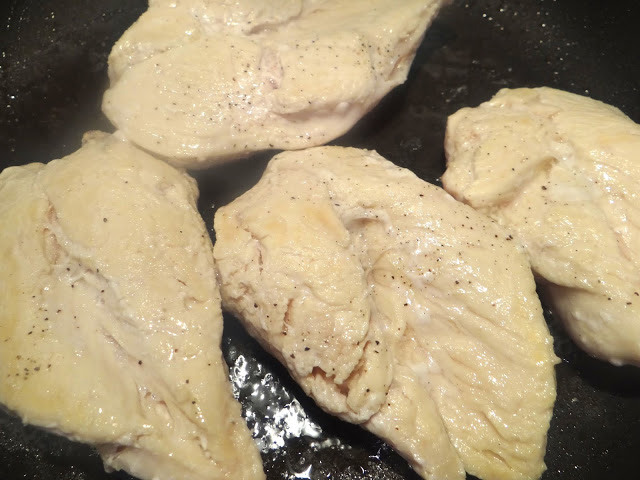 2. While the chicken is cooking, get out a large saucepan. Over medium heat, add butter and cook onions and peppers with garlic powder and basil. Stir in 1/2 jar Prego Sauce and cooking wine. Heat and stir every 2-3 minutes during the cooking process.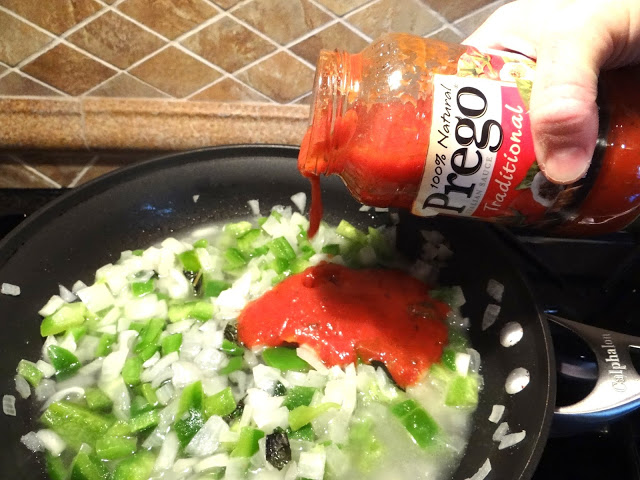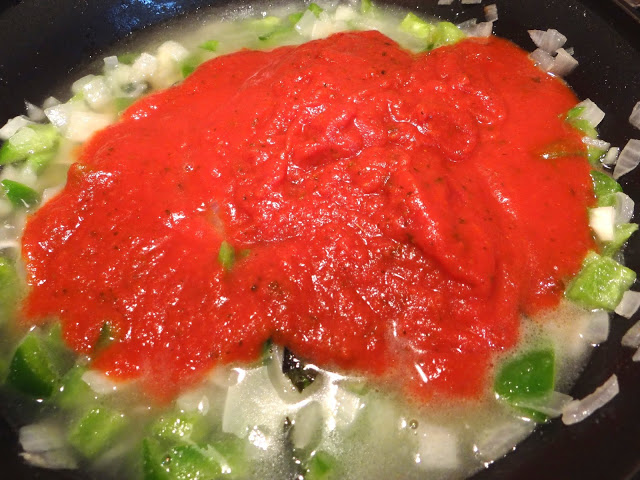 3. Spread half of the sauce mixture (from #2) in a baking dish (12X12X20 inches)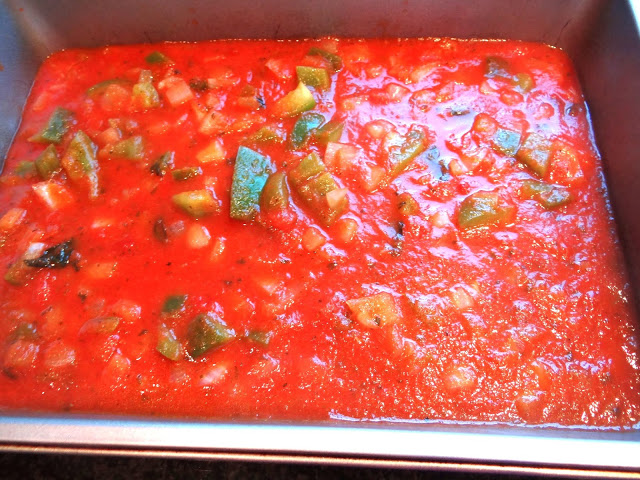 4. Place chicken breast from #1 in sauce in each pan. Spread remainder of sauce over chicken.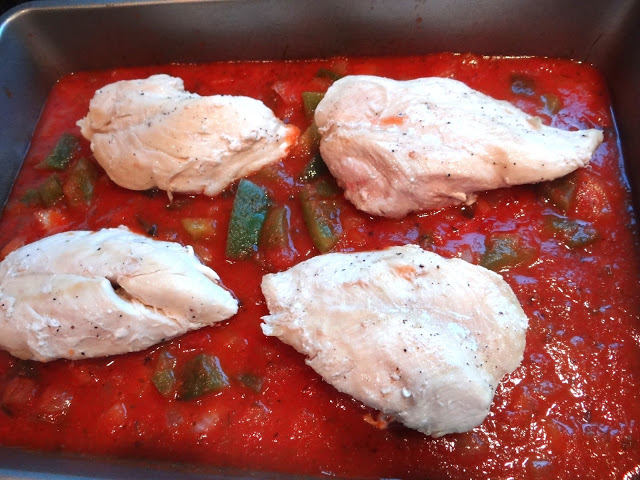 5. Bake at 350 degrees for roughly 20 minutes. Serve over cooked pasta.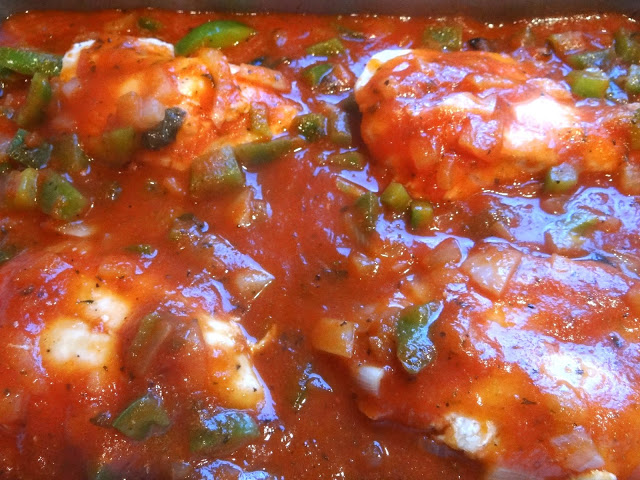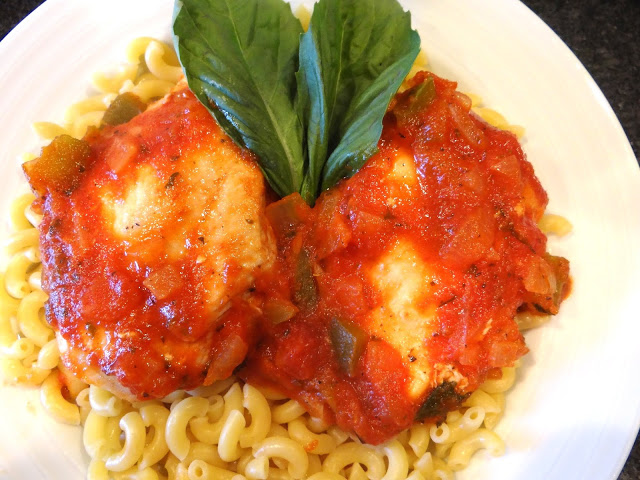 Once I was done making this easy meal which took me less than 30 minutes to make, I was ready to serve it to my family. I had Hayley do the taste test first because she is definitely my pickiest eater. She LOVED it! She kept saying, "Mom, this is really good." I thought to myself how simple it was to make and how it was a great healthy alternative for the whole family. My husband and I equally loved it as well!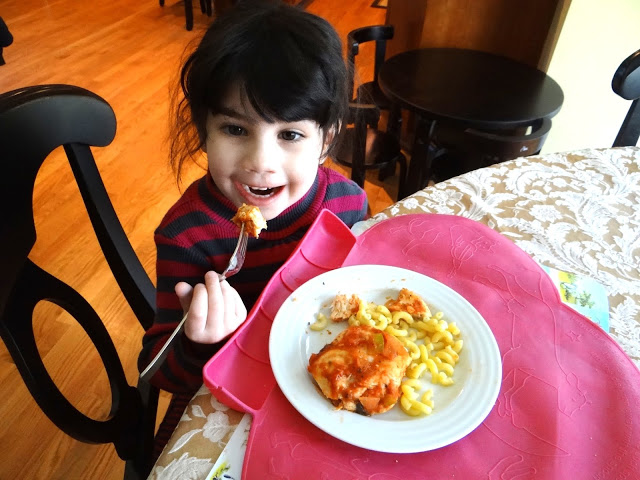 By using the Tyson Chicken Breasts with Prego Sauces, I created a simple, delicious, and healthy meal for my whole family. I am sure this recipe will be made for many years to come. It was a truly fantastic pairing and made for a great Mediterranean Chicken Recipe!
Be sure to go to your local Sam's club over the next coming weeks, as they will be doing many recipe pairing demonstrations  using Tyson and Prego. I plan to stop by next week to see if I could get more inspirations for another great pairing recipe for another meal in the future. You can follow Tyson on Twitter and Facebook to learn more about their wonderful foods!
*I am a member of the Collective Bias®  Social Fabric® Community.  This shop has been compensated as part of a social shopper insights study for Collective Bias®  and Tyson. #cbias #SocialFabric #MealsTogether