Birds, Squirrels, and Critters, Oh My! Cuties is celebrating their  first animated short featuring lovable critters, Squeak the squirrel and his charming companion Beak the bird, with Cutie's Create-a-Critter Contest. Parents can enter their junior Van Goghs, for a chance to have their critter drawings come alive in the form of a soft plush doll. Please find the rules listed below: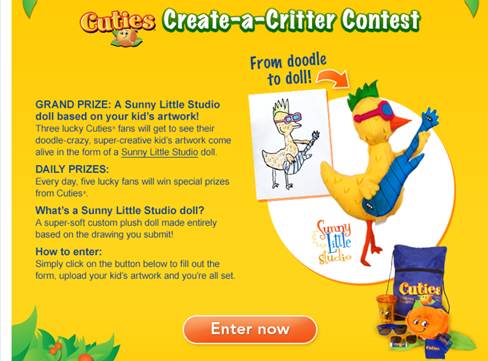 o    From March 19th –April 5th, fans can upload their children's critter drawing to the Cuties® Facebook page
o    Each week for three weeks, one Grand Prize winner will be chosen
o    Grand prize winners receive a Sunny Little Studio doll in the likeness of their Cuties® Critter drawing
o    Additionally, Cuties will select five winners between Monday and Friday for the duration of the contest
o    Those 75 lucky artists will have a chance to win Cuties® Gift Packs containing a selection of Cuties® branded items
For those who can't get enough of their masterpieces, the Cuties Facebook page contains printable coloring sheets. In addition to adding color and life to your children's work, the page will feature new weekly adventures of Squeak and Beak. Stay tuned!
Some additional information about Cuties:
California CUTIES® are two varieties of mandarin fruits: Clementine mandarins and W. Murcott mandarins. Contrary to popular belief, CUTIES® are not "little oranges." You can purchase CUTIES® in a 2,3, or 5 pound box.
Also, in addition to being a healthy snack option for kids, CUTIES® have several distinct characteristics that make them the perfect anytime and anywhere snack.  They are seedless, super sweet, and all natural.
*This is a partnered post. As always, all my opinions are my own and not swayed by outside sources.