Let me tell you all about my last week- I was brutally ill with the stomach flu and then subsequently one day later, Hayley and Zane both came down with the dreaded bug. While I was stuck to a bed and could not help at all, my husband did it all! I mean did it all- cleaned them up, tended to me, gave us our medicines, etc. He is an amazing guy and my rockstar, who I am lucky to have in my life.
To thank you him for all his hard work last week, I decided a date night was in order. With finding babysitters and the expenses of eating out, we tend to have date nights at our house at least twice a month. We like to put the kids to bed, open up a nice bottle of wine, and have a good meal. I truly enjoy eating a nice home cooked meal in the confines of our home, without ever having to worry if the babysitter is going to call me to come home or if the meal is going to be up to par for the money we just spent!
Due to him being a rockstar husband, I figured I would set up the date night and do the cooking. I didn't want him to do anything but just sit and relax- he truly deserves it! However, with me getting over being sick, I did not want to spend hours upon hours in the kitchen. Thankfully, with the help of Campbell's Skillet Sauces, I did not have to!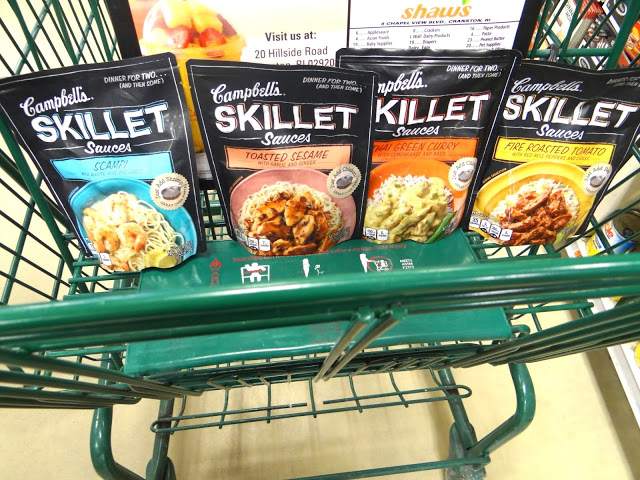 If you have not heard of Campell's Skillet Sauces, you are truly missing out! I found them about a month ago at our local Shaw's, and have been stocking up on them to make a quick and easy meal. As they say on the packaging, you could make a wonderful meal in 15 minutes! If you want to make it really easy, just simply buy a package of chicken breast, vegetable oil, and a Campbell's Skillet Sauce pack, and in 3 easy steps- you are on your way to a delicious meal! Most nights, I end up heating the oil, adding my chicken, and stirring in my sauce to make an incredible meal that is EASY! With working and having kids, EASY is key!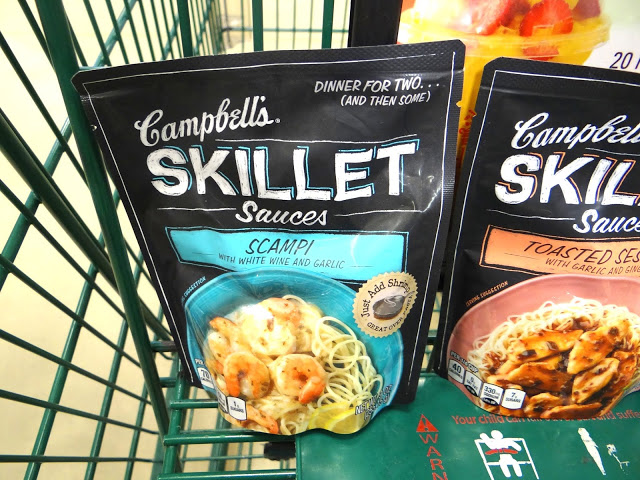 I decided I was going to step it up a tiny bit in the traditional recipe. I still wanted to spend as little time as possible in the kitchen, but wanted to go beyond our staple 3 step recipe we use with the Campbells' Skillet Sauces. I decided to go to Shaw's to check out what they had on the shelves for Campbell's Skillet Sauces. I was so happy to see six scrumptious varieties including Creamy Chipotle, Fire Roasted Tomato, Toasted Sesame, Marsala, Scampi, and Thai Green Curry right in the sauces/canned pasta/ soup  aisle. When I was there, I found an unbelievable deal on the Campbell's Skillet Sauces- 2 for $4.00! Amazing deal so I ended up buying quite a few so I had them for all our future date nights. There is also an in-store coupon display for $2 off the purchase of fresh chicken, steak, or seafood when you buy 1 Campbell's Skillet Sauce, or you can print a $1.00 coupon at at the Campbell's Facebook Page. Feel free to browse my Google+ story to see my full Shaw's shopping trip!
When I got home from Shaw's, it was time to make the Sesame Chick Stir-Fry (recipe adapted from My Recipe). I gathered all my necessary ingredients for #dinnerin15  including: 1 tbs. black sesame seeds, 1/4 tsp. salt, 1 lb. chicken breast, cooking spray, one can of mushrooms, one can of corn, Campbell's Toasted Sesame Skillet Sauce, 3 cups of asparagus, 1/2 cup of chicken broth, 2/3 cup soy sauce, 1 tsp. cornstarch, and 2 cups of brown rice.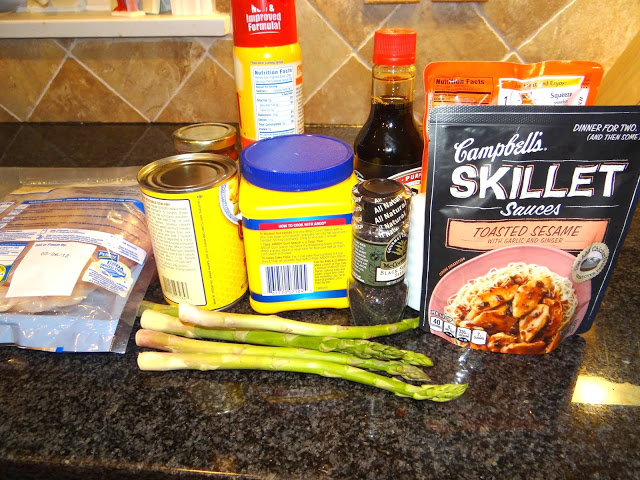 Directions:
1.  Cut up 1 pound of chicken breast and cook till brown.
2. Combine 1/4 tsp. salt and 1 tbs. black sesame seeds in a large bowl. Add cooked chicken cubes and toss with the seed mixture. Remove chicken and put coated chicken aside.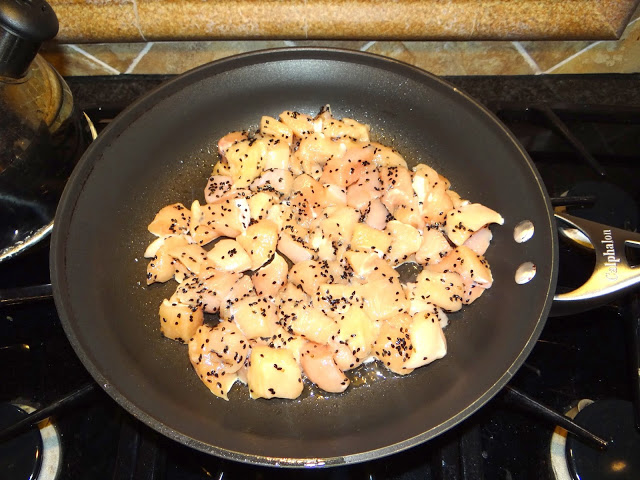 3. In the pan, coat with cooking spray and add  1 can mushrooms, 1 can  corn, and  3 cups of asparagus on medium heat. Set aside.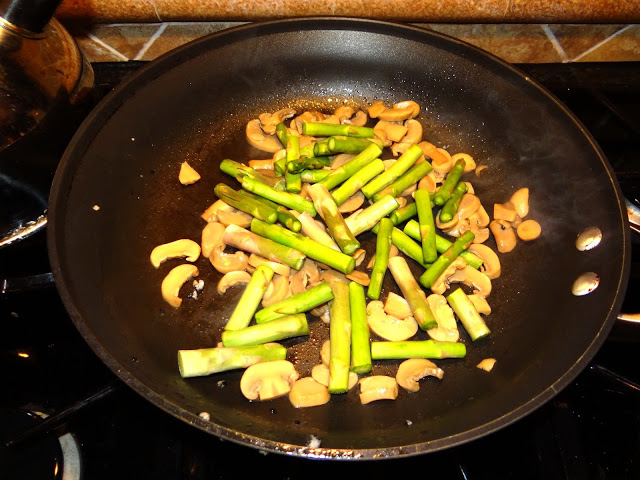 4.  Add a full package of Campbell's Skillet Sauces Toasted Sesame to the pan mixture in #3.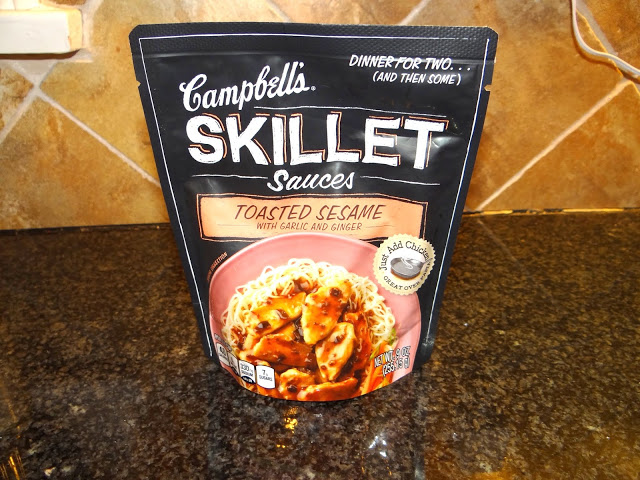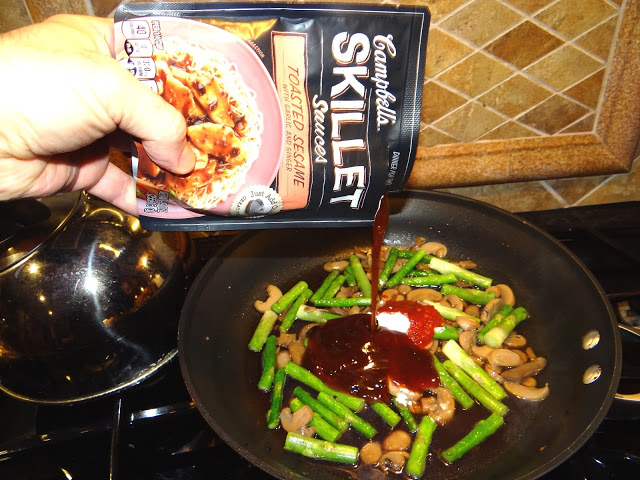 4. Using a bowl, combine soy sauce and 1/2 cup chicken broth. Add the mixture to the pan and then add in chicken from step #2.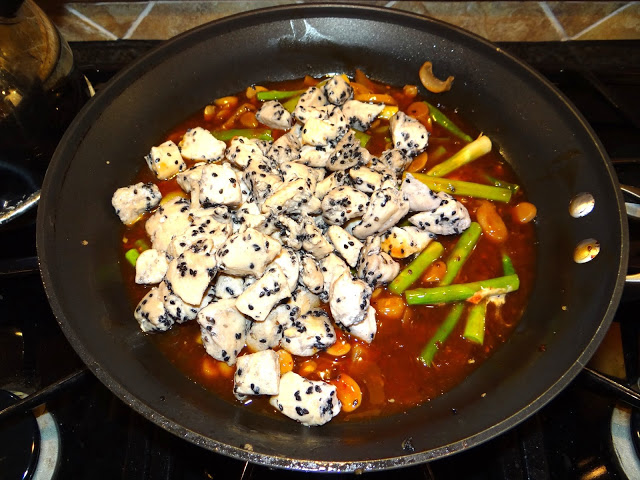 6. Serve over rice and Enjoy!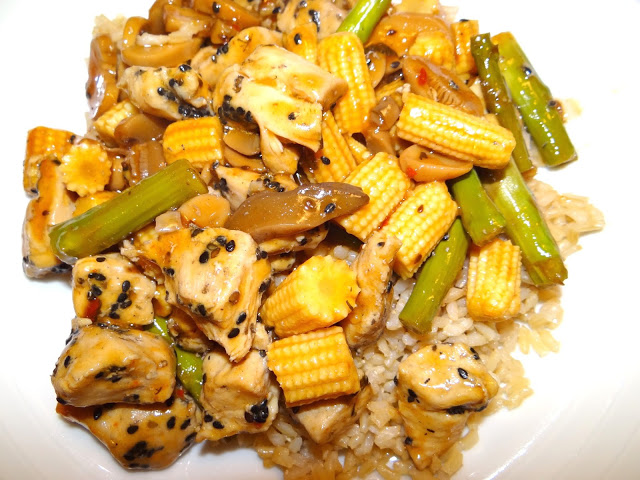 This recipe took me no time at all to make  and before I served it to my husband, I decided to give it a taste test. It was absolutely DELICIOUS!! I could not believe how easy it was to make and how flavorful the meal was. The Campbell's Skillet Sauces really added such flavor to the recipe!
I sat down our plates for date night and I proceeded to have a nice, romantic date with my husband. We ate a great meal and then just relaxed on the couch watching some movies. It was a wonderful date night! Oh, and if you are curious my husband gave the recipe 5 stars! Score!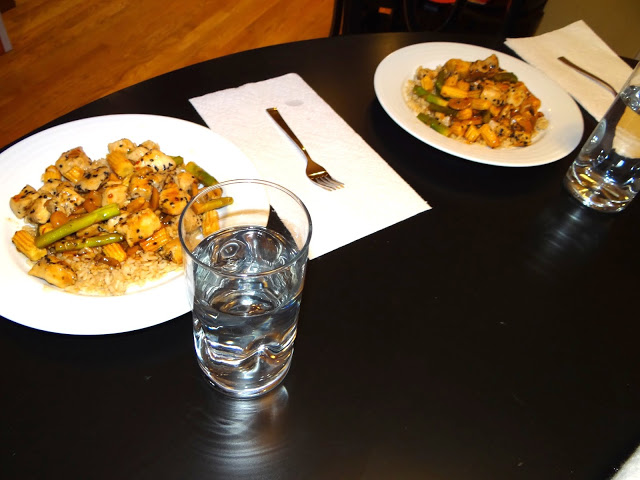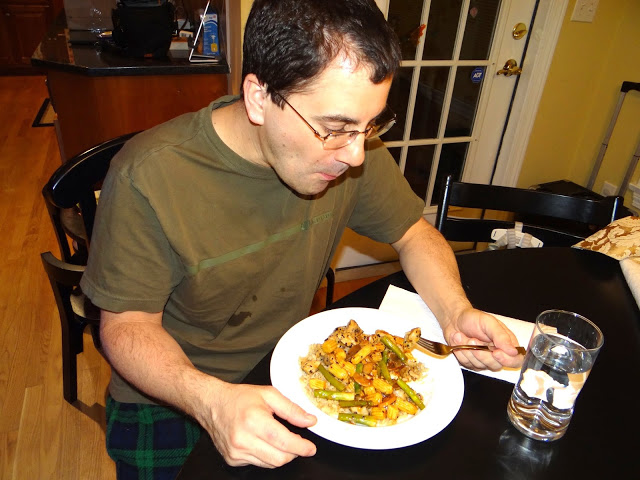 To learn more about Campbell's Skillet Sauces, be sure to check out their Facebook/Twitter Page today! Here's to a great date night for all!
* I am a member of the Collective Bias®  Social Fabric® Community.  This shop has been compensated as part of a social shopper insights study for Collective Bias®  and Campbell's #cbias #SocialFabric