I remember years ago when Lisa Loeb came on the scene. I just thought she had the most sultry voice and was just a beautiful person, inside and out. Oh, and those trademark glasses- how could we forget those! Those were the biggest style of glasses for years!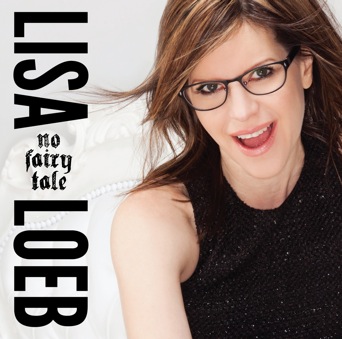 After 8 years of a long music break, she is back and looking extraordinary as ever! When Lisa began her music career, she was a great and coming artist who was the first (and still only) to have a number 1 single from a film. Since then she has produced 7 albums, had 2 children, worked in film and television and is currently working on her second children's book. What an AMAZING woman and singer! Although her new album is titled, No Fairy Tale, the work is actually a beautiful addition to a career that started nearly 20 years ago.
For Lisa's latest album she collaborated with Chad Gilbert of New Found Glory but she also featured artists such as Hello Goodbye, Morgan Taylor, Maia Sharp, and Marvin Etzioni. Produced by Chad Gilbert and Lisa Loeb, the CD features 12 beautiful songs that will get to your heart and soul.  No Fairy Tale features Loeb's brand of quirky lyrics and rollicking guitar licks. The 12 brand new tracks include the title track and first single, along with 2 songs written by acclaimed Canadian rock duo Tegan and Sara.
I popped No Fairy Tale in my CD player as soon as I got it. I was grooving right along to every lyric in her 12 title track. It brings me  back to her old days and reminds me of songs such as, Stay, but in a new 2013 feel! It is a fantastic CD and will sure to delight any music lover out there!
Lisa Loeb's, No Fairy Tale, came out on January 29 and can be purchased here: No Fairy Tale. You can also follow along with Lisa Loeb on Facebook/Twitter today to learn more about her life story and her new music, including this fabulous album.
Giveaway: 3 winners will receive a copy of Lisa Loeb's No Fairy Tale DVD. This giveaway is run via rafflecopter so click read more to see the actual giveaway. The only mandatory entry is to tell me which Lisa Loeb song was your favorite in the comment section proceeding this post. While the other entries are optional, I highly suggest you fill them out to increase your chances of winning. Good luck!
*This review was made possible by Double Duty Divas and Lisa Loeb. I was provided the featured product free of charge to facilitate my review, but all opinions are 100% mine.