Are your children Scooby Doo fans? Do you live in New England? If so, you do not want to miss Scooby Doo Live: Musical Mysteries that will be at the Providence Performing Arts Center on February 17 for two shows. I know Hayley LOVES Scooby Doo, so this will be a show right up her alley!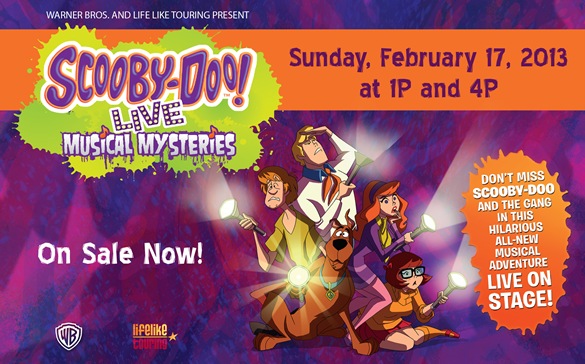 ZOINKS! MYSTERY-SOLVING CHILLS AND THRILLS COME TO
THE PROVIDENCE PERFORMING ARTS CENTER 
IN THE ALL-NEW SCOOBY-DOO LIVE! MUSICAL MYSTERIES
FEBRUARY 17, 2013 AT 1P & 4P
Providence, RI – The much-loved Scooby-Doo and the Mystery Inc. Gang take center stage in an all-new family musical, SCOOBY-DOO LIVE! MUSICAL MYSTERIES, presented by Warner Bros. Consumer Products and Life Like Touring.  Featuring everyone's favorite characters from one of television's longest-running animated series, SCOOBY-DOO LIVE! MUSICAL MYSTERIES is set to thrill audiences at the Providence Performing Arts Center (PPAC) on Sunday, February 17, 2013 at 1P & 4P.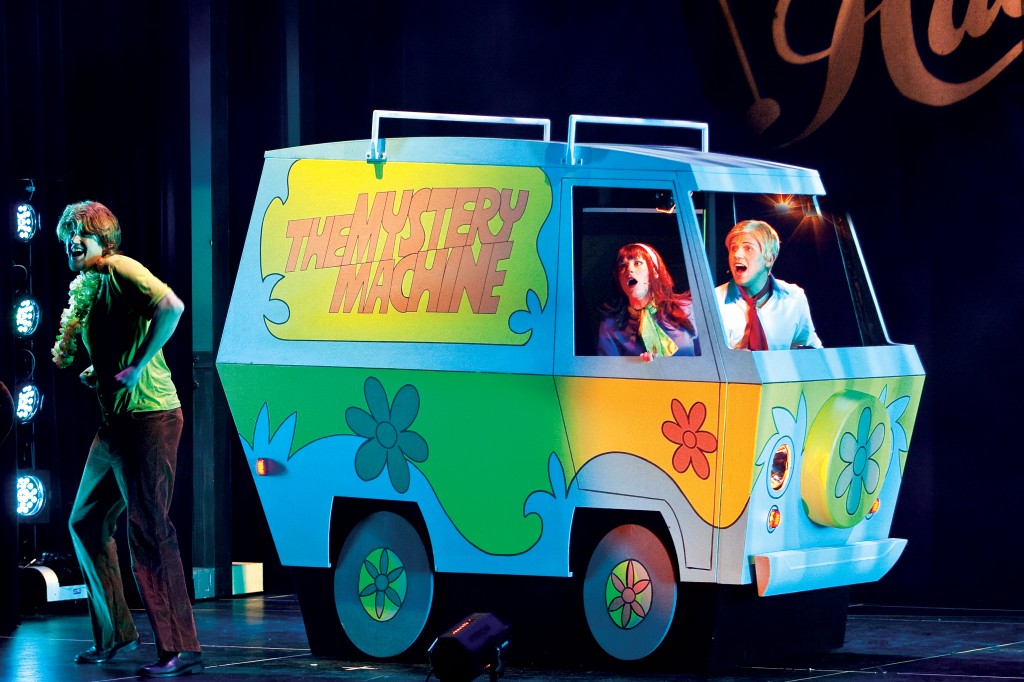 Tickets are available at the PPAC Box Office, located at 220 Weybosset Street in downtown Providence and by phone at (401) 421-ARTS (2787) from 10A to 7:30P. Regular Box Office Hours are Monday through Friday, 10A – 5P; Saturday, 10A to 2P; and through curtain time(s) on performance days. They can also be purchased online at PPACRI.org.
There are a limited number of VIP tickets available at $63; all other tickets are $43 – $17.  All ticket prices include a $3 per ticket restoration charge and are subject to change without notice.
Discounted admission is available for groups of 10 or more; for more information and to order, please contact Paul Hiatt at   phiatt@ppacri.org or (401) 574-3162.
In this exciting new production, Scooby-Doo and the Mystery Inc. Gang have been called upon to help solve an epic mystery.  A trouble-making ghost is haunting a local theatre and Shaggy, Fred, Daphne, Velma, and Scooby-Doo are on their way in the Mystery Machine to crack the case.  With crazy ghosts, perplexing puzzles, and an abundance of Scooby Snacks, it's Scooby-Doo and friends at their best, travelling across the country, solving mysteries wherever they go.
SCOOBY-DOO LIVE! MUSICAL MYSTERIES features big musical numbers including the evergreen Scooby-Doo theme song, "Scooby-Doo, Where Are You?," alongside original groovy tunes including "Round Every Corner" and "We're Mystery Inc."  Filled with wacky new characters and uproarious antics, SCOOBY-DOO LIVE! MUSICAL MYSTERIES has young audiences on the edge of their seats in traditional Scooby-Doo fashion from the moment the lights go down.
"The timeless antics of Scooby-Doo and his mystery-solving Gang have been delighting kids for generations," said Brad Globe, President, Warner Bros. Consumer Products.  "We are thrilled to be bringing the Scooby Gang home to North America in this exciting new musical for the whole family.  Scooby fans of all ages will truly enjoy this immersive and entertaining experience."
The North American tour of SCOOBY-DOO LIVE! MUSICAL MYSTERIES reunites the Australian tour's creative team:  writer and director Theresa Borg, composer Craig Bryant, and choreographer Katie Ditchburn.  This team was also responsible for the recent tour of Sesame Street Presents Elmo's World Tour.
Scooby-Doo has been delighting families for decades, and today, with 99 tour stops, sold out performances, and thousands of fans attending each show throughout Australia, WBCP and Life Like Touring are thrilled to be bringing SCOOBY-DOO LIVE! MUSICAL MYSTERIES to all Scooby fans in North America.
For more information on SCOOBY-DOO LIVE! MUSICAL MYSTERIES, visit  ScoobyDooLive.com and  Ppacri.org!
Giveaway: One winner will receive a 4 pack to see Scooby Doo for the 1 pm show. To enter this giveaway, simply leave me a comment and tell me what other shows at the PPAC look like something you want to see in the comment section proceeding the post. Please make sure you have a valid email address. Giveaway ends 2/12 at 9 AM. Winner chose by random.org.
*I received tickets in exchange for this post. All my opinions are my own and not swayed by outside sources.