Both of my children are super picky when it comes to food! Everything is "No mommy-I don't want that…No mommy…That is gross." I hear this on repeat 24/7 and quite honestly, it could become annoying! I am so lucky that Happy Family has a great selection of organic foods and snacks for kids, that are readily sold in supermarkets across the country.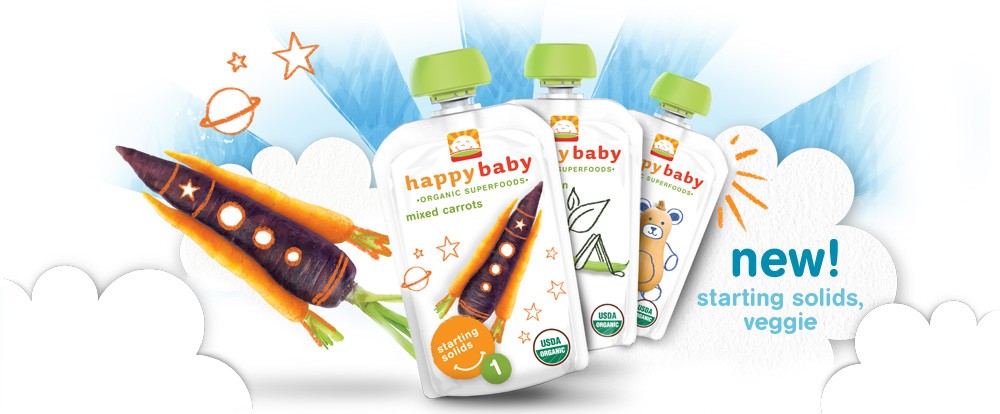 Happy Family Organic Superfood launched on Mother's Day 2006 and is owned by moms, just like us. Happy Family is the leading premium organic food brand delivering nutrition for the whole family. They provide organic, nutritionally rich food for babies, toddlers, kids, and adults! It is a healthy option for at home or on the go! They use the best natural products in their organic fruits, vegetables, dairy, meats, and grains.
They feature a wide assortment of products in their Happy Family Line. For the baby line, they have the right mix of nature's essentials including Salba, Pro and Probiotics, Choline, DHA, Amaranth, Quinoa, Magnesium, and Vitamin D. They have a cereal line called Happy Bellies baby cereal that is a great introduction cereal for babies. They feature baby cereals including multi-grain and brain rice. We recently gave some of these cereals to our friend who is starting her baby on cereal, and the baby loved it! She plans to use Happy  Bellies until the baby is no longer on cereal. They also feature Happy Baby starting solids, simple combos, homestyle meals, hearty meals, and happy tot plus meals. They are all featured in baby pouches so it makes it easy for kids to self feed. Zane loves eating these yogurts and baby foods. I also love it because they are completely mess free!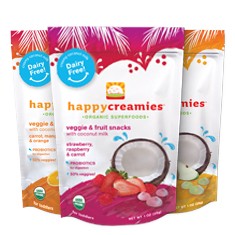 For snacks, they feature the Happy Creamies, Happy Munchies, Happy Puffs, and Happy Yogis. I take these wherever we go as they are convenient, nutritious, and delicious. Zane loves the Happy Puffs and I love the fact that it is made with organic whole grains. They are also gluten free and provide almost twice the amount of puffs in the package, that I have seen, compared to other brands. We really eat all of their snacks though! They keep both of my kids happy and healthy!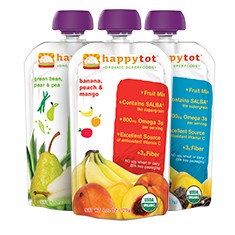 The Happy Family secret is to keep it simple. Their organic meals and snacks are as delicious as homemade, with an added boost of nature's best nutrition. It is made with a mom's love for their growing family!  I love their wide assortment of products and I know I will be eating Happy Family Snacks and Foods for many years to come.
I wanted to also share some information about the new products that can be seen at supermarkets from Happy Family:
                       Happy Squeeze Super – Combining superfruits like acai, pomegranate and kiwi with the supergrain Salba, this organic superfood snack is high in antioxidants and vitamin C.
·         Happy Squeeze Fruit & Veggie Twist – Adding organic fruits, vegetables and supergrain Salba, this healthy and delicious snack allows the whole family to get their veggies without even knowing it!
·         Happy Squeeze Treat – This guilt-free indulgence transforms favorite dessert flavors into 100 calories or less, each with half a cup of fruit.
·         Happy Squeeze Coco – Real fruit mixes with delicious, nutrient-packed coconut milk to create a creamy, revitalizing and refreshing snack or dessert.
Be sure to check out Happy Family Organic Superfoods at many supermarkets across the country including Market Basket, Target, Whole Foods, Giant, Kroger, Shop-Rite, Publix, Stop and Shop, and more!
*I received products for review purposes. As always, all my opinions are my own and not swayed by outside sources.