If you follow along with me on my social media channels, you know I talk a lot about Zane and his food allergies. When he was about 6 months of age, he was diagnosed with a peanut, fish, milk, and egg allergy. The allergies first came about when I introduced Zane to milk based formula and he broke out in serious hives. We immediately went to an allergist  who was then able to identify his allergies. While we could readily eliminate peanut, fish, and eggs (not allergic in baked goods) from his diet,  milk was something he needed to grow strong. That is why we used a soy-based formula and then when he turned one-year of age, we switched him over to Silk Soy Milk.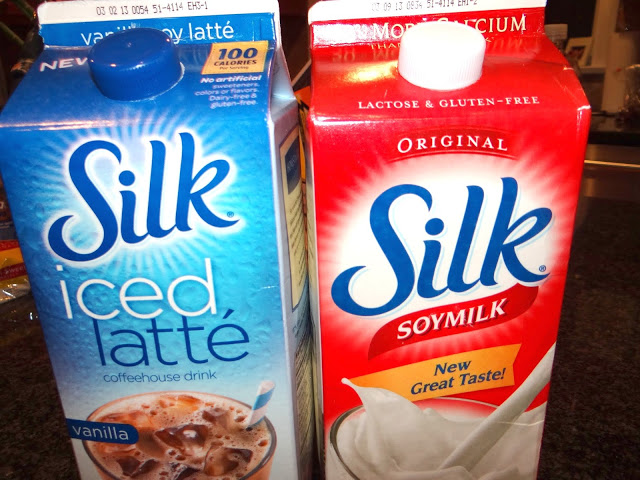 We have been using Silk Soy Milk for almost one year now and, at first, I was nervous how the rest of my family would take to a soy-based milk. I heard so many wonderful things about Silk Soy Milk, that we made the switch to this brand exclusively. Well, I have to tell you that my family has taken unbelievably well to Silk, so much so that it is the predominant milk we drink in this family. Just two months ago, we got word that Zane's blood and skin test to milk came back negative. We were told that we were in the clear to give him cow milk, but because we loved Silk Soy so much, we have decided to keep it as part of our regular diet. The doctor was fine with this and encouraged it, as soy milk is a perfectly healthy substitute to cow's milk!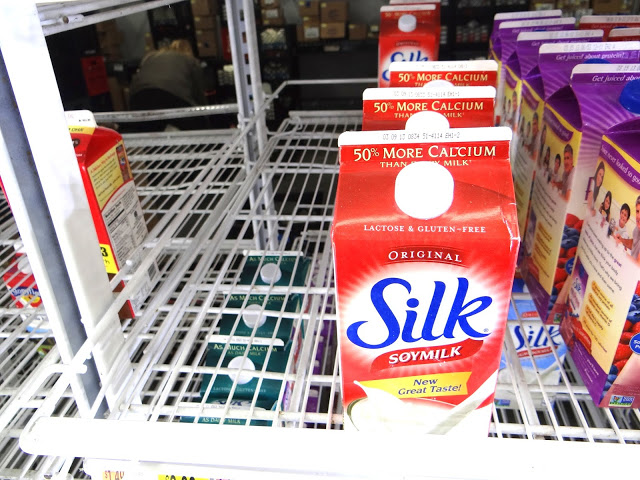 If you are unfamiliar with Silk Soy Milk, I suggest you try it. It is a smooth and delicious soy milk option, that is actually good for you! Silk Soy Milk is 100% lactose and dairy free. It is also all natural and has no GMO found in any of their soy milk options. GMO are Genetically Modified Organisms- an organism that has been altered using genetic materials. I can assure you that you do not want this in the milk you drink, another reason why Silk Soy Milk is a wonderful option!
Silk Soy Milk comes in a wide range of products including Natural, Organic, Light, Single Serve, Creamer, and Seasonal Flavors. Falling under the Natural line, you will find at your local Walmart Silk Soy Milk flavors including Original, Chocolate, Vanilla, and Very Vanilla. They also recently introduced two delicious flavors including Silk Pure Coconut, which I have tasted and it is truly divine, and the Silk Pure Almond, which is a delicious Almond Soy Milk! If you are worried that you won't get enough calcium in Silk Soy Milk, do not be! Silk Vanilla provides as much calcium as milk and 6 grams of protein, which nutrition experts agree is comparable in quality with the protein found in dairy products. Silk is also a natural source of omega-3s and protective antioxidants and is very low in saturated fat, along with being cholesterol-free! Give Silk a try to #rethinkwhatyoudrink.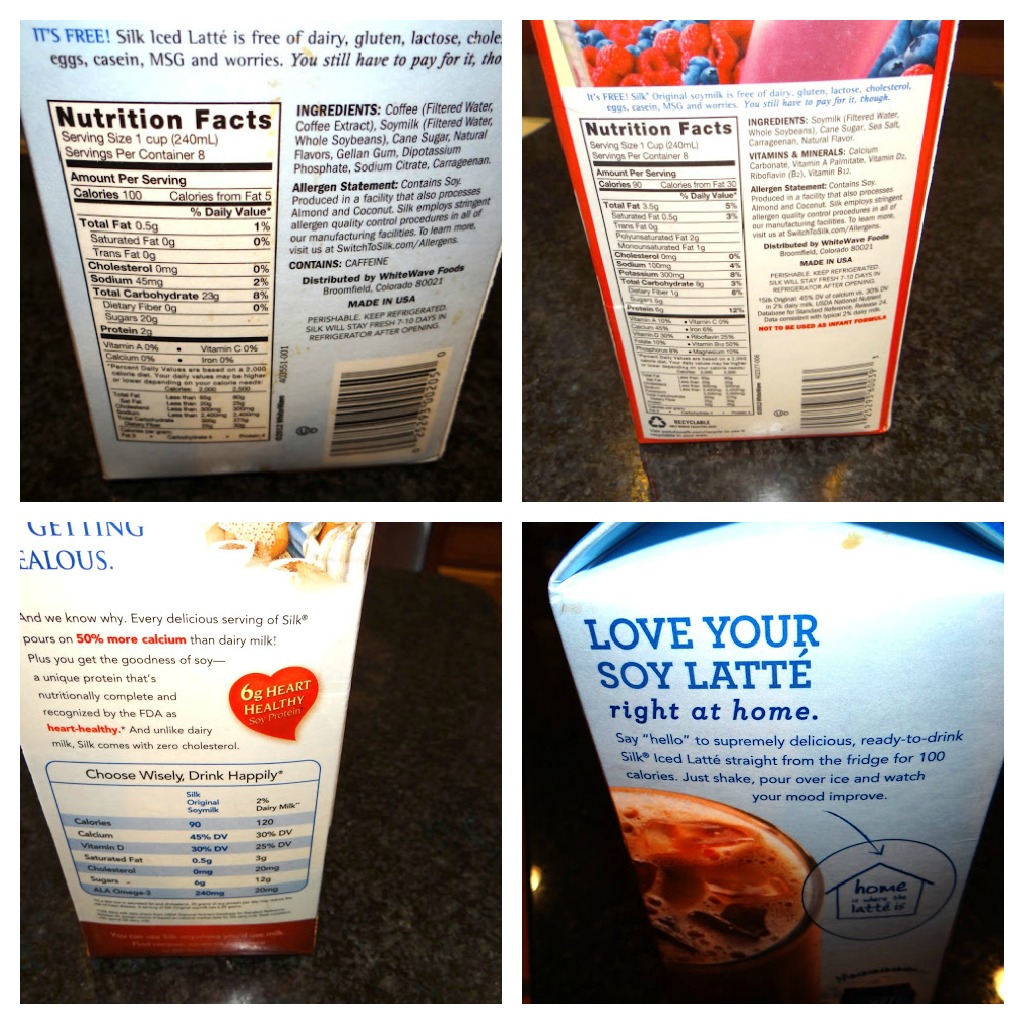 I decided that I was going to make a Banana Caramel Bread Pudding for my whole family to enjoy this past weekend. My friend gave me her recipe and mentioned she had much success with it. I decided I was going to give it a whirl so I needed to replenish my Silk Soy Milk by going to Walmart. I had most of the other ingredients at home so I just needed to stock up on more Silk. I was so excited to see that they also have Silk Soy Latte, which I picked up in addition to the Original Silk Soy Milk.  Feel free to browse my complete Walmart shopping story here: Google Plus Story. Also, if you are unsure how the Silk tastes, they usually run demos at Walmarts around the country. However, I could tell you myself that you will not go wrong with these products.
Once I got home, I got all my ingredients out to make Banana Caramel Bread Pudding.
Ingredients needed: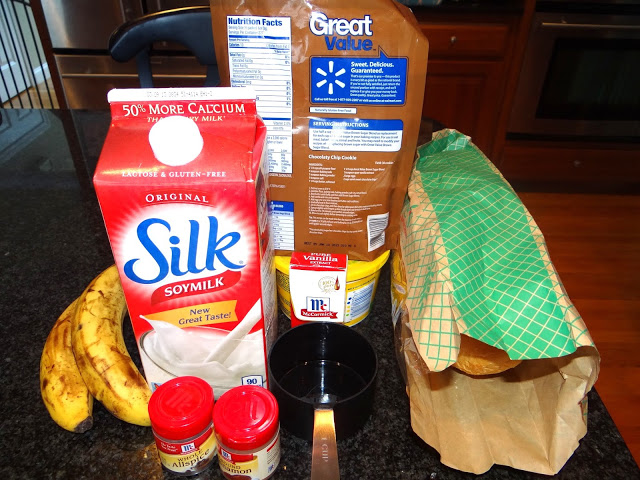 Caramel Sauce: 3 cups water, 3 TBSP of butter, 3 TBSP of brown sugar, 3 TBSP of water, 3 TBSP of corn starch
Bread Pudding: 1 loaf French bread (I used Italian bread) cut into 1 inch squares, 1 Quart Silk Soy Milk, 3 eggs beaten, 3 cups sugar, 1 1/2 TBSP vanilla, 1/2 TSP cinnamon, 3 TBSP butter (can also use soy butter if allergies are present), 1/8 TSP allspice
Directions:
For caramel sauce: In a pan, combine 3 cups of water, butter, and brown sugar. Bring to a boil and remove from heat. In a small cup, mix cornstarch and 3 TBSP water. Stir mixture into sauce. Cook over medium heat thoroughly for 8 minutes. Spoon the mixture every 2 minutes or so. When completed remove from heat.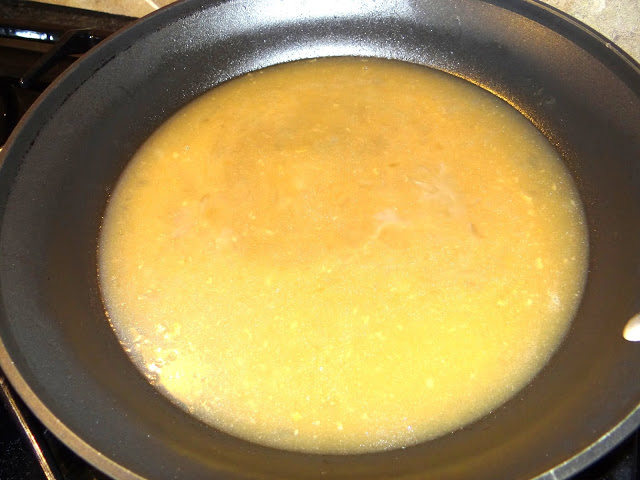 For bread pudding:
1. Preheat the over to 375 degrees.
2. Soak the bread (French, Italian, or Challah can be used) in Silk Soy milk in a large bowl. Make sure the milk is absorbed over the bread.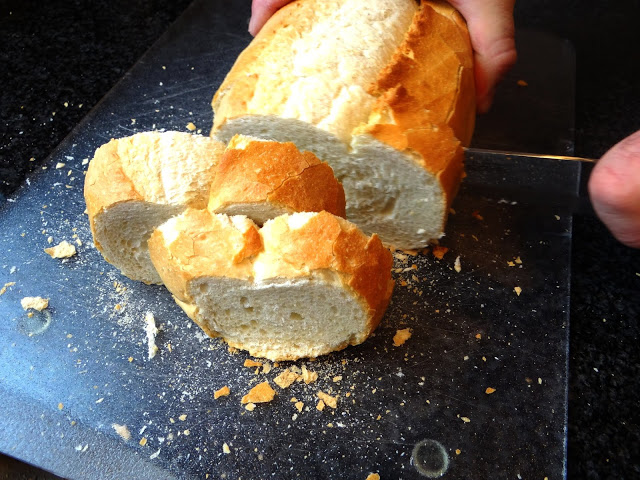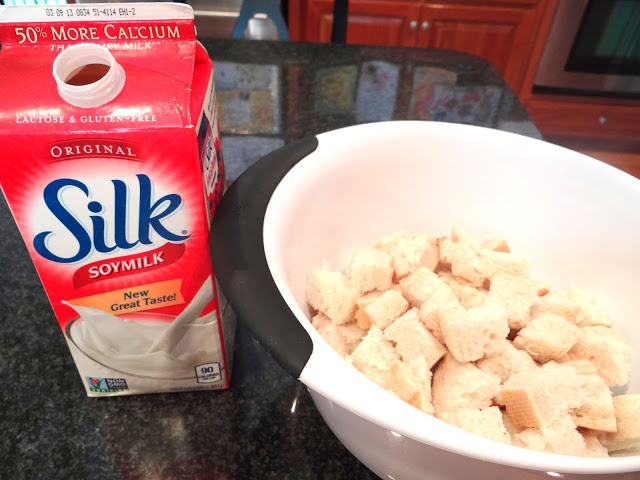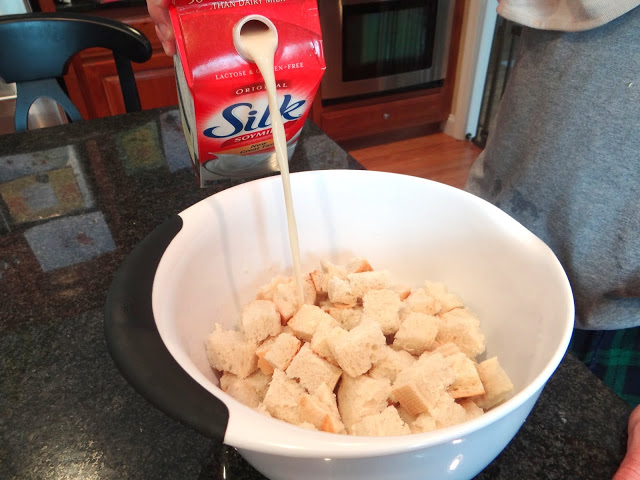 3. In a separate bowl, beat eggs, sugar, vanilla, allspice, and cinnamon together. Stir this in with bread mixture in #2. Add chopped bananas into the mix and stir.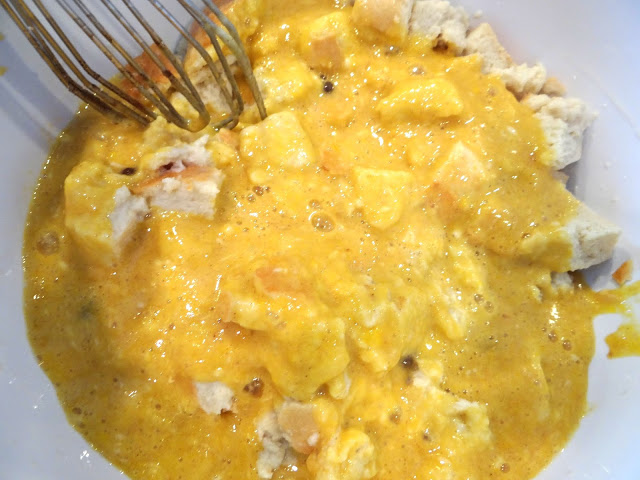 4. Pour butter into the bottom of a 9 by 13 inch pan. Coat the bottom of the pan and sides with butter. Pour in the completed bread mixture (#3) and bake at 375 degrees for 45-60 minutes. You will see the edges getting brown and pulling away from the sides to indicate the bread pudding is just about done.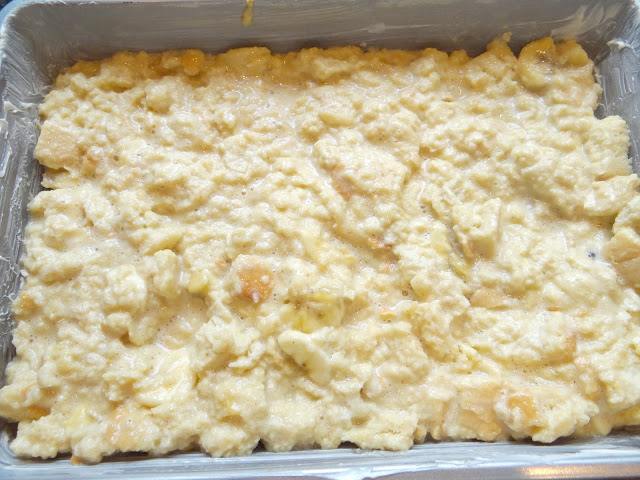 5. Serve with caramel sauce on the side or pour directly onto the bread pudding.  ENJOY!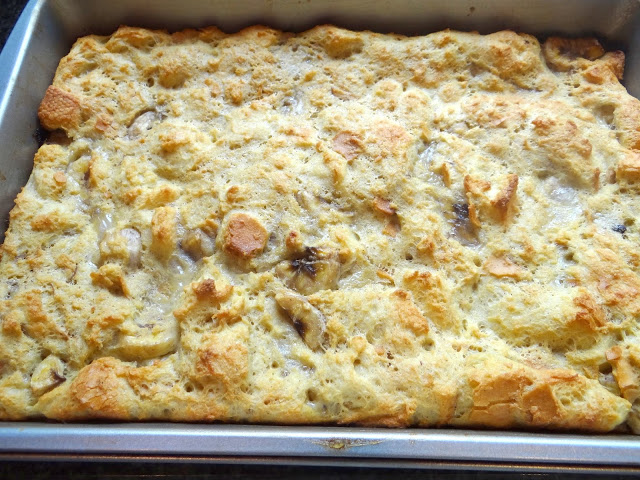 Let me tell you that the Banana Caramel Bread Pudding made with Silk Soy Milk was absolutely delicious. I have my girlfriend to thank for giving me that recipe, because my whole family devoured it! It was easy to make and provided a great way for those who are not allowed to have regular cow milk in their diet to enjoy baked goods as well! Even if you are not lactose and dairy intolerant, trust me you will enjoy this recipe!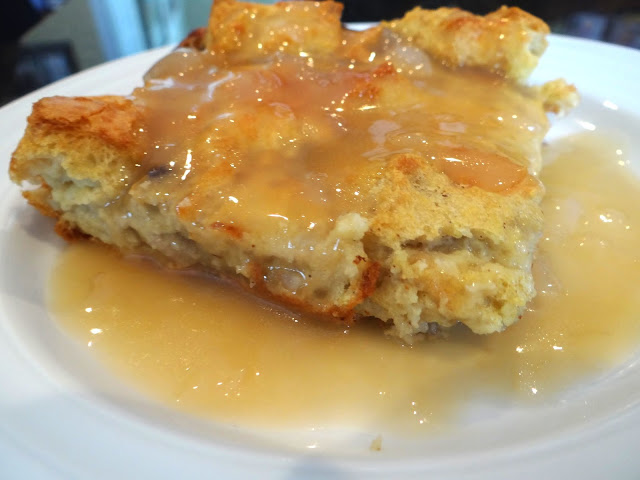 Head on out to your local Walmart and pick up the wide assortment of Silk Soy Milk products on the shelves. You can thank me later! Feel free to also follow Silk Soy on their Twitter/Facebook Page and the Silk Soy Facebook Recipe Page/ Pinterest/You Tube page to learn more about their delicious Silk products today!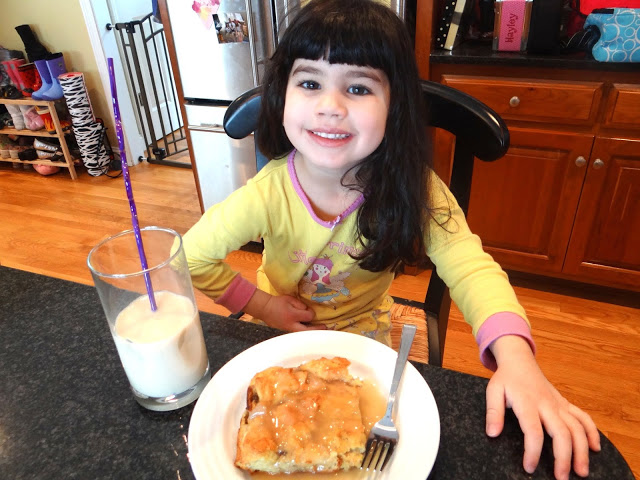 * I am a member of the Collective Bias®  Social Fabric® Community.  This shop has been compensated as part of a social shopper insights study for Collective Bias®  and WhiteWave #cbias #SocialFabric