If you know me, you know how much I love musicals! Every single time a musical movie comes out in the theaters, I run to see it! However, there are so many musical movies from back in the day, that I would have loved to have seen like the Jazz Singer, 42nd Street, etc. Now for a limited time, Warner Bros. released the Best of Warner Bros 20 Film Collection Musicals that would make the most perfect gift for the Valentine in your life!
Best of Warner Bros. 20 Film Collection Musicals DVD: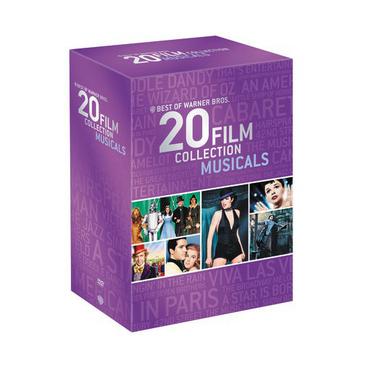 Warner Bros. continues to entertain the world with films passionately produced, selectively acquired, carefully preserved and impeccably curated for both the casual and ultimate musical movie lover to enjoy forever. Best of Warner Bros. 20 Film Collection Musicals will be released February 5th and will include films such as Wizard of Oz, An American in Paris and many more.
Warner Brothers will release 5 sets of 20 DVDs each throughout the year. Each set will consist of a particular genre such as Best Picture,  Romance, Comedy, Thriller, and this month-Musical Movies! Each set will be packaged according to the dates the movies debut. For example, this month focuses on Musical Movies and features movies from 1921-1951, 1951-1964, 1967-1988. Each movie set will contain photos and a small synopsis of the movies.
I was so excited to receive the Best of Warner Bros. Musicals. The following movies were included in this mega set:
The Jazz Singer (1927)
The Broadway Melody (1929)
42nd Street (1933)
The Great Ziegfeld (1936)
The Wizard of Oz (1939)
Yankee Doodle Dandy (1942)
An American in Paris (1951)
Show Boat (1951)
Singin' In The Rain (1952)
Seven Brides For Seven Brothers (1954)
A Star is Born (1954)
The Music Man (1962)
Viva Las Vegas (1964)
Camelot (1967)
Willy Wonka and The Chocolate Factory (1971)
Cabaret (1972)
That's Entertainment (1974)
Victor/Victoria (1982)
Little Shop of Horrors (1986)
Hairspray (1988)
Isn't this such an amazing group of movies!! I can't wait to watch each and every one of these true musical classicals! The mega Warner Bros. 20 Film Collection Musicals is available on the Warner Brothers online shop for $68.86! Be sure to get this set for your special Valentine this holiday season!
* I received the above products for review purposes. As always, all my opinions are my own and not swayed by outside sources.