Who would have thought that I would be a fan of Monster Jam? Well, I am! Tonight we headed to the Dunkin Donuts Center for what promised to be loud, rowdy fun.  There were children and adults of all ages – 2 year olds wearing sound proof headphones to grandparents – enjoying the excitement of these huge trucks jumping dirt piles and crushing cars.  I've watched Monster Jam on television with my husband and daughter for several years and seen it live once before, but I am always amazed by how excited I am for that first truck to come out of the pits.
The most popular Monster Jam truck is, hands down, Grave Digger. It doesn't matter who is driving, the crowd goes wild every time the truck comes out or the announcer says its name.  Even I got caught up in the excitement!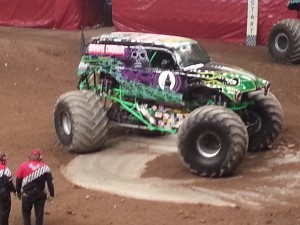 Grave Digger didn't win any events tonight. Both the freestyle and racing events were won by the same truck, CrushStation. Although I had never seen this truck on television, it was great to see him win! The driver, Greg Winchenbach, is a former lobster fisherman from Maine. It was fun to see a local boy take the prize.
What surprised me the most about this event, was the number of little girls in the stands. There were pink, sparkly Grave Digger hats everywhere!  Then I realized why. My favorite Monster Jam truck, El Toro Loco, was being driven by a flashy, pink-loving woman. All the girls cheered when Beck McDonough was on the track. I love that she has really made a name for herself in such a male-dominated sport. What a great example for my daughter and girls everywhere.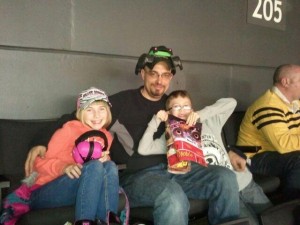 This was a great, family friendly night.  Can't believe I'm actually looking forward to next year already!
To purchase tickets and see the complete schedule  for Monster Jam click here: Monster Jam Tour.
*My blog writer was sent tickets for review. All her opinions are her own and not swayed by outside sources.